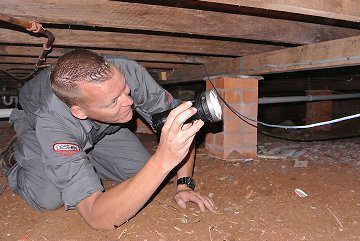 Pest-Ex have been providing professional pest control and termite treatment services across the Sunshine Coast, Tweed Coast, Logan City, the Gold Coast and Brisbane for more than 10 years.
In that time, we've successfully protected more than 10,000 homes and businesses.  Were honest professionals and have earned a reputation as the industry leaders in pest control.
10 years ago Pest-Ex was started as a 1 man show by now Director Danny Kelly. Working out of a small ute, armed with little more than a work diary and a mobile phone, Pest-Ex has now grown to more than 15 staff and 7 service vehicles and is known as one of the most professional pest control businesses in Australia.
Unlike many other pest control companies, Pest-Ex is not a franchise, it's a family business with great staff, all passionate about pest control, which is demonstrated in our prompt, and friendly service.
After a decade in business we know what works when it comes to successful pest treatments. We use only the best, most efficient and safest in terms of chemicals and products, including the very latest in pest control technologies, such as thermal imaging, radar, motion sensors and moisture detection systems.
All of our technicians are full licensed, insured, and come fully equipped in service vehicles ready to tackle any pest problem at hand.
Heard it on the grapevine?
Chances are you've probably been referred to us by friends or a neighbor? Did you know approximately 65% of our new work comes from word of mouth and referrals from happy customers? Our professional service is to thank for this, which keeps customers calling for Pest-Ex when removal of pests is needed.
Safety First
Were big on safety for our staff and your home, children and pets. We don't use cheap smelly pesticides; we invest in the safest products and apply them in the most professional manner. This results in happy staff and happy customers.
For more information about how our services are safe for your home, family and pets, please click here. You can also view our safety data sheet information here.

Why use us?
What makes us the easy choice when it comes to pest control?
Our friendly staff and our service!
All our technicians have years of experience in pest control and termite treatment services. We operate to the Australian Standards guidelines and usually exceed those requirement's.
We guarantee our work with warranties from 3 months to 8 years so you can enjoy peace of mind.
Here are a few reasons to call us:
Fully licensed and insured, professional, experienced
Pest-Ex technicians are clean-cut professionals, were ready to handle any pest problem you have. Count on us to get the job done right the first time.
Immediate same day response times
We have technicians across the Sunshine Coast, Gold Coast, Tweed Heads, Logan City and Brisbane that can usually respond to your problem with same day service. This is usually the case for home owners that find termite infestations and want immediate assistance.
Honest fixed price quotes
Cheap pest control quotes are risky, we give you honest up front pricing on all pest and termite treatment work. We don't quote you cheap pest control then upsell you on arrival.
No franchise fees
Pest-Ex isn't a franchise so you get the reliable service of a dedicated team of professionals and most of all you wont have to pay franchise fees on top of a service.
We service both commercial and residential properties
Pest-Ex is equipped to handle anything from the smallest job, right through to performing pest control on a complex with hundreds of units. We regularly service schools, government buildings, restaurants, cafes and more.
Ready to Work with Pest-Ex?
Let's look at why you should call us to get rid of your unwanted pests:
We offer same day on-site service
Our treatment and prevention products adhere to strict environmental standards and are safe to use around children and pets
Pest Ex is fully insured and licensed, and our pest controllers are Qualified timber pest inspectors (Cert 3 – Pest management technical)
We provide easy to read and understand reports that provide cost effective solutions
Leading conveyancers and banks recommend people use us
We service all types of property, from residential homes, commercial and industrial businesses, hotels, schools and restaurants
Call us today for your no obligation quote, and let us help you with all your pest control requirements.