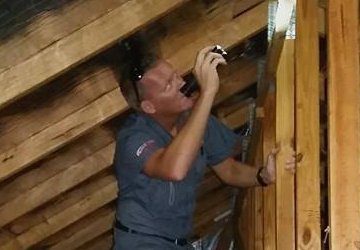 Building and pest inspections conducted by industry professionals should form a critical part of your due diligence before buying a property.  Major structural issues or pest activity can be hard to spot with the naked eye alone, especially if you're not a licensed builder or pest controller.  Having an independent inspector assess the property for issues as well as pest activity can help to give you a true picture of the condition of the home or business you're looking at.  This will allow you to make an informed decision about going ahead with the purchase, pulling out or negotiating on the price.
It's recommended that you have a building and pest pre-purchase inspection carried out prior to making a formal offer (or, if the property is going for auction, before the scheduled date) or during the cooling off period provided after you exchange contracts.  In Queensland, buyers are given a five business day cooling off period and a nominal fee for cancelling the contract.  If you are planning to have a building or pest inspection carried out during this time, it's best to plan ahead and book one in sooner rather than later.
building inspections
Unless you're a fully qualified builder, it's likely you will miss any hidden defects with the structural integrity of the building.  The vendor is obligated by law to disclose certain problems with the property to the agent and to potential buyers, however this should not be relied on solely as it only relates to issues that the vendor is aware of at the time.
All buildings must adhere to the Building Code of Australia and relevant Australian Standards, and an independent pre-purchase building inspection will review a wide range of accessible structural and operational elements of the property, including:
All interior rooms
The roof void and the exterior, including roof plumbing
Crawl spaces and basement areas
Space under floors
Outside areas, including fencing, steps, balconies, verandahs and decking, driveways and walls
Other buildings or structures on the property such as sheds, garages and outdoor toilets
The inspector will be looking for any building code violations, damp, wood rot and mould issues (which can often be hidden with a new application of paint), drainage problems, safety and fire hazards, structural weaknesses, cracks and other defects.

pest inspections
Pre-purchase pest inspections can make the difference between you buying a property that's well looked after, pest free and with appropriate pest prevention measures in place, or one that's riddled with creepy crawlies, and is suffering from major pest damage.  Pests such as termites can be almost impossible to detect without specialist equipment and years of experience, so if you think you'll be able to tell if a building has pests from just a cursory examination, think again.
A professional pest inspection will involve cutting edge technology such as thermal imaging and moisture detection devices to seek out pest infestations in hard to access or restricted areas.  The pest inspector will look at:
The roof of the building, gutters and downpipes, skylights, vents, roof trusses
The internal rooms, including flooring, walls, ceilings, built in wardrobes, window and door architraves, cabinetry and skirting boards
All wet areas such as the bathroom and laundry
Underneath the building, including crawl spaces, under floors, cellars or storage areas, stored timber, under decking or verandahs
The exterior of the building, including landscaping, retaining walls and fencing, the soil, trees and tree stumps, garages, workshops and other out buildings
Building & Pest Inspection Quick Summary
Cost : From $460
Turn around : 1-2 days, overnight reporting.
Service Areas : All suburbs within Brisbane, both North and South
Reports : Full colour 14 page comprehensive reports. Onsite reports can be done on request
Professionals : We are fully licensed building and pest inspection professionals
pest Ex's building and pest inspection reports
As you can see, a pest and building inspection will involve many similar areas for assessment on a property, and this is why having both conducted by professionals at the same time can be sensible.  Our building and pest inspections can be booked together, meaning that you only need to deal with one company for both services.
Once we have completed our pre-purchase inspection, we can provide you with a summary of our findings, either in person or over the phone.  We will then send you our written reports, no later than 24 hours after the inspections.  Our reports are highly recommended by property and banking experts, as we ensure our findings and recommendations are written in plain English, with no complex industry terminology or verbiage.

choose the professionals for your BUILDING and pest inspections
We are the number one choice for pest and building inspections on the Gold Coast, and our reputation in the market for high quality workmanship and dependability is second to none.
Our inspections are conducted by qualified and highly trained professionals, and we can usually offer same day service, depending on the location of the property.  We work with residential, commercial and industrial property owners, so no building is too small or too large for us.  It's also important to remember that we're impartial – our findings will be completely independent and therefore more reliable than those provided by the vendor or the agent.  So contact us to make an appointment for our building and pest inspection today.