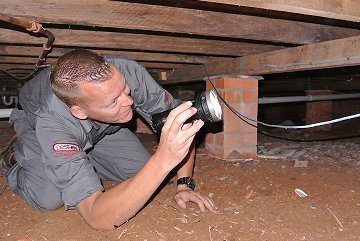 Getting professional and high quality pest control services in Byron Bay is easy with Pest Ex.  We're your number one local pest services company, with thousands of satisfied customers and over 10 years' experience in the industry.
We offer pest control and termite treatment services for every type of property and in a range of different industries, so whether you're a home owner or a business owner you can use us as your pest controllers of choice.  We take great pride in our brand and our reputation, and you may have seen us in the area in our fully equipped branded trucks as we provide services to your neighbours.
Contact us today – we're looking forward to talking to you.
do you have a pest problem in byron bay?
The list of pests we treat in Byron Bay includes:
Crawling insects: spiders, cockroaches, ants, bed bugs
Flying insects: flies, mosquitos, biting flies and midges
Hopping insects: fleas
Rodents: rats and mice
Our pest inspections are thorough, and we focus on finding the source of the problem so we can prevent further infestations in the future.  The chemicals we use in all of our treatments are of the highest quality and have been certified 100% safe – gone are the days when you had to leave a property for days on end after a pest control treatment.
No job is too big or small, and we tackle everything from removing a wasp's nest and clearing up a flea infestation to installing termite barriers.  Before starting any work, we'll give you a no obligation quote so you know exactly what you're getting for your money.
Contact us right now and find out more about our services!
PRE PURCHASE PEST INSPECTIONS in byron bay

If you're thinking of buying a home or business in Byron Bay, then getting a pre-purchase pest inspection done on any potential properties is critical.  This is because the area is well known as hotspot for a number of nasty pests, and particularly for termites.
While they may seem harmless to us, termites can very quickly cause widespread devastation to any type of timber structure or feature.  They also tend to build their nests in hard to access spots around a property, such as behind walls and in roof cavities.  Sometimes people can inspect a property without seeing any visual signs of termites, only to discover later (after they've moved in) that it is teeming with the pests.  Unfortunately fixing the damage caused by long term termite infestations can be very costly.
We've been providing accurate and reliable pest inspection reports to customers in the area for over a decade.  We can generally conduct them on the same day as you contact us, and we'll turn up at a time most convenient for you.  Our inspection is comprehensive, and using tools such as moisture detection equipment we are able to check out every area of the property.
We look at:
The top of the property – the roof cavity, frames and trusses, gutters and skylights
The outside of the property – the area surrounding the building such as trees and shrubs, soil, timber structures and landscaping features
The inside of the property – all rooms and hallways, ceilings, floors, cabinetry
Underneath the property – crawls paces, basements and cellars, stored wood
Once the inspection is complete, we'll then take you through our findings (either in person or over the phone if that's more convenient), and then provide you with a written report a day later.  The report includes photos of any pest activity and damage that may have occurred, as well as some recommendations for a possible course of treatment.
Pest Ex also offers this service for those who are thinking of selling their property.  These reports can be useful as documented proof that the building is certified pest free or has pest control measures in place.  Because they are completely independent, our pre-purchase and pre-sales reports are recommended by banks and those in the real estate industry.
get the professional SERVICE you want
Our customers choose us over our competitors because we are reliable, completely professional, and deliver high quality workmanship every time.  Don't settle for second best –  choose the company that over 7,000 people rely on to give them pest control services.  Contact Pest Ex today for a free quote.