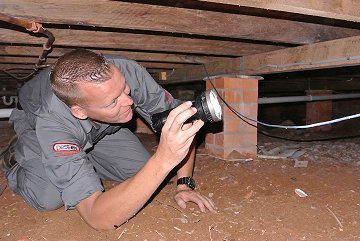 Pest Ex has been providing high quality pest control and termite treatment services within Ballina on the Tweed Coast for over 10 years, and we have thousands of loyal customers.  We work in all types of properties including residential homes, businesses and industrial buildings, and no job is to big or small for our trained and qualified technicians.
We treat the following common pests:
Termites and white ants
Spiders, ants and cockroaches
Wasps and bees
Fleas and bed bugs
Mosquitos, flies and midges
Rodents such as mice and rats
So if you have a pest problem in Ballina, let the professionals take care of it for you.  Contact Pest Ex now!
ballina PEST CONTROL & TERMITE TREATMENT SERVICES
We offer the most comprehensive range of pest control services in the region, and whether you need a one off pest inspection or need advice on the best long term termite control for your property, we've got you covered.
Our services in Ballina include:
Regular pest inspections
Pest detection, removal and treatment
Termite inspections
Termite removal and treatment
Long term termite prevention
Pre purchase and pre sales inspection reports
Our pest inspections are considered to be among the best in the industry because we are very thorough and use only the latest in insect-detecting equipment to find pests no matter where they are hiding.  We also examine every part of the property – not just the inside of the home or business – because the source of pests can often be where you least expect it or in an area well away from the main building.
Don't leave your pest control in the hands of a less knowledgeable business – call Pest Ex today

Ballina's most respected pre PURCHASE pest inspections
If you're looking at buying a property in Ballina – maybe you're interested in buying a home or a business – you should first have a pre-purchase pest inspection report done to make sure any potential properties aren't riddled with pests or have substantial pest damage.
We can conduct same day inspections, and using equipment such as radar, our highly qualified pest controllers will be able to do a thorough and professional examination of the property, inside and out.  We look at the exterior, including any trees, tree stumps and soil, as well as all interior areas of the building.  Our focus is on the hidden areas that can't be seen by visual inspection, as these are generally the areas that most pests prefer to settle in.
When we're finished the inspection, we'll provide you with a summary of what we found in person (or over the phone).  We'll then send you a more detailed written report for your records, which explains in easy to understand language the pest activity in the property, as well as any evidence of damage caused by insects in the past.
If you're thinking of selling a home or business we also offer pre-sales inspection reports in Ballina.  These are similar to our pre-purchase reports however they can form a handy record of any pest control measures you've put in place.  Keep in mind that our inspection reports are completely independent, unlike many of those conducted on behalf of agents.
Ready to work with pest ex?
It's easy to choose us as your professional pest controller because:
We've been in the industry for over a decade, and our pest controllers are highly trained with Cert 3 – Pest management technical qualifications
Our pre-purchase and pre-sales inspection reports are recommended by conveyancers and banks
We offer a 100% money back guarantee on all of our services, with no questions asked
We'll give you a no-obligation quote before starting any work and will take you through our process, step by step
Our pest control treatments have passed Australian safety standards and are certified environmentally safe
We can service a range of different property types, and work with home and business owners
Get the fast, effective and professional pest control services you need by contacting Pest Ex today.