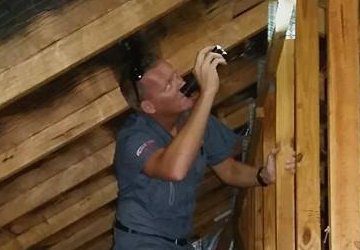 When you're thinking of buying a residential or commercial property, it's vital to have a building and pest inspection carried out by an industry professional.  These type of pre-purchase inspections are highly recommended by those in the real estate industry, as well as banks and other lenders, as they can help to give you a clearer picture of any potential structural issues with the property before signing on the dotted line.
A building inspection is an essential element of your due diligence before you buy a property, as it will pick up any areas for concern around the building's structure and condition.  Structural faults and damage can be dangerous and expensive to repair, and if the building does not conform to the Building Codes and Standards of Australia, you will be liable for the cost of making it compliant with the regulations.
A pest inspection should be conducted at the same time, to gauge the levels of pest activity on the property, to look for any termite damage, and to review the building's current pest control measures.  It's a frightening reality that as many as one in five homes in Australia can be affected by termites.  This number can increase depending on the location of the property, with homes or businesses in warm, humid climates being particularly susceptible to the pests.  The threat doesn't just come from termites either, as there are a range of issues that can negatively impact the timber structures in your property including fungi and wood borers.
While you can have these two inspections done separately, it is sensible to combine them into one longer, more detailed inspection of the property.  This will not only save you time, but you will also only have to deal with one set of inspectors on site.
arranging a building and pest inspection

Generally building and pest inspections are either conducted before you make an offer on a property or during the normal cooling off period that follows after you exchange contracts.  During this time you can call off the sale by giving written notice, and it's important to have a thorough inspection conducted to ensure you're not walking into a money pit or a long term headache.
When you contact Pest Ex for a building and pest pre purchase inspection, we'll schedule a time that is most convenient to you.  The two inspections will take a few hours to complete, and our qualified timber inspectors will examine the building for:
Major structural defects or damage such as cracks, rising damp and mould, drainage issues, safety and fire hazards, roof plumbing and guttering. The property will be subjected to a rigorous general examination to ensure all relevant building codes have been followed.
Pest activity, with particular emphasis on termites. The building is examined thoroughly, inside and out, including the interior roof space, gutters, downpipes, vents and skylights, all rooms, ceilings, floors and walls, cabinetry and wooden architraves, bathrooms and other wet areas, any basement, crawl spaces or cellar areas, stored timber and floor joists.  We also examine the outside of the building in areas such as the soil, trees and shrubs, old tree stumps or timber landscaping.  We'll be looking for active nests and infestations, but also evidence of past problems, any damage that has been caused and pest prevention measures.
Our inspectors use the latest in technology to detect issues that are hard to see with the naked eye, including moisture meters and scanners, infrared cameras, bionic ear devices and motion sensors.
Building & Pest Inspection Quick Summary
Cost : From $460
Turn around : 1-2 days, overnight reporting.
Service Areas : All suburbs within Brisbane, both North and South
Reports : Full colour 14 page comprehensive reports. Onsite reports can be done on request
Professionals : We are fully licensed building and pest inspection professionals
what do we inspect?
Unlike other pest controllers who offer this service, a Pest Ex technician will examine every part of the property, including:
The internal areas: all internal rooms, including the walls, floors, ceilings, window architraves and door frames, bathrooms and wet areas, any in-built cabinetry or cupboards
The roof area: this includes all parts of the roof cavity, eaves, roof battens, trusses, top plates, hanging beams and rafters, air vents and skylights, downpipes and guttering
Underneath the property: any crawl spaces, sub-floor structures, decking, cellars and stored timber
The external areas: including the soil and ground surrounding the property, any external buildings, trees and trees stumps, walls and fences, landscaping
our building and pest inspection reports
Once the inspection is completed, we can discuss our findings with you on site (or on the phone if you prefer).  Our written building and pest inspection reports will then be sent to you within 24 hours.
These are designed to be easy to read, and our terminology will be in plain English so you'll understand our findings and any recommendations we've made.  We also include any colour pictures of issues we found, such as the location of a termite nest or a safety hazard that may require immediate attention.  Our building and pest inspection pre-purchase reports are widely regarded as the best in the industry, and are recommended by real estate, conveyancer and banking experts.
why use pest ex for your building and pest inspections?
We've been in the industry for over 10 years, and have thousands of satisfied customers right throughout the Brisbane region.  Our inspectors are highly qualified and have all the necessary industry certifications to ensure you're getting professional standard workmanship and advice.  Let's look at some of the other reasons more customers choose us for their building and pest inspections than our competitors:
We're locally owned and operated
We are fully insured and licensed
We can usually provide same day service, depending on the type and location of the property
We work in residential, commercial and industrial properties
We conduct our inspections on your behalf, not for the agent or the property seller
Don't get caught buying a property that may have serious structural defects or a pest infestation that will be costly and time-consuming to fix.  Get a professional building and pest inspection conducted, and give yourself the ultimate peace of mind.