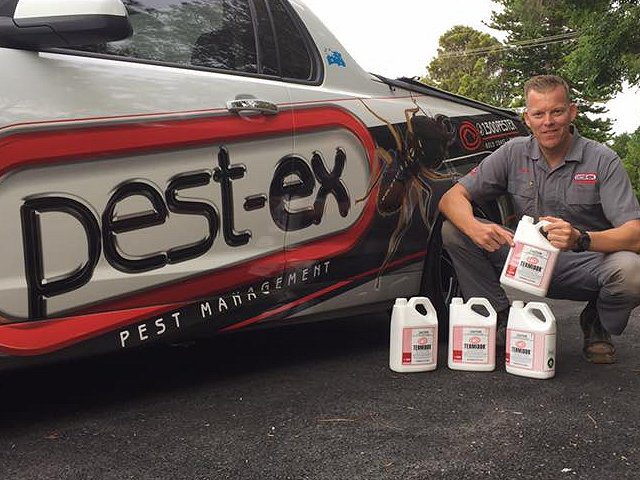 Pest Ex are an industry leader in pest control and termite treatment services. With over a decade of experience, we have serviced over 7,000 properties, both residential, commercial and industrial.
Our team of qualified, fully trained and licensed professionals provide the latest in termite detection and treatments using equipment that provides the safest and most effective results for your home and family.
If you have concerns about termites within your home or business, be sure to give us a call today to find out how we can help you.
Pest-Ex Termite Treatment Services
Pest Ex are fully licensed, qualified, trained professionals that provide a comprehensive service offering in terms of termite treatment and control for homes and businesses of all sizes.
The following is a list of some of our termite and white ant services:
Comprehensive termite inspections (interior and exterior of the property) using the latest in detection technology – radar, thermal imaging and moisture detection
Treatment for live termite nests and infestations
Termite barriers, both before and after building construction
Termite barriers (post and pre construction)
Termite baits and baiting traps
Anti-termite systems such as Exterra, HomeGuard, Biflex and Sentricon
Ongoing management and advice on termite issues

Our inspections are the most comprehensive available. We don't just check over things quickly. We inspect all areas of your property including –
Inside the property – Your trims, skirting, door jambs, window architraves, doors, cupboards and flooring.
Under the property – All of the bearers, joists, timber piers, timber flooring and stored timbers
Around the yard – Nearly all outside areas can be affected, especially fencing and retaining walls not to mention any timber landscape and other features.
Within the roof – Any part of the roof, skylights, vents, flues, valleys, guttering, down pipes, eaves, roof battens, trusses, top plates, hanging beams and rafters.
Dealing with Termite damage?

Termites have the ability to do enormous amounts of damage, silently without you even knowing. Needless to say that once your property has been affected by termite damage, repair bills and financial losses can become substantial. Don't let this happen to you.
Our team of pest control professionals use the very latest in termite detection equipment, such as thermal imaging cameras, moisture and radar detection systems – we can quickly and accurately locate and detect any signs of termites within your property.
It should be noted that insurance companies do not cover termite damage, so for the cost of an inspection, it makes sense to protect your most valuable asset.
Pest-Ex recommends yearly inspections to ensure you're protected. Call the team at Pest-Ex today to schedule an appointment and one of our friendly pest control technicians can come out and assist you.
What to do if you find Termites?
If you believe you've found termites or white ants in your property, we recommend the following course of action –
Call us Don't disturb them! If you have its okay, we will locate them again
We will attend immediately at

no charge

and assess your situation and the buildings construction type
After identifying the exact type of termite we will then determine if your home is suited to a chemical barrier treatment or a termite baiting program. You will then receive a fixed price termite management proposal and quote.

Take immediate action
If you DO have live termites, it's absolutely critical that you begin treatment right away.
Termites if left untreated can spread rapidly and cause considerable amounts of damage in a very short period of time. Before being able to carry out any type of treatment, we will need to firstly identify the type of termites you have. Treatment methods vary depending upon certain species.
In any case, immediate action is essential if you want to protect your home. Depending on the style of your home and the type of block it is built on – either flat or sloped – will also depend on what type of treatment is recommended. Termite baits or a termite barrier will be the most common recommendation for long term successful termite protection.
If you've discovered what appear to be termites in your property, then we strongly advise that you contact us immediately to have a thorough inspection carried out. Again, it's best NOT to disturb them, please call us first.
Why work with Pest Ex?
Here's exactly why you should work with us –
Pest-Ex have been awarded the preffered installers award by Exterra the worlds best termite bait system.
Pest-Ex are accredited installers of Termidor Barrier Systems the worlds number one termicide.
Pest-Ex knows what to look for when it comes to termite detection. Armed with the latest termite technology including infrared cameras and termatrac termite motion sensors.
Safety for your Home & Family
Our services are both safe and family-friendly for your property or home. We provide a range of commercial and residential pest control applications in premises that include homes, offices, restaurants and hotels.
Call us today for a no obligation free quote. We look forward to working with you.