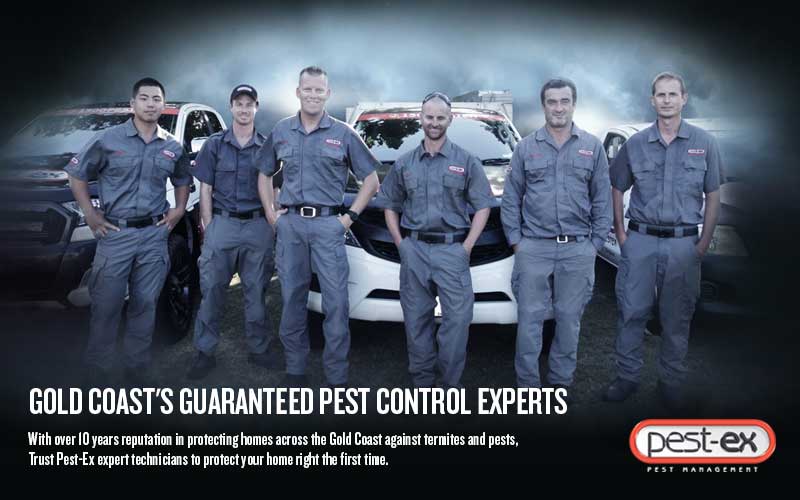 If you're looking for pest control services on the Gold Coast, choose Pest Ex. Since 2006, we have serviced and protected over 10,000 homes, businesses, restaurants, cafes and schools to date, and have a reputation as service leaders in the pest control industry.
Our pest control technicians undergo regular, ongoing training to ensure you receive the very best, and safest in terms of pest removal, and prevention. They're also well equipped with the very latest in pest removal and control equipment, including radar and moisture detection systems, infra-red, thermal imaging cameras and more.
Pest control on the Gold Coast is in high demand by homeowners and businesses due to our perfect climate conditions pests love it here to! Rest assured we offer the safest pest control treatments all delivered by clean cut professional pest control technicians.
Whether you have concerns about termites, cockroaches, rats or perhaps spiders and biting insects, Pest Ex can help.
TERMITE TREATMENT SERVICES GOLD COAST

Pest Ex also specialise in fast and effective termite treatment and white ant treatment and management across the Gold Coast. We also offer Termites inspections using thermal imaging, Termites when left undetected and untreated, can cause major damage to a property, which often results in huge repair bills and financial losses.
Gold Coast Termite treatment services include:
The Gold Coast is considered one of the worst areas for termites, in fact, Pest-Ex recently conducted a detailed study on the numbers of recent termite attacks and the Gold Coasts' worst suburbs for termite attack.
Our qualified team at Pest Ex is highly skilled and experienced in being able to quickly and accurately, identify and treat any potential nests or infestations within your property. Through the usage of intensive thermal imaging camera technology, radar and moisture detection systems, we can examine your property from top to bottom, inside and out.
Pest Ex is the Gold Coast's most trusted and most reputable pest control and termite treatment company. Call us to find out how we can help you today.
Termite Inspection Gold Coast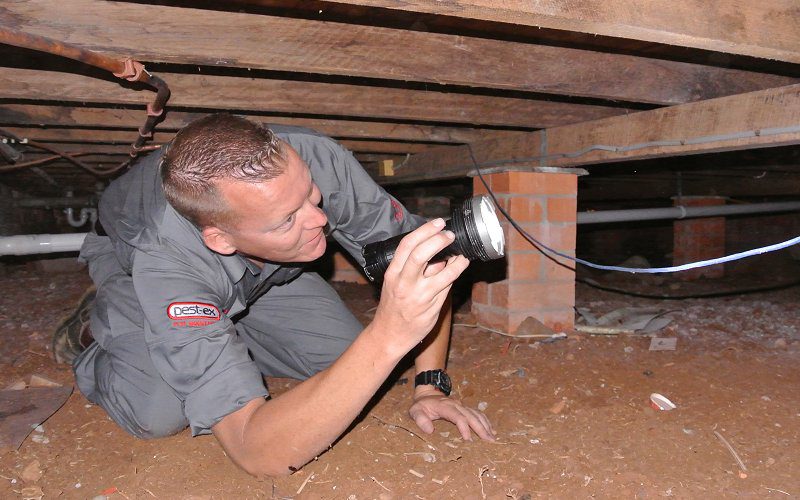 Termite Inspections on the Gold Coast are our specialty,  our detailed termite reports allow our clients to thoroughly understand the risk their home has when it comes to termite attack of and the safety of the home in regards to termite risk. Our inspectors are super thorough and termite inspections by Pest-Ex include
Termite inspection to external areas and yards,fences including trees and stumps
Termite Inspection to inside areas including the walls, ceilings, flooring, timber cabinetry, cupboards and other fittings, window architraves and door jambs
Termite inspection to roof void areas not from a ladder we actually crawl through your roof if crawlspace is available and asses battens, beams and trusses
Termite inspections by Pest-Ex also include photos and recommendations of lowering the risk of termite attack to your home.
Our inspectors are armed with the best tools to detect termites including thermal imaging, moisture scan tools & termatrac motion devices
Termite inspections not only determine if your home has termites but also allows us inspectors to check the current termite protection of the home. In some cases we will find homes are not protected and have a high risk of termite attack. Pest-Ex also will then offer a no obligation free quote for a termite baiting system or termite barrier for your home giving it the best defense against future termite attacks.
For all your termite related requirements please contact us!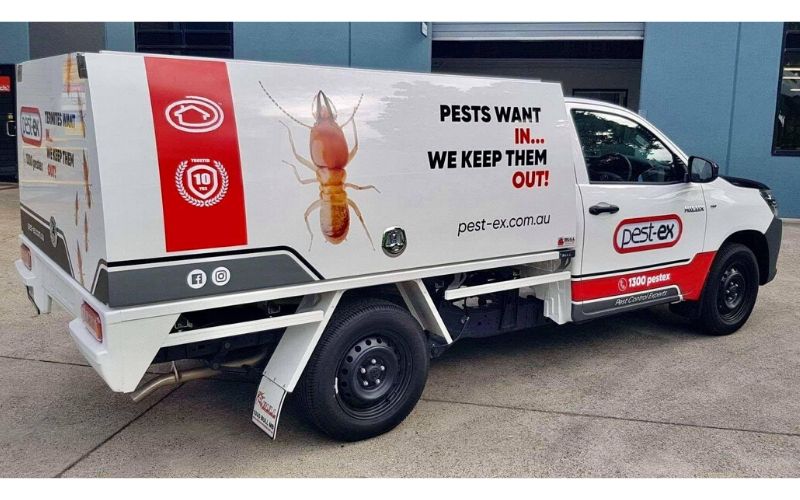 We provide pest control services right across the Gold Coast
Pest Ex are your local and most reputable pest control and termite treatment company on the Gold Coast. All of our work is fully guaranteed, insured, covered by warranty and carried out by licensed, trained professionals. We provide prompt and reliable same day services to ensure fast and effective treatment.
For a complete listing of all the suburbs we cater for on the Gold Coast, please see below –
Advancetown
Alberton
Andrews
Arundel
Ashmore
Austinville
Benowa
Biggera Waters
Bilinga
Bonogin
Broadbeach Waters
Broadbeach
Bundall
Burleigh Heads
Burleigh Waters
Carrara
Cedar Creek (Logan & Gold Coast)
Clagiraba
Clear Island Waters
Coolangatta
Coombabah
Coomera
Currumbin Valley
Elanora
Gaven
Gilberton (Gold Coast)
Gilston
Gold Coast CBD
Guanaba
Helensvale
Highland Park
Kirra
Southern Moreton Bay Islands
Sovereign Islands
Springbrook
Stephens
Common Pest Control Services We Provide
Some of Pest-Ex most common Pest Control treatments we provide on the Gold Coast are –
Yearly Pest Control treatments to residential homes.
Cockroach Spider Silverfish Ant and wasp treatments are common.
Real Estate rent roles require yearly services for all rental
Commercial high-rise buildings are also in high demand for Pest Control all year round.
Pest-Ex has a team with Fully equipped Pest Control vehicles and is commonly seen around the Gold Coast and in local areas. So if you need Pest Control, give us a call at Pest-Ex. We service all locations across the Gold Coast.
READY TO WORK WITH PEST-EX?
Choose Pest Ex for your pest control and termite treatment needs because:
We offer unbeatable same-day on-site service and communication
We ensure all of our work adheres to Australian Standards and our products are environmentally friendly
Our pest controllers are qualified timber pest inspectors (Cert 3 – Pest management technical)
We have worked in the local area for over a decade, and have serviced over 7,000 satisfied customers
We work with home and business owners, and have experience with a wide range of different types of properties including retail centres, schools, hotels, and cafes
So don't leave your pest control in the hands of a less experienced or professional company. Call today, we look forward to hearing from you!
Questions About Pest Control?