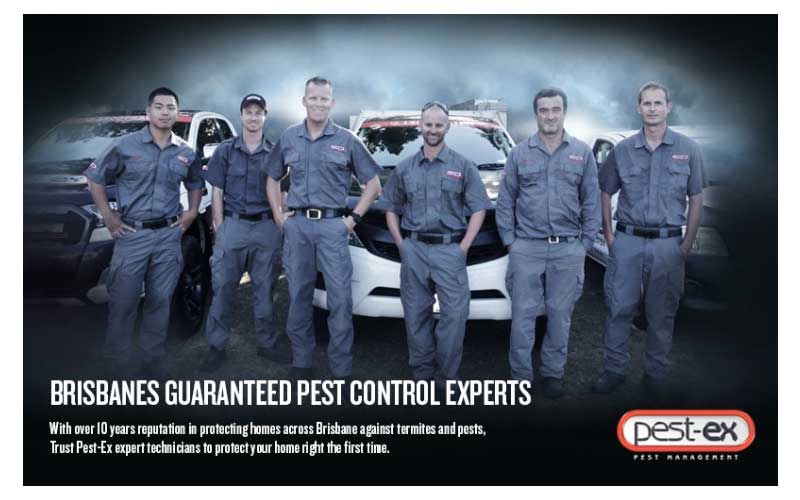 Pest Ex provides safe, fast and effective pest control services across all suburbs of Brisbane.
Pest Control in Brisbane is considered a common service for homeowners, we have been servicing Brisbane since 2006, providing pest control and prevention services to help both businesses and home owners eradicate nuisance pests, such as termites, rodents, cockroaches and more.
We have a dedicated team of experts who are prompt, friendly and highly experienced. We use the latest in pest management and treatment services technology to ensure you receive the best possible pest management service available. All of our work is backed by a 100% guarantee and is fully insured.
Call us today to discuss how we can help.
TERMITE TREATMENT SERVICES IN BRISBANE

Termite Treatments in Brisbane are our specialty at Pest Ex, in addition to regular pest control and management services, also provide professional and effective termite and white ant treatment and management across all areas of Brisbane. Costly repair bills are often the result of leaving termites undetected and untreated, so it pays to ensure your home or place of business is inspected regularly to ensure no infestations are present.
Here's just some of the termite treatment services we provide –
Termite barrier treatments – Treatment and rectification of live termites in a building, termite protection to keep termites out & post and pre-construction
Termite treatment cost – Free onsite quotes to determine the best option and costs for your homes termite protection requirements.
Termite inspections – Comprehensive inspections, detailed 14 page reports, one on one consultations. Same day service, immediate treatment if required.
Termite baiting system – termite bait systems designed to completely eliminate the termite colony
Termite treatment – Termite barrier treatments & Termite baiting systems – ongoing management and prevention
Termite control – Advice on termite control barriers or baiting systems
we use the most effective systems and products – effective termite systems such Termidor termite treatments HomeGuard, Biflex and Sentricon
Brisbane is considered one of the worst locations in Australia for termites and home of the destructive schedorhinotermes and Coptotermes termites. These termites have created destruction across Brisbane for many years in fact we have recently completed a survey based on actual client requests and data on  Brisbane's worst suburbs for termite attack.
Our qualified team at Pest Ex are all licensed, highly skilled and experienced professionals that undergo regular ongoing training, to ensure you receive the very best in termite treatment services. We can quickly and accurately, identify and treat any potential nests or infestations within your property, as well as provide free quotes and same day service. We use the very latest in termite treatment technologies, such as – intensive thermal imaging cameras and radar and moisture detection systems.
Our inspections are the most comprehensive in the business. We target known "hot spots" for termites and white ants, including the roof space, walls and floors, sub floors and areas outside such as fences, drains, tree stumps, landscaping features and even the soil.
Pest Ex is Brisbane's most trusted and most reputable pest control and termite treatment company. Call us to find out how we can help you today.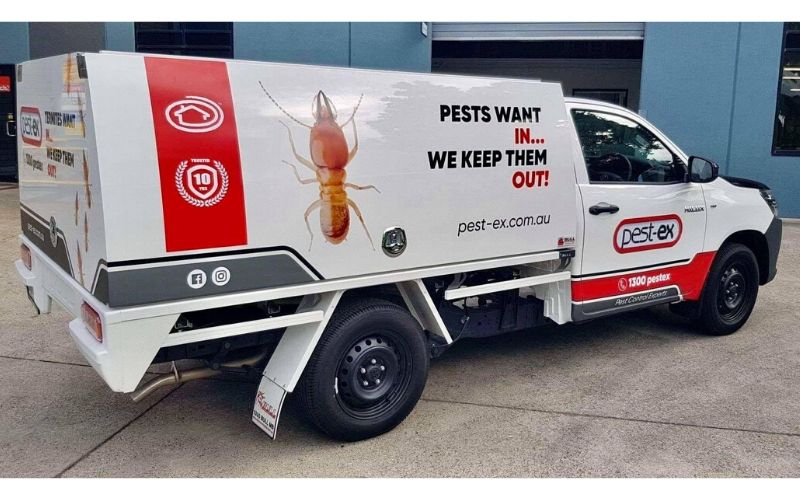 We service all suburbs within Brisbane
Pest Control in Brisbane is a common request for homeowners and businesses across the region, Pest Ex are your local and most reputable pest control and termite treatment company in Brisbane. All of our work is fully guaranteed, insured, covered by warranty and carried out by licensed, trained professionals. We provide prompt and reliable same day services to ensure fast and effective treatment.
Termite Inspection Brisbane
Termite inspections in Brisbane are a common request by homeowners and considered one of our #1 requests by clients. We have been doing termite inspections throughout the local area for over 12 years and have earnt a good reputation as reliable professionals.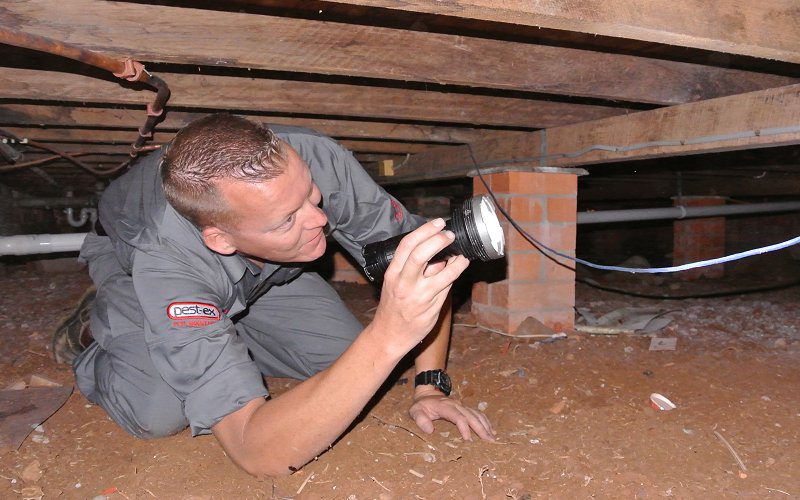 Termite inspections by Pest-Ex are done by our experienced only technicians using the latest in termite detection tools ensuring nothing gets missed. Our termite inspectiuon tools include-
Thermal imaging cameras
Moisture scan tools
Termatrac t3I motion radar device
Unlike some pest control companies, we termite  inspect the entire property, including:
The outside: areas such as the landscaping, fencing, dead trees and stumps, soil
The inside: the walls, ceilings, flooring, timber cabinetry, cupboards and other fittings, window architraves and door jambs
The roof: battens, beams and trusses, any vents and skylights, down piping and gutters
For a complete listing of all the suburbs we cater for in Brisbane, please see below –
Pest Control Services we provide
Yearly Pest Control treatments to residential homes.
Cockroach Spider Silverfish Ant and wasp treatments are common.
Real Estate rent roles require yearly services for all rental
Commercial high-rise buildings are also in high demand for Pest Control all year round.
Pest-Ex have a team with Fully equipped Pest Control vehicles and are commonly seen around Brisbane and in local areas. So if you need Pest Control give us a call at Pest-Ex. We service all locations across Brisbane.
WHY YOU SHOULD WORK WITH PEST-EX
Choose Pest Ex for your pest control and termite treatment needs because:
We offer unbeatable same day on site service and communication
We ensure all of our work adheres to Australian Standards and our products are environmentally friendly
Our pest controllers are qualified timber pest inspectors (Cert 3 – Pest management technical)
We have worked in the local area for over a decade, and have serviced over 7,000 satisfied customers
We work with home and business owners, and have experience with a wide range of different types of properties including retail centres, schools, hotels and cafes
So don't leave your pest control in the hands of a less experienced or professional company. Call today, we look forward to hearing from you!
Questions About Pest Control?
Are your pest control products safe for pets?

Yes, all our products we use during pest control treatments are considered safe if applied by our professionals. Our pest control products sometimes contain the active ingredient also used in dog flee & tick tablets. When our products are applied in a fine mist, we will always advise you to keep pets off the treated surfaces for a minimum of 2 hours. Safety for you and your pets and our staff is #1 priority.

Can I control termites myself?

It is difficult to control termites yourself as there are several factors that contribute to successful termite colony elimination.

The type of termites that require elimination is vital as some respond better to baits, dusts, and liquids.
Inspection of the building and accuracy of active areas is vital, and this can usually only be determined after a thorough termite inspection has been completed.

DIY termite treatments will usually always end up moving the colony elsewhere due to disturbance, also it is common for DIY attempts to eliminate part of the termite colony and cause further unknown damage to occur to the property.

Can you do your own pest control?

DIY pest control treatments can be done by homeowners but the dosages and products available by local hardware stores usually only provide a temporary fix. The application equipment used by professional pest control professionals allows us to apply products correctly. Assessment of pest control entry points and types of pests is vital, this provides professional pest control technicians the ability to fix it right the first time. Most products available to the public are non-repellents offering a fast knockdown and little long-term residual. We recommend against attempting pest control yourself and to invest in a 1-time professional solution.

How long does a pest control treatment last?

Pest control treatments last for 6-12 months if done correctly using the good quality non-repellent products. Remember pest control is not an invisible force shield around your home there are times when you will see a pest but as soon as pests travel through or into our treated zones they will die off before an infestation starts. Pest control these days is now pest management, managing pests the safest and most effective way using products that pose minimal or no risk to homeowners or pets.

Do our pest control chemicals smell?

No, our pest control products we use have nil odour, unlike the 1990s when organochlorine chemicals were used. Today we use no odour non repellent chemicals. These chemicals are undetectable to pests, so they naturally travel across treated surfaces and become affected as normal. Smelling products usually are poor quality and are repellent products used for fast knockdown only therefore will not provide a long-lasting residual.

How much is a pest control treatment?

Pest control pricing usually depends on the size of property to be serviced and the service required, Inclusions for a full-service pest control treatment are:

Internal external perimeter spray
Roof void dusting treatment
Gel baiting to cupboards and drawers necessary
Wall cavity dusting void treatment
Fence lines/letterboxes

Pricing for residential homes

-expect to pay $190-$220 inc Gst

Pricing for residential duplex/townhouse –

expect to pay $150-$180 inc Gst

Body corporate? Commercial pest control cost

– Call Pest-Ex only use premium products that have no smell and are long lasting and we back our full pest control service with a 12-month warranty.

How often do I need a termite inspection?

Australian Standards AS3660.2017 recommends a termite inspection to residential homes and buildings at least annually. High risk homes (Homes that have had a past termite issue or those near bushland or affected gardens/landscaping) Will require a termite inspection 6 monthly. The purpose of a termites is not only to determine if your property has termites, but also identify risks or areas that are conducive to termite attack. Most homeowners are unaware they have 3 or 5 areas around the home that will attract termites. So regular termite inspections are essential. What are the signs of termites? Signs of termites will usually appear visible once termites have become established in a home or building for some time. Signs of termites in a home may include the following-

Bubbling of window frames or skirting boards
Brown stain or softness in lower walls
Mud trails going up external walls
Mud trails internally

Early signs of termites usually include a clicking sound in the walls or window frames door frames or skirting boards.

What to do if I have found termites?

Found termites? Do not disturb them, it's extremely important not to disturb termites if you find them. Contact Pest-Ex and we will provide a free call out and determine the following.

We need to determine the type of termites at your property
We then determine the building structure and slab type of the home
We determine if baiting or liquid treatment will be best suited
We measure your homes perimeter for exact pricing on perimeter protection

With all the above factors we then apply a fixed price termite elimination and control program for your home or building. All quotations are free no obligation quotes, so contact us for all your termite concerns.