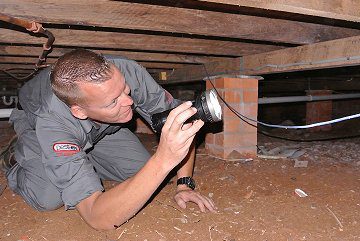 Having a regular professional pest inspection conducted on your home or business should be part of your maintenance schedule, especially as prevention is much easier than cure when it comes to having dangerous insects in and around your property.
Pest Ex has offered pest inspections for residential, commercial and industrial properties in Brisbane, Tweed Heads, the Gold Coast, Sunshine Coast and Logan City for over ten years, and our highly trained and qualified pest inspectors are the best in the business.  Our local knowledge and experience, combined with our high levels of on-site professionalism and customer service, make us the number one choice for thousands of property owners just like you.
are you thinking of buying a property?
One of our most popular services is a pre-purchase pest inspection.  This is an inspection carried out to help you get a better understanding of the pest activity within a building – the majority of which will be invisible to the naked eye.
You might think you've conducted a thorough examination of the property (and even had a building inspection carried out), however until it has been checked over by one of our qualified timber inspectors, it's likely that some pest activity will have been missed.  Leaving it to chance like this can lead to expensive and time-consuming repairs in the future if you do end up purchasing the property.
the pre PURCHASE pest inspection process
Our pre-purchase pest inspections are designed to be hassle-free and as thorough as possible.  Once you've booked an inspection, one of our qualified timber inspectors can generally come out to the property the same day.  They will be fully equipped with the latest in pest detection equipment as recommended by Australian Standards, such as infrared cameras, moisture meters and scanners, bionic ear listening devices, and Termatrac termite motion sensors.

what do we inspect?
Unlike other pest controllers who offer this service, a Pest Ex technician will examine every part of the property, including:
The internal areas: all internal rooms, including the walls, floors, ceilings, window architraves and door frames, bathrooms and wet areas, any in-built cabinetry or cupboards
The roof area: this includes all parts of the roof cavity, eaves, roof battens, trusses, top plates, hanging beams and rafters, air vents and skylights, downpipes and guttering
Underneath the property: any crawl spaces, sub-floor structures, decking, cellars and stored timber
The external areas: including the soil and ground surrounding the property, any external buildings, trees and trees stumps, walls and fences, landscaping
Once the inspection is complete, our pest inspector will then take you through his findings, either in person on site or over the phone if you prefer.  Our discussion with you will include a summary of any pest activity we found, any damage caused by the insects, the likelihood of infestation, and a rundown of the type of preventative measures that could be used in the future.
our pre-purchase pest inspection reports
We will then provide you with a written report of our findings, either on the same day if requested or 24 hours after our inspection.  This 14 page report includes all the information we discussed with you, as well as colour photographs of any activity and damage we may have found during the inspection.   Our reports are well known in the industry for being informative, easy to read and written in plain English.
building inspections
Many customers choose to have a building inspection carried out at the same as a pest inspection, and we can arrange to have a qualified building inspector conduct his review at the same time as ours if you request it.
Some pest controllers offer to conduct building inspections themselves, however in most cases they are not fully qualified or capable of providing a truly professional assessment.  To save time they may also cut corners, not giving themselves enough time to conduct either inspection properly and leaving themselves open to mistakes.
pre-sales pest inspections
Pest Ex also conducts pre-sales pest inspections which can be a simple and useful way of reassuring potential vendors about the state of pest activity on your property before you sell.
why use pest ex for your pest inspection?
When you have a pest inspection carried out, you want to know that you can trust the pest inspector to have your best interests at heart, as well as be experienced and professional.  Over 9,000 customers across Queensland have chosen us for their pest inspections because:
We are licensed and fully insured
Our staff are qualified timber pest inspectors (Cert 3 – Pest management technical)
We offer unbeatable onsite service and full communication
We work for you, and not the agent or seller
We are recommended by leading banks and conveyancers
Don't leave your next purchase to chance – contact Pest Ex for a fast, affordable and professional pest inspection today!