Pest-Ex Pest Management provides innovative, safe and effective pest control. We are one of the most respected pest control companies in the South East Queensland region. We provide pest control and termite treatment servicees within the Tweed Coast, Logan City, the Gold Coast and Brisbane
Pest-Ex are renowned for providing an innovative, safe and effective pest control solutions for your home or business.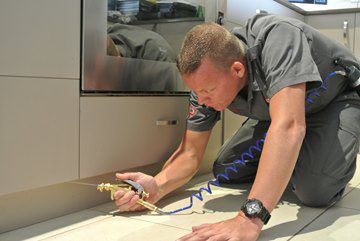 Pest Control – Residential
Pest-Ex carries out all our residential pest control work using a 'common sense' approach. We begin by identifying your problem pests and termites by checking all interior, exterior and surrounding environments.
Our highly experienced team are dedicated to solving any pest problem you may have, without interfering with the health and well being of your family, pets and surrounding environment. We have a range of low and non toxic pest control products that are registered, environmentally friendly and perfectly suited to a sensitive environment.
Pest Control – Commercial
Pest-Ex Pest Management provides integrated pest control programs to the Gold Coast, Tweed Heads and Brisbane. Our pest control can be carried out on a fortnightly, monthly, bi-monthly or quarterly service. We tailor all of our pest control services, and are dedicated to exceed all requirements for HACCP, AQIS, OH&S, YUM, BRC.
No matter how big the project or small the request, we strive for excellence service to ensure your continued use and satisfaction with our Pest-Ex Pest Management service.
Get Pests Out with Pest-Ex
For 10 years we have taken a serious approach to Pest Control. Our Pest Control programs are unmatched. If you need Cockroaches, Spiders, Ants or any other vermin removed were ready!
With over 10 years combined experience and the industry's best training using environmentally responsible methods, you can rest assured that Pest-Ex Pest Management is the number one solution for your pesky pests. Thousands of home owners have already chosen Pest-Ex, so why don't you!?
Pest control treatments
Our aim is to eliminate your current pest problem Fast! And in the safest possible way, we take into consideration your home family & pets first.
We use the safest most effective chemicals available.
Pest Control Service Plan
Pests aren't welcome at your place and we're there to let them know it.
How we do it:
Our Internal treatment includes interior perimeter and skirting boards, kitchens, drains & roof void this eliminates the pests you can see and also the pests you cant see
We then treat the external of your home with an invisible barrier of pesticide; this will keep your home free from any new invasions.
You will go on a 12 monthly service plan where we will send you a yearly reminder for service. Were here to protect your home for the long term.
Safest pest control products used
We use products developed by the largest chemical company's in the world like Bayer and BASF they develop the safest no smell pesticides in the world and have a team of Toxicologists dedicated to human risk assessment.
As many homeowners are looking for natural pest control products we use the safest most effective products available.
Our most common pesticide used for household pest control is Cislin25
A general purpose public health insecticide based on a synthetic derivative of naturally occurring pyrethrum.
Cislin contains a compound called deltamethirin. This product is a synthetic derivative of the natural pest control insecticide Pyrethrum.
Cislin affects a small area of an insects nervous system, Insects are much more susceptible to deltamethirin than humans or birds, animals and pets.
Cislin is diluted in water between 6-12mL/L
Many things we are exposed to on a daily basis are potentially toxic, like (caffeine & salt) but as the doses are small they are not considered toxic.
Cislin is less toxic than salt & caffeine, the risk of exposure to humans at the recommended application rates are extremely low
Homeowners looking for natural pest control love our service plans
For further info on pesticides Please contact us.
Health risks from Pests
Pests don't just bug you; they can pose a major risk to your health and do damage to your property.
Cockroaches, Mosquitos and rats can carry many diseases so we are determined to keep them out.
All season's summer, winter or spring bring the increasing risk of Pests sneaking into your premises looking for food, water and a nice place to call home.
Our Technicians
Our technicians are the best in the business; we are determined to provide you with a professional service delivered by clean-cut reliable technicians. We have protected over 12,000 homes and recently been awarded pest managers of the year Queensland 2013 & 2014.
For more information regarding costs, click here.
Ready to Work with Pest-Ex?
Let's look at why you should call us to get rid of your unwanted pests:
We offer same day on-site service
Our treatment and prevention products adhere to strict environmental standards and are safe to use around children and pets
Pest Ex is fully insured and licensed, and our pest controllers are Qualified timber pest inspectors (Cert 3 – Pest management technical)
We provide easy to read and understand reports that provide cost effective solutions
Leading conveyancers and banks recommend people use us
We service all types of property, from residential homes, commercial and industrial businesses, hotels, schools and restaurants
Give us a call today.