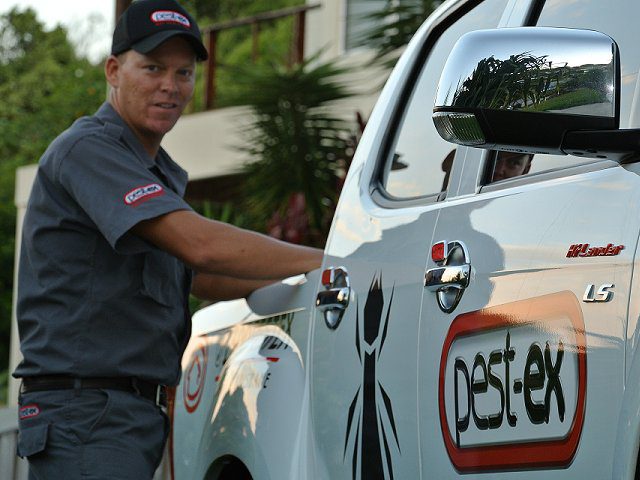 Termites are an everyday part of life in Southern Queensland, thanks to its abundant wilderness areas and warm, semi-tropical climate.  For property owners this can mean the possibility of finding these dangerous pests in or around your home or business on a regular basis.  This can lead to time-consuming and costly detection and removal services, or even property repairs if the termites have been left long enough to do serious damage.
Getting proper long term termite protection for your property is essential, and having an expert such as Pest Ex come and assess your needs and recommend the right solutions can save you thousands of dollars in the future.  We've been providing high quality termite services to Brisbane, Tweed Heads, the Sunshine Coast, Gold Coast and Logan City for over 10 years, and are the number one choice for thousands of customers in the region.
We offer a range of market-leading termite protection services, including baits, physical and chemical barriers and steel ant capping.
termite baits
Termite baits are an effective and hassle-free system that not only kills active termites but also ensures any future colonies are destroyed completely.  The baits themselves are designed to create a protective barrier around buildings, and they attract then disseminate a termiticide throughout the termite population over a number of weeks.  Once they've been installed by a qualified technician, the baits are then serviced on a monthly basis, giving you total peace of mind that your property is being protected day and night.
The baits are completely safe for anyone in the property (including animals), and friendly to the local environment.  They are also suitable for use in a wide range of properties.
Physical termite barriers
The physical termite barriers we provide are generally installed either during the construction of a new building or during a renovation project.  They fit neatly over the foundations and are specially designed to repel foraging termites from making their way further into the building.  Termites can enter buildings through the tiniest gap in foundations, and our termite barriers are a safe and proven way to protect your property from these pests for many years.

chemical termite barriers
Our chemical termite barriers are the best on the market, and they use a highly effective termiticide, Termidor, to kill off active termites and their associated nests.  Our highly trained technicians lay down a 'zone' of chemicals around the foundations of your building, ensuring that there are no gaps or breaks in the line.  Our chemical reticulation system is similar but uses hoses with perforated holes to deliver the chemical into the surrounding soil.  These chemical barriers can be used even in tiled, paved or concreted areas, and will provide years of maintenance free termite protection.   Once the barrier is in place, we recommend having a yearly termite inspection conducted to ensure your property is pest free.
Chemical barriers are suitable for existing properties or for those looking at building a new property or embarking on a renovation project.
steel ant capping
Steel ant capping is a type of physical barrier which sits between the floor frames and the supporting stumps of a building.  It acts to deter termites from crossing over the steel edges of the structure, forcing them out into more open areas where they then are more visible to detection.  Steel ant capping is generally used in conjunction with regular professional termite inspections.
how much does termite protection cost?
Depending on the type of termite protection you choose, costs can vary between $2,500 and $3,500.  It's important to get the right form of protection for you and your property, especially considering that most forms of termite management will last up to 10 years.
Having Pest Ex do a thorough site examination and assess your specific requirements can ensure you get the most cost-effective and successful termite protection for you over the long term.
Ensure your property remains safe and secure well into the future – call us today for a no obligation quote!