After completing over 1,900 termite inspections in 2016 Pest-Ex has seen a huge spike in termite infestations to homes. Infact we feel its our duty to educate homeowners about termites going into 2017 so homeowners can be more aware of the risks and dangers termites have on your home.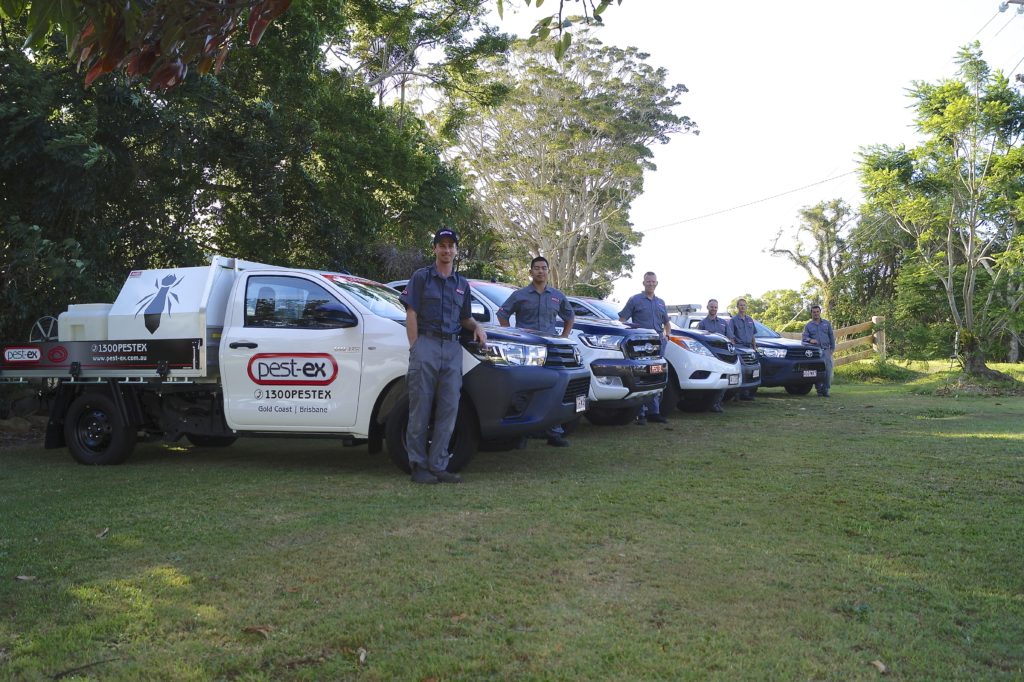 Termite Facts
There are nearly 300 types of termites across Australia; the main termites that cause destruction to Australian homes are subterranean termites. These termites are nearly impossible for a homeowner to detect as they nest underground in stumps or under logs usually within 50 meters of the property.
Property types and how they're usually effected
Homes constructed on slab
Slab homes usually get the most termite attacks as they're entry points are undetected usually entering the home through the gap between the edge of the inner slab and the internal gap of the brickwork.
Pole homes
Pole homes are also prone to termite damage as the termites travel up the center of the timber posts then into the house undetected.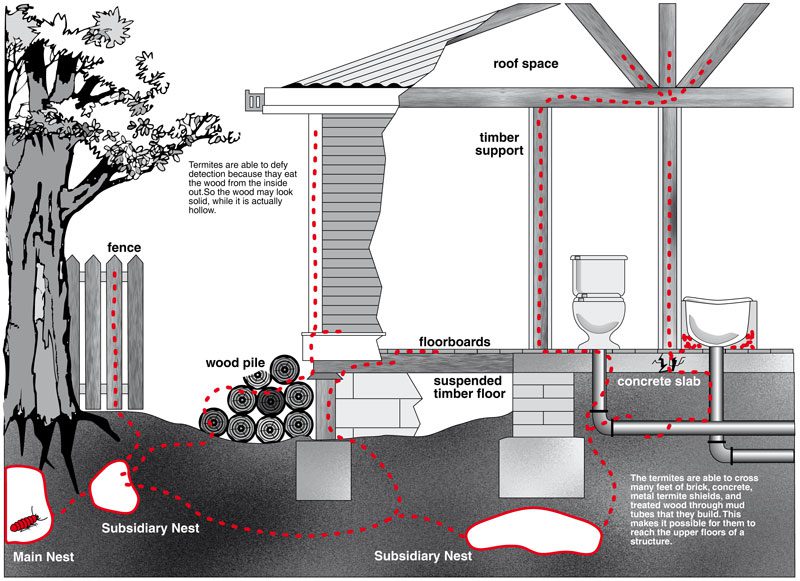 New Homes
Even if your home is new it will still require a termite inspection as new homes are only constructed with a physical termite barrier. These barriers make it difficult for termites to access the home, as the termites need to cross or find a gap in the barrier to enter the home. A regular termite inspection will identify any breaches in the external areas of the home that will allow termites easy access into the home. Reports will include any rectification works needed to be done by the homeowner to minimize termite risk.
Existing homes 10 years or older
 These homes are most prone to termite attack, as most homes this age have no termite protection, Termite inspections on homes this age are recommended 6-12 monthly. Termite inspections by Pest-Ex include external inspection of yards and home, internal inspection to all accessible areas and rooms of the home, Roof void inspection and a full written report usually 12 pages including photos and recommendations needed.
Termite damage bills average $8,000 – $10,000 in 2016

Homeowners payed an average of  $8,000 – $10,000 for termite repairs in 2016, as termites are usually undetected for some time they can be in a home for 1-2 years before visible signs are evident to the homeowner.
The problem is when termites damage a home its not the timber that is the big cost it's the renovations needed to replace the termite damaged timber, for example in August we treated 21 homes for termite attacks in the bathrooms.
The timber cost was around $600 to replace. The main cost was the bathroom makeover that was needed as the whole existing bathrooms had to be demolished to access all the termite damage for repair. Average bathroom renovation – $10K.
House sales drop up to 20% due to termite infestations
In 2016 Pest-Ex has helped many homeowners make confident purchases on their dream homes, as we conduct Pre-Purchase Termite/Pest Inspections before the buyer purchases the home. We've also helped a large amount of buyers avoid disaster as our inspections revealed they were about to purchase a home that had live termites and severe structural damage. Many buyers pulled out of the sale and some proceeded with the sale but with a reduced purchase price. (In some cases $80,000)
If you're selling your home, be sure to have it inspected before you list your property for sale. This will allow any problems to be discussed with your agent prior to the listing. Some may need rectification before your home is up for sale, Resulting in a higher sale price.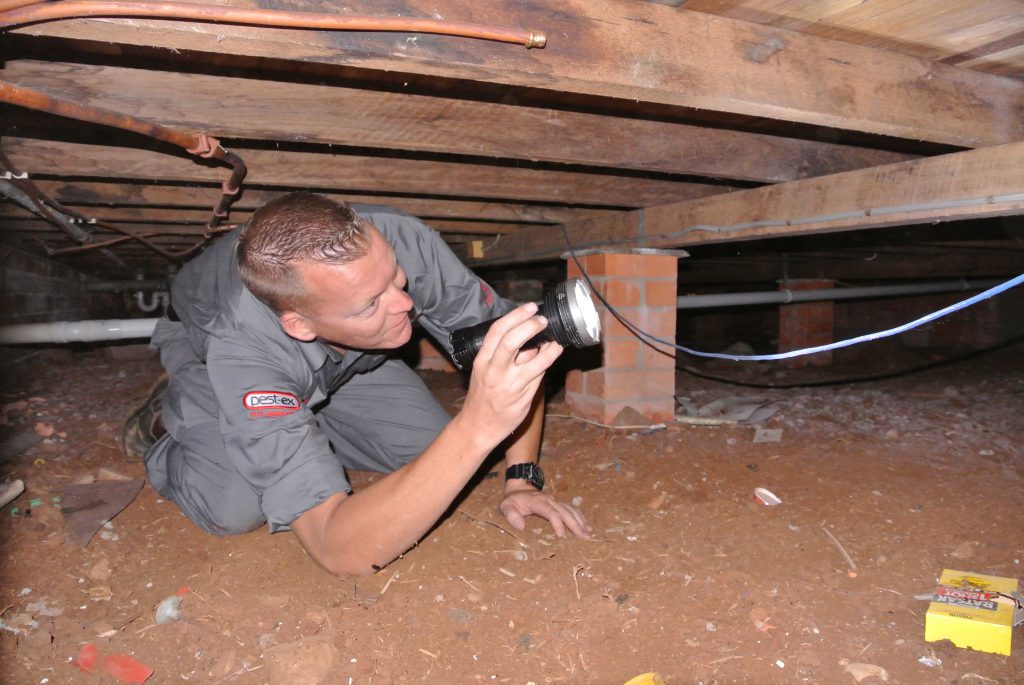 Australian standards recommend a termite inspection at least every 12 months, no home is safe from termites and an inspection is much cheaper that finding out your home has been infested with termites. Termite inspections are essential at early detection of live termite activity in the home and can prevent the potential for large scale termite damage and repair costs for the homeowner.
Minimizing Termite risk
If you're constructing a new home or living in an existing home keeping termite risk at a minimum is essential. Termites love 2 things Wood and moisture, Here are some tips on how to prevent inviting termites into your home.
Keep wood chips or untreated mulch away from the wall edge.
Avoid making gardens against the wall edge of your home
If gardens are against wall edge ensure soil level is 75mm below the weep holes.
Under sub-floors must have good ventilation and drainage
Don't plant large tree types against tour home ass tree roots may damage or crack the slab of the home and allow undetected termite entry.
Remove any wood / log piles or timber debris from the grounds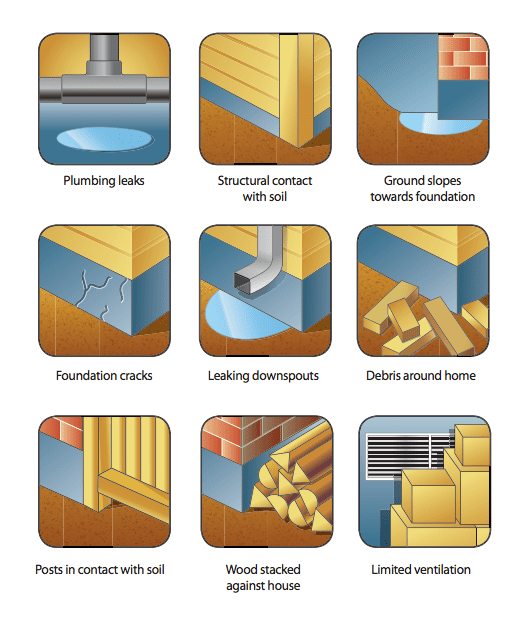 Termite treatments by Pest-Ex
Our Termite control treatments are the best way to ensure termites will not damage your home in the future. Upon completing a Termite inspection on your property we will recommend the correct termite control treatment best suited to your homes construction type.
Termite Barriers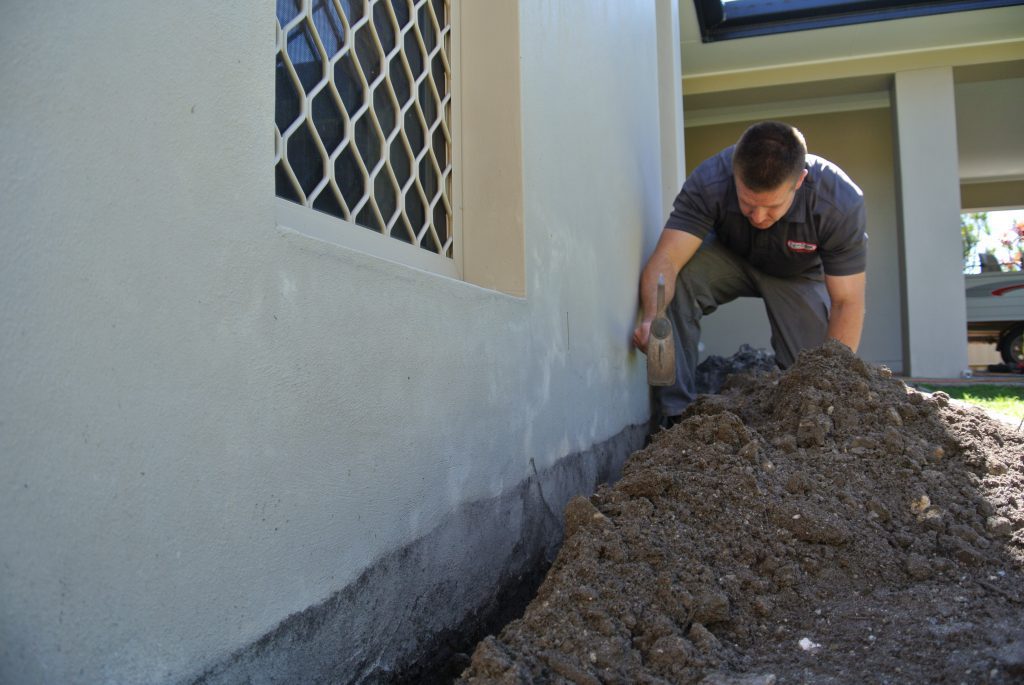 Termite barriers work by applying a liquid termicide in the soil around the perimeter of your home. Usual applications are 10 liters per lineal meter around the home.
Once a complete termite barrier is installed around your home termites will need to pass through this treated zone if they try to enter through the treated zone they will die. We use a leading product called termidor. This is undetectable to termites and usually starts to affect the termites 21 days after initial contact. This means thousands of termites will come into contact with the termidor before they realize they are affected. Once 21 days has passed the termites have spread the product back throughout the nest and this results in the elimination of the colony and the protection of your home.
Termite Bait Systems
 Termite bait systems by Pest-Ex are designed to monitor and detect termites before they get to your home. We install usually 24 termite baits into the ground around your home and then monitor the baits usually 4-6 weeks. When termites enter the baits we install termite bait that termites feed on and then spread the bait back throughout the colony. The bait has an insect growth regulator in it and affects the termites molting process. As the termites spread the bait throughout their nest mates, this kills termites and their colony's resulting in protection of the home.
Conclusion
If you're a homeowner and you haven't had your yearly termite inspection, it may be time to strongly consider booking in for a complete termite inspection and report.
Termite inspection usually cost between $190 – $220 and will include a full written report.
This information should provide you with valuable information about the signs to look out for, and the things you can do around the home to minimize risk against termites.
If you have any questions, please don't hesitate to give us a call.