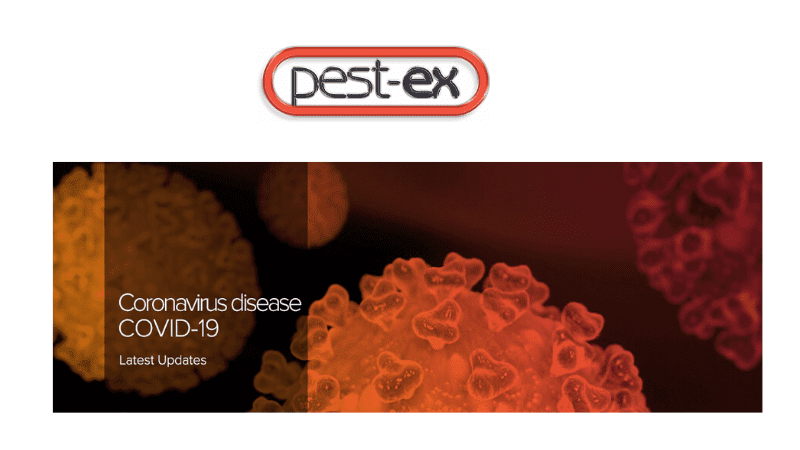 A Message to all our customers about Coronavirus
Pest-Ex are currently monitoring the fast changing affects of the coronavirus (COVID-19) We are currently keeping our technicians and clients up to date with the necessary precautionary measures to keep our staff and our clients safe at all times during any pest control or termite inspection procedure.
As of now we are continuing to provide our pest control services as normal operation as per booked schedules. If clients are concerned or sick we advise they contact our office immediately on 1300737839 or at admin@pest-ex.com.au
Pest-Ex technicians have been instructed and trained to follow the strict procedures and recommendations as set out by (CDC) Centres of Disease Control for their own protection whilst in clients homes or buildings and also to protect the homeowners or tenants.
Our current precautions ensuring safety to our staff and clients:
Personal protective equipment is to be worn by technicians always during internal treatments
Hand washing & sanitizing hygiene is done before and after every service
We are routinely disinfecting shared equipment or equipment that could be placed on common work surfaces.
Any technician feeling unwell or has a sick family member exhibiting these symptoms is prohibited from working for between 14-28 days.
Questions our technicians will ask homeowners or tenants before entering:
Our technicians have been advised to ask before entering a property if the homeowner or tenant is unwell or in self quarantine.
Technicians will not be allowed to enter a property if a homeowner or tenant is unwell or is in any form of isolation.
Technicians to avoid shaking hands and will keep distance of 1.5 meters between person to person where required
Latex gloves are always to be worn by technicians whilst performing duties inside a home or building and to be replaced before each service
All technicians are to update us on any health changes immediately
Technicians are also encouraged to withdraw if unsure or concerned of a health situation
Health and safety of technicians and clients is our #1 priority of Pest-Ex
For any further questions please contact us immediatley