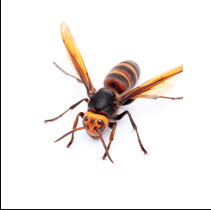 What is bugging you? Stinging Pests?
Mud Wasps
The Mud wasps are a large black and yellow banded stinging pest. These are often seen around damp soil areas, pools and birdbaths. They constantly collect mud for their nest. The average size 2.5cm, their diet consist of spiders they then push the spider into each mud nest and egg is then laid on top of the spider. The larva feeds on the spider when hatched. These mud nests are usually found on external brickwork or framing of a home, these wasps are found all over Australia.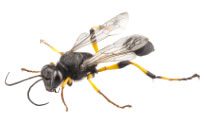 Danger to Humans
The mud wasps will deliver a painful sting, mud wasps rarely attacks humans. If you are stung by mud wasps, use an icepack on top of the sting to ease the pain. If there are signs of an allergic reaction seek medical attention immediately.
Paper Wasps
The Paper Wasps are smaller in size 1.8cm to 2.5cm. Unlike hornets, the paper wasps are only aggressive when their nest is threatened. There are about 300 species identified worldwide. Paper wasps gather fibers from plant steams and dead wood to construct their water resistant nest. Their nest looks like open combs and are found in eaves of a home, at the end of an open pipe, or at the branch of a tree. They are also beneficial to the environment; they are one of the known pollinator as they feed on nectar. Other diet includes small insects like flies, beetle larvae and caterpillar.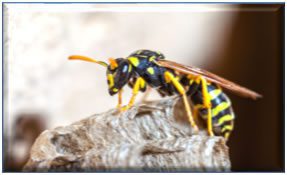 Danger to Humans
Paper wasps will deliver a painful sting when threatened; the sting causes a deadly anaphylactic reaction to some humans.
Bees
Bees are known for their major role in pollination in the environment and the production of beeswax and honey. There are 20,000 species of bees around the world. Bees have long tongue to enable them to suck nectar from flowers. Bees have tiny hairs covering their short thick bodies; they have a black and yellow-stripped colour combination.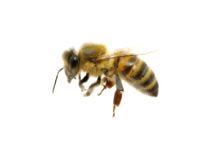 Danger to Humans
For some people a bee sting last a few hours and gets better, some are highly allergic to the sting and exhibit a serious reaction to the venom. Dangerous symptoms to look for:
Tongue starts to swell, face and throat
Itching and red marks all over the body as a reaction to the venom
Difficulty in breathing
Dizziness