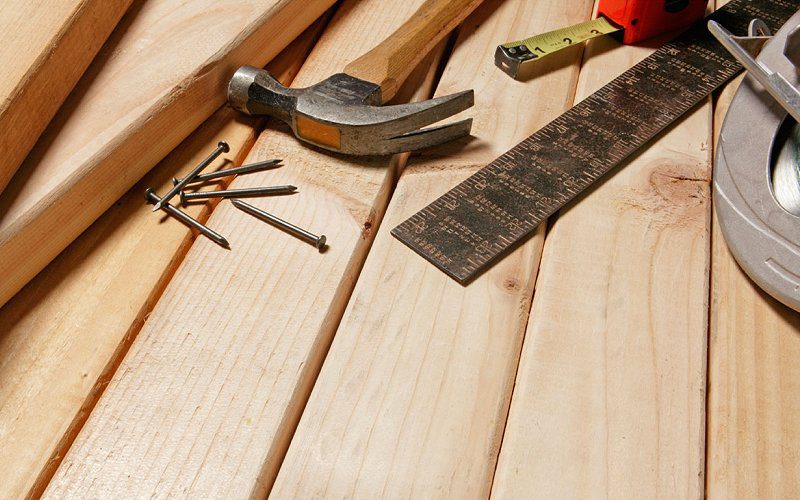 Renovating can be both an exciting and daunting time for any home owner.
Exciting in the fact that you're probably going to be making some really great changes around the home. Quite possibly changes you've been wanting to make for some time.
Perhaps a new kitchen, a new bathroom, a deck, or perhaps building out downstairs to accommodate more bedrooms.
But the thought of renovating can also be quite daunting.
There's the project management aspect, the amount of work involved, dealing with tradespeople, the costs, and also the uncertainty of a successful outcome.
With the increase of DIY style programs on televisions over the past 10 years, more and more people are jujmping onboard the renovation bandwagon.
Whilst this isn't a bad thing, there are some considerations you need to be mindful of before you pick up a hammer and a tin of paint.
The benefits of renovating your home
It goes without saying that renovating your home can add a significant amount of value to the property. But thats not always the reason why homeowners decide to renovate.
Of course, resale value is one of the most common reasons, but there's also property owners who are looking to increase rental yeilds, as well as other home owners who simply want to make improvements to their home for lifestyle reasons.
Whatever the case, renovating your home can be an enjoyable and very satisfying experience.
Pest management is often overlooked

It's interesting to note as professional pest controllers at Pest-Ex, we've seen some unfortunate cases where renovations and extensions have had to be pulled down due to property owners not abiding by legislations introduced by Government in terms of termite protection in particular.
Whilst these are extreme cases, it is worth taking note.
The last thing you need is to find out that your home has failed a building code inspection due to failure to meet standards.
In our experience, pest management is usually always overlooked. This is often the case when home owners go about installing a new bathrooms, a new kitchen, and in particular, owner builders that go about adding extensions to their property. Extensions are usually the biggest areas of concern, especially where new concrete is laid – as we'll cover in just a moment.
Having said that, it really is vital that if you're going to invest a considerable amount of money towards your home, then you make sure it's adequately protected.
As most home owners know, termites in particular can cause huge amounts of damage, so be sure not to overlook pest management.
What you need to know before you begin the renovation process
Before you engage with an architect, a plumber, an electrician or anyone else for that matter, there are a few key areas you need to be aware of before you begin your planned renovation.
Renovations must comply with current termite protection codes
Here at Pest-Ex we receive dozens of calls each week from owner builders who have completed an extension or a renovation to their property, who are now requesting the installation of termite protection – either a psychical or chemical barrier. This is a big mistake in that they've actually completed the project, before getting us in to inspect and advise before hand.
In some cases, installation of a barrier (or termite protection) is simply not possible, and in some extreme cases, part or even all of the extension or renovation will need to be pulled down to ensure adequate protection can be applied.
Some examples of this might include –
Wet areas that have been sealed off (beneath shower recess)
Beneath newly poured concrete
Remember, any extensive renovation, and especially an extension must be certified through council.
This might be due to concrete being poured over areas that are no longer accessible, or within wet areas, where we cannot sufficiently access the area to confirm everything is compliant. (eg beneath shower trays etc)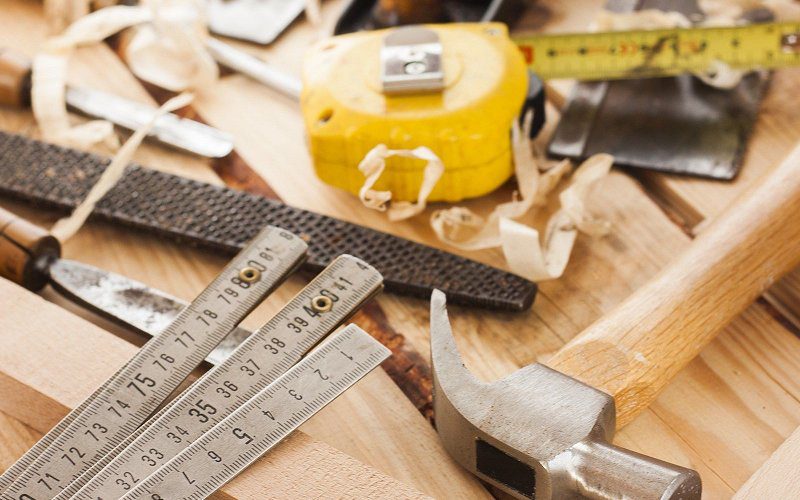 Extensions are subject to more rigorous compliance rules
For property owners that are building out an extension – either an additional bedroom, or kitchen area etc, termite protection is compulsory. This can be acheived in either of two ways.
Physical termite barrier
A physical termite barrier, or "termite blanket" which prevents termites gaining access to the property, or
A reticulation system
In 2001, legislation was changed by the Dept of Housing and Works to ensure properties that had undergone extensive renovations were adequately protected from termites.
This legislation was passed due to a number of reasons. One of them being  due to property owners pouring new slabs of concrete up against existing slabs. This has the potential to cause issues as there's usually always a small gap between the two slabs where they meet, which allows physical access for termites to enter the home and begin compromising the structures subframe.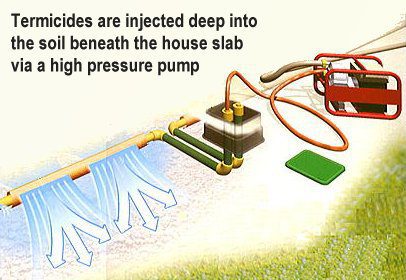 A great solution this problem, where a blanket may not be possible, is a termite reticulation system. A reticulation system allows a chemical termite barrier to be replenished each 8 year cycle to ensure its effectiveness. A reticulation system essentially consists of a high pressure line that travels beneath the two slabs.
A junction box with a fitting is connected to a high pressure pump, which forces chemicals back into the soil which ensures the barrier remains effective.
Property owners that simply pour a new concrete slab up against an existing slab, without consideration given to termite protection, will be faced with considerable problems when trying to have the work certified by council.
(show image of junction box, reticulation system)
Regulations, Form 16 and Council approval
Anyone renovating a property in Queensland will require a Form 16, and local council will only sign off on that, if they have completed this form. Everything will be inspected and approved by your local council for any renovations that –
Exceed $3,000
Involve "extensions" (adding to the property)
Council will send an assessor out to inspection that works have been completed inline with applied regulations, and they will also ensure that Form 16 has been completed.
Form 16 is available on the Qld Government Dept of Housing and Works website.
Australian standard AS3660.1
As mentioned previously, legislation was updated in January of 2001 by Qld Government to ensure homes undergoing extensive renovations are sufficiently protected from potential termite infestations.
As stated from the Dept of Housing and Works website.
Termite Management Systems – Assessment against the Performance Requirements of the BCA
The performance requirements of the BCA for termite management systems are P2.1 and P2.1.1. P2.1 contains the general requirements while P2.1.1 is a Queensland specific requirement. P2.1.1 states –

All primary building elements of a Class 1 and 10 building must be protected against damage by subterranean termites by a suitable termite management system appropriate to—

(a) the ability to replenish the termite management system if it relies on replenishment; and
(b) the level of accessibility to enable the installation, maintenance and inspection of the termite management system to be carried out; and
(c)  the likelihood of the termite management system inadvertently being damaged or bridged.
In other words, not only should the termite protection be applied, but in a way that ensures that it can be adequately maintained.
You can view the entire information handout on the Queensland Government Building Codes information website.
Exposed slabs are a more cost effective solution
Exposed slabs are a great alternative to physical and chemical termite barrier systems.
As opposed to a traditional slab, which is either infilled (beneath ground level) or level with the actual ground, exposed slab edges are raised and sit above ground level. An exposed slab edge acts as a visual barrier, however it must be set at least 75mm high from ground level.
Exposed edge slabs can save money, as a perimeter barrier is not required, because any breaches would be visual. You would actually see the termites entering into the property, up over the slab edge itself.
Infill slabs of course require a physical barrier along the join between the two slabs or again, a reticulation system.
What to be mindful of when renovating your bathroom

Bathroom renovation aren't always subject to council approval, but it should be noted that homes built prior to 2001, may not be adequately protected.
You'll find on a lot of older homes – beneath the shower tray, is exposed soil.
This is often due to the way in which the shower waste drainage has been plumbed. For instance, you may see an 80mm drain pipe sitting in the middle of a 300m hole. This exposes the sub frame of the home to soil, which allows termites direct access to the property.
To rectify this, pest controllers often use a product called Termseal.
Termseal is  like a "paint on" membrane that is flexible in nature, and contains an active termicide within the product itself. So not only does it seal the hole, and prevent termite access, but it also kills off any termites that come into contact with it.
It should be noted that in most cases, it's usually always the bathroom and kitchen that fall prone to termite infestations due to the reasons mentioned above. As well as moisture in these areas which attracts termites.
Considerations to make before starting your renovation
As you can see, there's a lot to take into account before you begin your renovation. It always pays to seek the advice of a qualified pest control professional to ensure your home is in great shape.
Here's a few things to take into account –
Get termite management sorted first
Don't pour concrete before implementing sufficient termite protection
Always work in accordance with Council and all applied regulations
Get your renovations plans drawn up, then get advice from termite experts
Call us Before you Renovate
So if you're about to start a renovation, or you're still in the planning stages, be sure to give us a call and we'll have one of our friendly pest control technicians come out to your home and give you the best advice to ensure you're headed in the right direction.
We look forward to working with you.