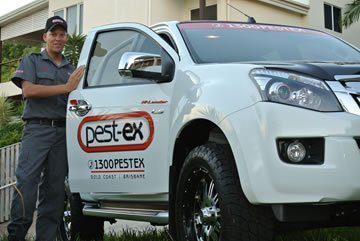 Pest Ex have been servicing Drewvale and the surrounding suburbs of Brisbane for over a decade, providing pest removal and termite treatment services to help both businesses and home owners eradicate nuisance pests, such as termites, ants, mice, cockroaches and more.
Our team of qualified professionals are the very best in the industry. We use the latest in pest removal services technology to ensure you receive the safest and most effective results for your home and family.
Interested in finding out more? Give us a call and book an inspection today.
Termite Treatment & Pest Control in Drewvale
Pest Ex provide a complete range of pest removal and termite treatment services such as –
Traps, baits and deterrents
Pre-purchase pest inspections
Pest control
Termite inspections
Termite treatment
Termite control

Purchasing a property in Drewvale?
Brisbane's property market is booming, so if you're looking at buying or selling a home, it's essential that you consider booking one of our pest inspections. We offer comprehensive inspections before you buy to ensure you have total peace of mind. If your selling a home it's also highly recommended that you consider pre-sale pest inspection ahead of listing your property. This enables you to fix the any issues before you engage a buyer.
For over a decade, we have assisted more than 7,000 home buyers when it comes to ensuring their properties are safe and free of unwanted pests and harmful infestations.
Our property inspections cover –
Gardens and yards – External areas like timbers, retaining walls fencing, drainage may be highly attractive to pests, we report on all conducive conditions.
Internal areas of home –walls and floors are scanned for moisture content, all door frames and skirting boards are also tested for evidence of termite pest presence or damage.
Subfloor under home – All of the bearers, joists, timber piers, timber flooring and stored timbers
Roof voids – Any part of the roof, skylights, vents, flues, valleys, guttering, down pipes, eaves, roof battens, trusses, top plates, hanging beams and rafters.
Remember, it's always better to be safe than sorry. Work with a professional pest control company you can trust. Give us a call today to organise your inspection.
Work with industry professionals you can trust
We are Brisbane's most trusted Pest Removal service providers –
We are licensed and fully insured
Qualified timber pest inspectors (Cert 3 – Pest management technical)
Professional clean cut technicians unbeatable onsite service and full communication
We work for You not the agent or seller
We are recommended by solicitors – leading banks and conveyancers
Safe. Trusted. Professional and Affordable.
Our services are both safe and family-friendly for your property or home. Across the Brisbane and Gold Coast areas, we provide a range of commercial and residential pest control applications in premises that include homes, offices, restaurants and hotels.
Call us today for all your pest control needs.