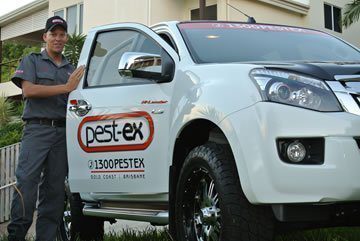 Pest Ex provides fast and effective pest control services within Kelvin Grove and the surrounding suburbs on Brisbane's southside.
We have been servicing the Kelvin Grove area since 2006, providing pest control and prevention services to help both businesses and home owners eradicate nuisance pests, such as –
Termites
Ants, bees and wasps
Bedbugs and cockroaches
Mice, rats and other rodents
Fleas, midges, flies and mosquitoes
Silverfish, spiders, biting insects and more
We have a dedicated team of experts who are prompt, friendly and highly experienced.
Call us today to discuss how we can help.
Kelvin Grove Pest Control & Termite Treatment Services
Pest Ex provide a full range of pest management and treatment services that cater to your home or business.
Some of our services include –
Termite inspections
Termite treatment
Termite control
Pre-purchase pest inspections
Pest control
Traps, baits and deterrents
Kelvin Grove Pre-purchase Pest Inspections
Our pest inspection and pre purchase services are very thorough. We inspect all areas of your property, including both inside and outside, as well as the yard and within the roof cavity to ensure we detect, identify and eradicate any unwanted pests that might be affecting your property or families health.

Our property inspections cover –
Your yard – Most external areas of your yard and property can be affected, especially by termites and ants. In particular, timber fencing and retaining walls as well as other landscaping features.
The roof – Any part of the roof, skylights, vents, flues, valleys, guttering, down pipes, eaves, roof battens, trusses, top plates, hanging beams and rafters.
Inside your home – Your skirting boards, door trims, door jambs, window architraves, doors, cupboards, inside the walls and flooring.
Underneath your home – All of the bearers, joists, timber piers, timber flooring and stored timbers.
If you're looking at either buying or selling a property in Kelvin Grove, be sure to have a pest inspection carried out to ensure the property is A-OK.
Call us today to see how we can help you, just as we've helped thousands of others.
Work with Industry Professionals. Work with Pest Ex
We are Brisbane's most trusted Pest Removal service providers –
We are licensed and fully insured
Qualified timber pest inspectors (Cert 3 – Pest management technical)
Unbeatable onsite service and full communication
We work for You not the agent or seller
We are recommended by leading banks and conveyancers
Safe, Effective and Trusted
Our services are both safe and family-friendly for your property or home. Across the Brisbane and Gold Coast areas, we provide a range of commercial and residential pest control applications in premises that include homes, offices, restaurants and hotels.
We look forward to working with you. Call us today.