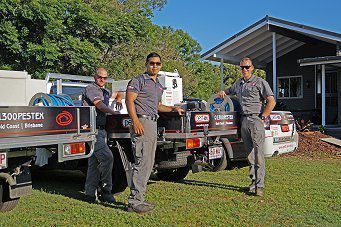 Living and working in Brisbane can be idyllic, thanks to its pleasant climate and its access to lush wilderness areas.  However this can also unfortunately mean living in close proximity to a number of pests that can cause a nuisance or, in the worst cases, pose a serious threat.
Pest Ex has delivered high quality pest control and termite treatment services to the Taringa area for more than 10 years, and has well trained and certified friendly staff on call ready to tackle any job you might have, big or small.  We work with home and business owners and have a range of clients, from office buildings and retail outlets, shopping centres and schools, cafes and restaurants.
Our pest treatments are completely safe, having passed stringent Australian safety standards, and our techniques are designed to have as little impact as possible on the surrounding environment while still remaining highly effective and long-lasting.
Call us today to find out more about any of our services.
Taringa's most valued pest control services
No one likes the idea of having pests in and around their property, especially when they could be dangerous, either through poisonous bites, spreading germs or disease, or causing severe allergic reactions.  Killing one or two pests such as spiders or wasps is fine, however even having a few of these insects around can mean you have a more serious problem – possibly even an infestation.
Calling in the experts quickly is the best way to guard against letting a few pests turn into a major headache.  Pest Ex specialise in the fast and accurate detection of pests in and around your home or business, and we use technology such as thermal imagery and radar to ensure we track any nasties down to their source.  The most common pests we treat in Taringa include:
Ants, spiders and cockroaches
Wasps and bees
Rats and mice
Fleas and bed bugs
Mosquitos and midges
Termites
Once you've booked an inspection, we'll come out and assess your particular problem before giving you an accurate quote for the job.  We'll also explain our processes to you, and if any follow-up work is required, we'll schedule in a time that is most convenient for you.  Our staff are fully equipped and experienced to handle all types of jobs, and once our treatment is complete, we'll be able to give you advice on the best preventative measures  to ensure the pests don't come back.
professional Pre-purchase pest inspection reports

If you're thinking of buying a home or business in the Taringa area, have you thought of having a professional pest inspection conducted?  Building inspections are a standard part of due diligence these days, however pest inspections are becoming more popular as people realise how important it is to know if the building has undergone pest damage in the past, or if there's a current pest infestation before making an offer.
Our pest inspections are thorough, informative and recommended by conveyancers and banks.  We can usually come out and inspect a property on the same day as you contact us, and we'll give the building a complete examination.  We look at:
The outside areas, including any timber fences, landscaping, sheds, trees, stumps and soil
The inside areas, including all floors, ceilings and walls, timber architraves and skirting boards, cupboards, the roof and the basement
Once we're finished, we'll give you a summary of our findings, then provide you with a comprehensive report with pictures.  Our report is designed to be read and understood by those outside of the industry, so we explain everything in plain English.  We also offer pre-sales inspection reports that can be a useful way to document any pest control measures you might have on the property, as well as any remedies for past pest damage that may have been necessary.
Get the reassurance you need before signing on the dotted line – make a booking with us today for a pre-purchase or pre-sales inspection!
Our work is 100% Guaranteed
To give you complete peace of mind, we offer a money back guarantee on all of our services.  If you aren't happy with any aspect of our on-site work, we'll refund 100% of your money, no questions asked.
So contact us today and talk to one of our friendly staff – we're waiting for your call!