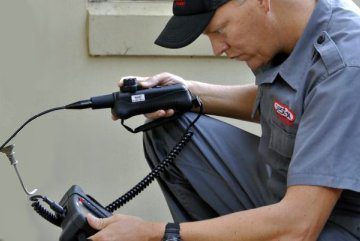 Pest Ex provides professional pest control and termite treatment services to Runaway Bay and the surrounding Gold Coast area.
Our team of friendly, fully licensed pest controllers can find and remove pests in your property, as well as treat it to ensure they don't return.  Ongoing prevention and management of a pest issue can be a critical element to guarantee your property will not be visited by nasties in the future.
The products we use are environmentally friendly and our services follow the strict safety guidelines as set out in Australian Standards. If you are worried about potential dangerous pests making a home in your property, contact us today to arrange no obligation free quote.
TERMITE TREATMENT SERVICES IN RUNAWAY BAY
The Gold Coast is known for it's beautiful weather, but it is also known for its warm and humid climate.  While it makes everyday living pleasant, it can also mean an abundance of pests, and especially termites and white ants.
For some property owners it can be a shock to realize that they have a termite problem because the infestations are hidden away in the dark and generally unnoticed locations such as the roof, in walls or underneath the property.  This is where specialist tools, experience and know how can make all the difference.  Pest Ex use the latest in technology such as moisture detection, radar and thermal imaging cameras to find termite activity, live nests and infestations.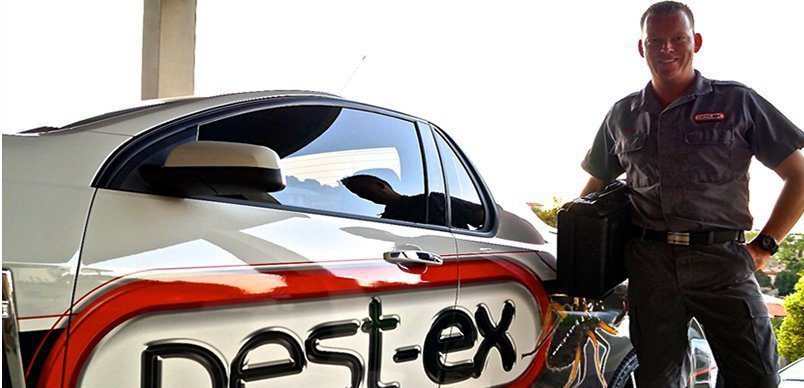 Our inspections are thorough and detailed, and we are equipped to fully treat any problems we find on the spot.  Our termite treatment and management services consist of:
Ongoing management including prevention, protection and removal
Termite barriers (post and pre construction)
Baits, deterrents and baiting traps
Installation of the following anti termite systems – Biflex, Exterra, HomeGuard, Sentricon, Termidor.
So if you're concerned about termites in your property, or just want a regular inspection as a preventative measure, call us today for an inspection.   Don't forget, no job is too big or small, and we can usually offer same day service.
LOOKING FOR PEST CONTROL IN RUNAWAY BAY?
As well as our termite removal and prevention services, we also offer a full range of other pest treatment services.  We work with residential, commercial and industrial properties, and can provide one off removal and treatment jobs or can work to a regular inspection schedule.
The list of pests we treat includes:
Flies and midges
Rodents, including rats and mice
Spiders
Cockroaches and ants
Wasps, bees and mosquitos
Silverfish
Fleas, bed bugs and more
No one likes to think their property may have a pest problem, and it can be doubly difficult if you have children and pets around.  Thanks to our diverse environment, there are just so many pests that can cause not only damage to our structures, but also cause harm to our loved ones.  Choosing a fast, reliable and professional pest control company will be key to ensuring that you and your family remain safe.
TRUSTED PRE SALES AND PRE PURCHASE PEST INSPECTIONS
If you're thinking of buying a property in the Runaway Bay area or in other suburbs in the Gold Coast, consider getting a professional pest control inspection report done.  These can be invaluable for anyone wanting a 'reality check' in terms of potential pest activity, and can save you thousands of dollars, time and stress in the long run. Pest Ex is experienced and fully qualified to carry out timber pest inspections – our pest controllers undergo rigorous formal training.  This means you'll be covered by the necessary licensing and guidelines as set out by Australian governing bodies.
Our pest inspection will look at all areas of the property, inside and out, and focus on "hot spots" known for pest activity such as timber structures, joinery and walls.  Once completed, we will then issue you with a report:
A 14 page written report, written in plain English and provided to you no later than a day after the inspection was held.
Including descriptions of any pest activity detected, with colour photographs.
We can discuss the report with you in person or over the phone if it is more convenient.
Pest Ex has performed over 7,000 pre purchase pest inspections in the local area. We can help you get the peace of mind you need when purchasing property, so give us a call today and organise your inspection.
PEST EX'S 100% GUARANTEE
We are so confident of our work that we offer a no questions asked, money back guarantee on our services.  We want you to be completely satisfied with the way we go about our business and the outcomes you expect from us.
Don't take chances with a less experienced or less professional company – contact us today and find out what puts Pest Ex ahead of the rest!