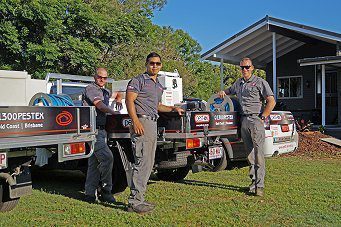 For more than a decade Pest Ex has provided the very best pest control services in the industry.  We have thousands of happy customers right across the Logan City, Brisbane and Gold Coast areas, and are expanding our reach everyday.
Our services include:
Comprehensive pest inspections
Professional termite inspections
Termite barriers, anti-termite systems, baits and traps
On the spot pest removal and treatment
Pre-purchase and pre-sales pest reports
Our friendly pest controllers use the latest in high tech equipment to detect pests no matter where they've made their home in your home or business, and our tailored treatment solutions are safe and effective over the long-term.  We treat the following pests:
Termites
Spiders
Ants
Flies
Mosquitos
Silverfish
Fleas
Bed bugs
Rodents
And many more
So if you think you might have a pest problem in Bahrs Scrub, call us today and let the professionals take care of it for you!
number 1 termite treatment in bahrs scrub

Unfortunately, termites area fact of everyday life for people living and working in the Southern Queensland region.  While at first glance they may look similar to ants, termites do have different features such as a lighter colour and straight a
ntennae.  They also differ in terms of their diet:  termites live solely on cellulose, which is found primarily in plants and wood.
They have been known to infest a property, and completely gut the wooden structures from the inside in a short period of time.  To make matters worse, signs of such an infestation can be difficult to spot.  This means that having a regular inspection for termites in your home or business is important – we recommend at least an annual inspection to ensure these pests won't get a foothold on your property.
Our termite inspections are carried out by highly qualified timber inspectors, and we will look at all aspects of our property, from inside to out.  Our review covers:
The top of your home or business, including the roof space, timber beams and trusses, gutters and downpipes, vents and skylights
The main rooms of the property, looking at floors, ceilings and walls, windows and door frames, built-in cabinetry and cupboards
The bottom or underneath of the building, including crawl spaces, the underside of floors, floor joists, any piles of wood
The outside f the property, including the soil, old tree stumps, trees and bark, outdoor structures, landscaping features and fencing
Once the inspection is complete, we can remove any offending pests then and there, and provide a thorough treatment solution, or we can provide you with a no obligation quote for the work to be done.  We supply a full range of the leading anti-termite systems such as Homeguard, Exterra and Sentricon, and can install baits and traps to prevent termites from becoming an issue in the future.  For new buildings or renovations, we can install termite barriers for an added layer of protection to help protect against an termite invasion.
are you buying property in bahrs scrub?
If you're considering purchasing a home or a business in Bahrs Scrub, you should get a pest inspection report before making any final decisions.  A professional inspection can put your mind at ease in terms of pest activity within a property, and a report can provide an invaluable record of the state of the health of the building.
Pest Ex's pre-purchase pest reports are well known in the industry, and are recommended to vendors by leading financial institutions and property experts.   We can generally conduct an on site pest inspection the same day as you contact us, and our 14 page colour report gives you everything you need to know in relation to pest damage and potential treatment options.  For those selling a property in Bahrs Scrub, we also offer pre-sales inspections and reports, so you can include it as part of any due diligence process for potential vendors if you wish.
Call us today for a prompt and professional pre-purchase or pre-sales pest inspection in Bahrs Scrub.
the 100% pest ex guarantee
We want you to be completely satisfied with your customer experience and the level of work when you choose us for your pest control needs.  That's why we offer a no-questions-asked, money back guarantee on all of our services.  From the moment you contact us, to our evaluation of your problem, treatment and ongoing pest management process, we aim for the very highest standards.
So contact Pest Ex now for total peace of mind and premium quality pest control solutions!