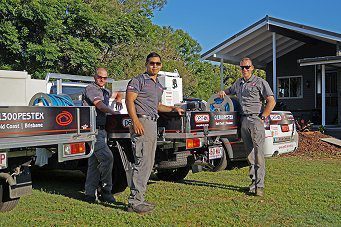 The number one choice for professional pest control services in Logan Reserve, Pest Ex has over a decade of experience and the most highly qualified and trained pest controllers in the business.
We service both residential and commercial properties and no job is too big or small.  We offer a range of services, from termite detection and treatment to general pest control, annual inspections and pre sales and pre purchase inspection reports.  All of our work is fully licensed, and we offer a 100% money back guarantee meaning that you know you'll be in safe hands.
Give us a call today and let us help you with all your pest control needs.
Do you have a termite problem in logan reserve?
What should you do if you suspect you may have a termite problem?  Probably a better question is what shouldn't you do – that is, don't assume you can tackle the issue by yourself and certainly don't think that if you ignore the problem it might go away.  You'd be surprised by how many people we see make these mistakes, especially as it's so easy to call in professionals to fix a termite infestation quickly and cost effectively.
Our termite detection and treatment services are highly sort after in the Southern Queensland region because:
We provide prompt service (in most cases offering same day on site service)
We use the latest in high tech gadgetry to seek out and destroy termite populations
Our inspections are thorough, and include all areas of the property such as a garden or common areas, roof spaces and basements
We will give you a no obligation quote for any work that is required on site
Pest Ex's pest controllers are qualified timber pest inspectors (Cert 3 – Pest management technical)
Our termite treatment products are safe for you and anyone living or working in the property
We provide effective termite management services, including baits and traps
If you're thinking of renovating or even starting a new build, Pest Ex can also help to ensure it remains termite free with the latest termite barrier technology.  Don't let termites get a foothold in your property – let Pest Ex take care of them fast and effectively!

Pest Control Services In Logan Reserve
Having a pest issue can be frustrating and sometimes even dangerous.  All pests are called that for a reason, but some such as spiders, rodents and mosquitos can actually pose a serious health risk.  Getting the right treatment quickly can also often mean the difference between having a small problem to realizing you're in the middle of a major infestation.
Our pest control services are designed to stop the problem at the source, and to give you ultimate peace of mind.  The pests we treat in the Logan Reserve area include:
Bees and wasps
Ants, spiders and flies
Midges and biting flies
Mosquitos
Fleas and bed bugs
Rodents, including mice and rats
Termites
You may have seen our branded trucks in the area, and maybe even our friendly pest controllers servicing properties in the local area.  We can help you too, so contact us and find out why we have thousands of satisfied customers!
we are dedicated to your safety
As a local company, we understand the importance of keeping our natural environment as pristine as possible.  As a result, we have adopted a "safety first" approach to the products we use in all of our pest control services.  Our treatments have passed the Australian safety regulations, meaning that not only are they environmentally friendly, but also that your treated property will be safe for you, your family and your pets.
Because we focus on accurate identification of pests, we can target our treatment of them and ensure maximum effectiveness.  Our experience and our first hand knowledge of the many pests in the Logan region makes us your "go to" company for any pest related issues.
Contact Pest Ex for friendly, prompt and dedicated pest control services today!