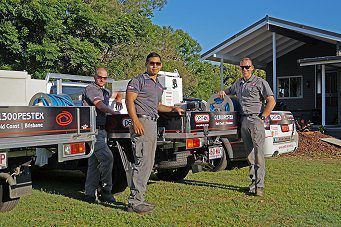 Pest Ex is Logan City's most respected pest control company, with a dedicated team servicing the Rochedale South area.
We can help you, no matter how large or small your job, and we offer our services to both home and business owners, including:
Units, townhouses and freestanding homes
Restaurants and cafes
Child care centres and schools
Offices
Industrial buildings and warehouses
Shopping centres and other retail outlets
We offer general pest control as well as specialised termite detection and removal services, and can also conduct annual inspections, pre-sales and pre-purchase inspections.  Our use of technology for superior pest detection and environmentally friendly and safe products has given us an unbeatable reputation in Southern Queensland.   We have over 7,000 satisfied customers in the Logan City, Brisbane and Gold Coast regions, and the list gets bigger every day.
We're committed to bringing you the very best service we can, so contact us today!
PROFESSIONAL PEST CONTROL SERVICES IN rochedale south
In the warm, humid climate of Queensland, pests of all kinds can thrive and multiply to become a headache for home and business owners alike.  Our years of experience and understanding of the local flora and fauna make us experts at dealing with all types of creeping, flying and hopping pests, including:
Mosquitos, flies and midges
Rats and mice
Spiders, fleas and bed bugs
Ants, bees and wasps
And more
Termites can be a devastating and costly problem, and the abundance of wilderness areas in and around the Logan City region make termites a real threat for residential and business properties.  A colony of termites can enter a building via subterranean tunnels and set up their nests in dark and hidden areas such as roof cavities and behind walls.  They will then set about eating through any paper material, but mostly concentrate on wooden structures they come across.  In this way they can seriously harm important structural elements in a property, causing thousands of dollars of damage.

Our termite inspections use cutting edge thermal imaging and moisture detection to find any pockets of the pests.  Our certified timber inspectors will look at:
The main rooms of the property, ceilings, walls and floors, cabinetry and architraves
The top of the property, the roof space, trusses, gutters
The bottom of the property, the cellar or basement area, stored wood and under decking
The outside of the property, the soil, trees and dead tree stumps, garden or landscaping walls, wooden features and structures
Any live nests should be disposed of immediately and thoroughly, the area treated, and appropriate anti-termite systems, baits or traps should be installed to ensure the property remain termite-free for the near future.  We are fully equipped to take care of this for you on the spot, or we can give you an estimate for how much the work will cost if you prefer.  Another way to ensure you keep your property termite free is to have termite-barriers installed when you're renovating or thinking of building a new property.
The safety of those who occupy and work in the property is of utmost importance to us.  That's why all of our treatment products adhere to strict Australian safety guidelines, as well as being as friendly to the local environment as possible.
why work with pest ex?
Choosing us for your pest control requirements is simple:  we offer the widest range of top quality services in Rochedale South.  We're also number one for customer support, on-site professionalism and workmanship.
We care about our customers, so offer them a "no questions asked" money back guarantee, and we are always happy to explain all of our procedures and treatments thoroughly to you, and in plain English.  We ensure that our pest reports can be read by people outside the industry – people like you – because we want you to understand the problem you might be having and what we're going to do to fix it.
No matter whether we're conducting a routine pest inspection, helping you protect you home or business against termites or removing a troublesome bees' nest, you'll get dedicated, qualified staff who will go out of their way to ensure it will impact you as minimally as possible.
So if you're in Rochedale South and looking for the very best pest control services, contact us today!