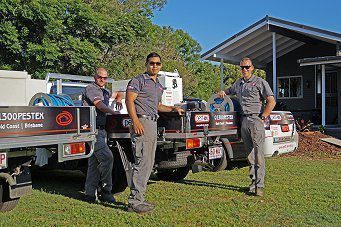 Pest Ex are the leading providers of high quality pest control solutions in South-East Queensland.  We have the most qualified and professional pest controllers in the business, with dedicated teams ready to take care of all your pest issues – big or small – in Underwood.
Our services cover the full range of pest detection, removal, treatment and management of:
Spiders, bees and wasps
Mosquitos and midges
Flies and biting flies
Ants, fleas and bed bugs
Rats and mice
Termites
Silverfish and more
Our work is fully insured and licensed, and we make sure that everything we do not only adheres to environmentally responsible standards but is as safe as possible – after we treat your property, you can rest assured knowing that it will be safe for the occupants and any animals or pets on site.
Don't leave your pest control needs in the hands of a less experienced company.  Contact Pest Ex today!
Termite treatments you can rely on
Thanks to Queensland's semi-tropical climate and abundance of nature reserves and forests, the state is known for being a haven to termites.  Colonies of these pests can move onto a property and enter buildings undetected, settling in to build nests and to eat cellulose found in plant, paper and wooden material.
This is what makes them dangerous for buildings – they can quickly reduce wooden beams, floor joists and trusses to mere shells in very little time.  Finding one or two termites in or around your property generally means there will be more, and in the worst case scenario, you might even find you are living with an infestation in your walls.
The best idea if you do suspect you may have termites is to call us in as quickly as possible.  This way we can do a complete inspection and find out the scale of the issue.  Our inspections are carried out by certified timber inspectors, and use the latest in termite detection technology.  We look at all parts of a property, inside and out – we don't just stop at the internal areas but also check areas such as the roof space, the roof itself with skylights or vents, basements and crawl spaces, the soil outside the buildings, trees, fences and retaining walls.
We will then be able to take all the necessary steps to eradicate any live nests and treat the area effectively.  If required, we can also help prevent future termite colonies from using your property as a home, through baiting, traps and anti-termite systems such as Sentricon, Homeguard and Biflex.  Regular follow up pest inspections are recommended to provide an extra layer of protection for your home or your business against these persistent creatures.
If you're building or renovating a property in Underwood, it is also a good idea to consider having anti-termite barriers laid down, either pre or post construction.  These can help to stop termites making their way into a building.
Call the termites experts, and let our friendly staff help you today!

buying or selling property in underwood?
If you went to look at a property, one that you might be considering buying, do you think you could spot signs of a pest infestation?  You might think so, however pests such as termites can hide in walls, ceilings and basements for a long time before the property owner might notice.  Even the experts have to use specially designed technology to seek out termites.
Our pre-purchase pest inspection reports take all the guesswork out for you.
We can be your professional 'second pair of eyes' and inspect a property from top to bottom, inside and out, looking for any pest activity and pest damage.  We can generally conduct same-day inspections, and an inspection report will be provided to you within a day of our visit.  This document includes our findings (written in easy to understand plain English) and recommendations for appropriate treatment.   Our report will give you the quick information you need to make a properly informed decision.
If you're selling you can also rely on our pre-sales pest inspection reports to provide a useful record of the pest activity in your property.  This can be a useful document to have on hand for potential vendors.
The professional pest control difference
When you've been in the industry as long as we have, you know the difference between a professional pest control treatment and a sub-standard one.  Many of our customers contact us after having a less than adequate treatment conducted or being less than impressed by the service they received from other companies.
We are recommended by banks and conveyancers because we are qualified, experienced, well equipped, fully insured and licensed, and have the highest professional standards in the industry.
Don't settle for second best: call Pest Ex in today!