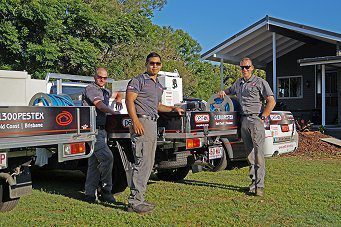 Pest Ex has over a decade of experience providing high quality pest control services to Brisbane, the Gold Coast and Logan areas.  Our branded and fully equipped vehicles can be seen all through the region, and you may have even seen one of our professional and friendly pest controllers out and about, looking after one of our thousands of customers.
We're a local company, which means that we not only understand and have expert knowledge of the pests that inhabit the area, but we genuinely care about the environment.  This is why we've ensured that our treatment products are the very best on the market in terms of not just effectiveness but also safety.  They have passed the strict Australian standards on safety, and we are also members of the Australian Environmental Pest Managers Association.  When we treat your home or business, you can rest easy knowing that it will be completely safe to live and work in afterwards.
If you need fast and safe pest control and termite treatments, call us for a no obligation quote today!
Do you have a termite problem in waterford?
Living in semi-rural areas like Waterford can be a challenge when it comes to pests, and in particular, termites and white ants.  Despite their size, termites can reduce even a solidly built timber structure to a crumbling shell in just a few months.  This is why it's important to have a regular termite inspection conducted (experts recommend at least annually).  However, it's equally important to have signs of termites investigated immediately.
Pest Ex's termite treatment service is the premier choice for thousands of customers in the area because it is the most comprehensive on the market.  Apart from looking after homes, we are the termite controllers of choice for a range of businesses including shopping centres, schools, office buildings and restaurants and cafes.
Once you have called us in for an inspection, using the latest in high-tech termite detection equipment we will look at:
The top of the property, including the roof cavity, gutters and pipes
The interior of the property, including all visible surfaces such as ceilings and walls, inside cabinetry and wardrobes, architraves and skirting boards
The underneath of the property, including any crawl spaces, basements and cellars
The outside of the property, including structures, fences and walls, landscaping and soil surrounding the building
Our certified timber inspectors look for signs of termite activity, live nests and infestations.  If located, we are equipped to remove all offending pests on the spot, or we can give you a quote for the estimated costs for such a procedure if you prefer.   The affected areas will be treated thoroughly, and we can also set any preventative measures that may be required such as baits, traps and other deterrents.  We also stock a wide range of anti-termite systems such as Biflex, Exterra, Homeguard and Sentricon, and if you're building a new property or extension, we can help you with the latest in effective termite barriers.

PRE sales AND PRE purchase PEST INSPECTIONS in waterford
Are you thinking of buying or selling property in Waterford?  Our pre sales and pre purchase inspection reports are recommended by banks, conveyancers and property specialists, and can provide vendors and purchasers with complete peace of mind when it comes to the levels of pest activity with a building.
We can conduct same-day inspections on the property in question, and conduct a rigorous examination of the building, from top to bottom.  We we will then provide you with an easy to understand 14 page report, with colour pictures, documenting any pest activity we discovered.  We also provide you with a guide to the types of treatment required to remedy the issue.
Get an extra level of comfort when making a big purchasing decision – book a pre sale or pre purchase inspection now!
Our 100% guarantee to you
We are friendly and professional in everything we do – from the moment you contact us to our on site work and our follow ups – and we take great pride in the quality we can offer you.  We understand that when you have a pest issue, you need it to be taken care of thoroughly and as quickly as possible. This is why we offer a no questions asked, 100% money back guarantee on our services.
Get the very best pest control treatment in Waterford – contact Pest Ex today!