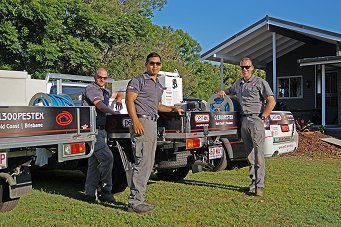 Over the past decade, Pest-Ex has performed more than 9,000 termite inspections. Our team of skilled professionals can assist you in the early detection and prevention of termites, which if left untreated can cause considerable amounts of damage to your property.
Our inspection services include –
Termite inspections
Pre purchase inspections
Pre auction, pre handover inspections
Ongoing management and yearly inspections
Starting at just $190 for a regular sized home or unit, our inspections are more than affordable, and a wise investment to ensure your property isn't at risk of an infestation.
Call us today to organise an inspection at your property.
Pest-Ex Termite Inspection Specialists
Our termite inspections are the most comprehensive in the industry. Unlike other pest control companies, we inspect and assess ALL areas of your property, including –
Around the yard – Nearly all outside areas can be affected, especially fencing, tree stumps and retaining walls. Not to mention any timber landscape and other features.
Inside the property – Trims, skirting, door jambs, window architraves, doors, cupboards and flooring.
Under the property – All of the bearers, joists, timber piers, timber flooring and stored timbers
The roof and ceiling cavity – Any part of the roof, skylights, vents, flues, valleys, guttering, down pipes, eaves, roof battens, trusses, top plates, hanging beams and rafters.
Upon completion of the inspection, we will prepare and present to you a full 14 page report, outlining our findings in detail. We will be sure to go over the report with you, so that you have a clear understanding of what everything means.
Our team of pest controllers are fully licensed, qualified, trained professionals with decades of experience. All of our work is backed by a 100% guarantee.

We use State of the art Termite detection systems

Pest Ex takes termite detection very seriously, and for good reason. We have worked incredibly hard within the pest control industry to build a solid reputation. When working with Pest Ex you'll know that when we perform an inspection at your property, that we will be absolutely thorough.
Unlike many other so called 'experts' we use the very latest in state of the art technology to detect and identify termites in your home or place of business. Infact, we go over and above the Australian standards using equipment that is advanced in locating and detecting active termites without doing any damage to your walls or plasterboard.
Some of the equipment we use include –

Termatrac motion sensor
This sensor detects movement through a wall, tiles or even brickwork. If termites are detected we will use a Termatrac machine to detect motion in the wall resulting in termite detection with 100% accuracy.
Thermal imaging infrared camera
Thermal imaging cameras allow us to detect if there is a water leak caused by moisture, or if there is a termite nest in the wall. Termite nests give off a much different heat signature to that of a simple water leak.
A moisture meter will also alert us of any problems. With the use of these tools, we can precisely detect termite activity in places that would otherwise go unmissed. It also means that you will be removing plasterboard ONLY where necessary, and not "digging around" in order to find the problem.
Borescope camera
This camera allows us to inspect within a wall cavity to determine if there is a fault with a leaking pipe or a problem with termites. This tool is used often to show clients the exact nature of the problem – whether it be a live termite nest or a plumbing issue.
What if termites are found?
We will firstly identify the type of termites found, and assess the extent of the infestation
From there, we will provide you with a quote OR we can begin the extermination process immediately
You will be kept informed throughout the process so you know what's going on, and what costs to expect
It should be noted that if live termites are discovered that we strongly recommend you take immediate action. Termites if left untreated can cause extensive amounts of damage to your property – which won't be covered by insurance. If we do find live termites, we can begin treatment right away as all of our service vehicles are stocked with all the required equipment and tooling to perform the job immediately.
If termites aren't found, we will still make recommendations as to how you can make improvements around your property to reduce high risk areas, such as –
Garden beds built up against wall edge covering weep holes
Timber gates attached to brickwork and in ground contact
Leaking pipes, drains or bathrooms
Pest-Ex offer 100% guarantees
Here's exactly why you should work with us –
Unbeatable onsite service and full communication
We are recommended by leading banks and conveyancers
We are licensed, fully trained and insured
Qualified timber pest inspectors (Cert 3 – Pest management technical)
Quality you can trust
When you work with Pest Ex, you're working with leaders in the termite protection industry.
Our inspection services are second to none. Give us a call today to organise an inspection at your property and experience the Pest Ex difference.
We look forward to working with you.
Common questions about our termite inspection service
How long does an inspection take?
A termite inspection will usually take 1-2 hours on a standard sized home. This time will vary depending on your home type. If your home has a sub-floor we will need to inspect under the property for access also. Depending on our findings, there may also be further time and additional detection equipment needed to determine the results of your inspection.
For example – if we find high moisture areas within a section of wall or bathroom areas, we will need to investigate these areas further. High moisture is common during inspections and especially on homes over 10 years old. When we find abnormal moisture readings we need to determine if it's a water leak, or live termites in the home. Termites give off heat and also moisture. This is what our detection tools detect during an inspection. We then use thermal imaging to detect if there is heat from a termites nest in the wall or moisture from a plumbing leak.
We then finalize the presence of termites by using a motion sensor machine called Termatrac. This machine works on a radar frequency and will detect the motion from 1 termite in the wall. The motion will set of the machine and give our technicians conformation of live termites in the home. It is also common for homeowners to want to see the termites. We then use a inspection camera scope that pierces through the wall and allows for a color screen view of the termites.
How much does it cost?
Termite inspections on standard sized homes are $190. The same fee applies to units as the time involved to inspect, plus generate the report is much the same. Pre-purchase pest inspections are $220. For more information about pricing, including treatment costs, click here.
Below is a video on what we can find during a Termite Inspection