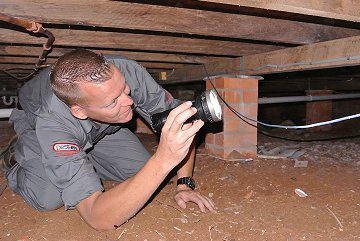 Pest Ex is the number one choice for superior pest control and termite treatments in Banora Point and the greater Tweed Heads region.  Our decade of experience in the industry, qualified and dedicated pest controllers and our unmatched local know-how gives us the edge over our competitors.
We work in homes and big and small businesses.  We also service a range of property types, from restaurants and cafes, to commercial units, office buildings and education facilities.  Our ability to provide high quality professional pest control in all types of industries gives us the flexibility that most property owners are looking for.
If you need a pest inspection or think you may have a pest issue, call us today!
Banora point's most trusted PEST CONTROL SERVICES
Our services in Banora Point for residential and commercial properties include pest inspections, pest removal and treatment, termite detection and treatment, termite baits, traps and other deterrents, as well as physical and chemical barriers.  We can provide regular annual inspections and advice on pre-construction pest prevention.
We treat all of the pests local to Banora Point – from ants, spiders and cockroaches, to flies and midges.  We also treat:
Mosquitos
Fleas and bedbugs
Rodents – rats and mice
Silverfish
Termites
Wasps and bees
Our pest control services are some of the most comprehensive in the Tweed Heads area, not only because of the range of pests we treat, but also thanks to our thorough inspections.  We leave no stone unturned when we inspect for nasties on your property.  Our highly trained technicians will conduct a visual inspection of your property, as well as using cutting edge equipment such as thermal imaging cameras and radar to "see" into the hidden areas such as roof spaces, behind walls and in the soil.   Our termite inspections are the best in the industry because they're done by certified timber inspectors.

We also focus on providing safe (but effective) treatments.  Pest Ex takes the safety of our customers and the wider community very seriously.  We're members of the Australian Environmental Pest Managers Association, and ensure that all of our products have passed the strict Australian safety guidelines.  Pest control in the past generally involved the over-use of toxic chemicals, none of which were friendly to people, animals or the environment.  In contrast, today's pest control solutions are designed to have little impact as possible on the local flora and fauna, and are completely safe for people and animals.
Contact us today if you'd like any more information on our products or services.
Fast and efficient Pre-PURCHASE PEST INSPECTIONs
Our pre-purchase inspections give you total peace of mind when looking for property in Banora Point.  Because we know you have better things to do than waiting for tradesmen and reading long-winded, jargon-filled reports, we've designed our inspections to be efficient and convenient for you.
Once you've made an appointment with us, our technicians will turn up to the property quickly (usually on the same day).  We'll conduct a thorough inspection, looking at the inside and outside of the building, including the roof, basement, any exterior landscaping and trees.  When we're done, we'll give you a summary of what we found in terms of current and past pest activity, damage done to the building and any pest control measures that may be in place.  Around a day later, we'll then present our findings in a 14 page report, which has been written in plain English and includes colour photos of anything relevant we found.
We also conduct pre-sales pest inspections for property owners who are interested in having a record of the current pest profile of the building and any prevention measures that have been used.
working with us is easy
We take the hassle out of pest control with our professional services and our efficient customer service.  We're the first choice for thousands of people, with a reputation that's second to none.
Let us help you today:  give us a call and talk to one of our friendly operators now!