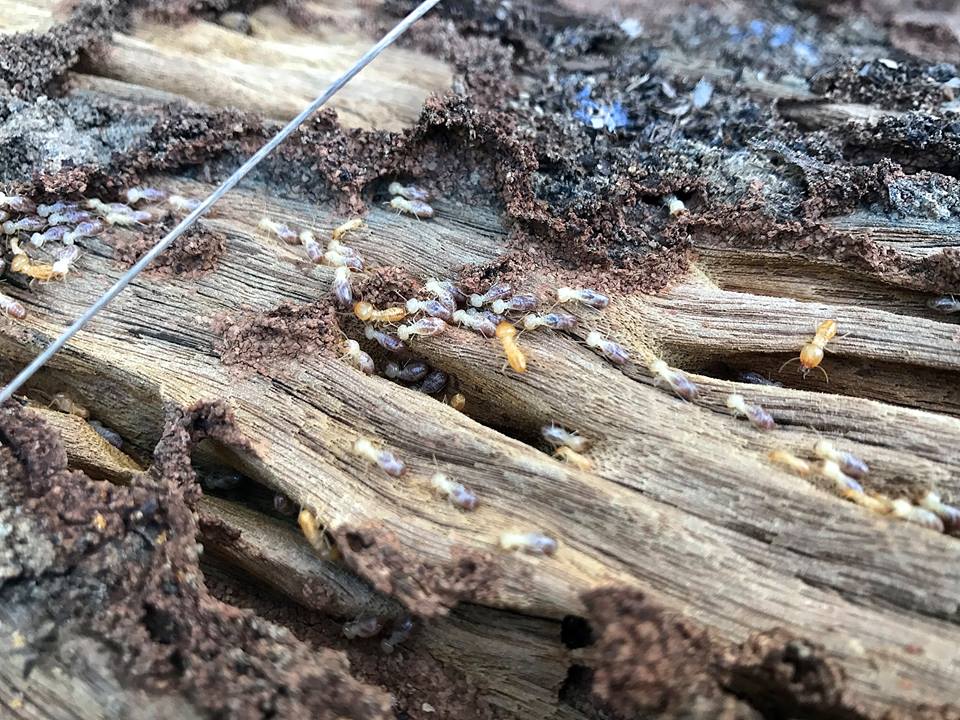 Homeowners in tears with over $100,000 in termite damages to their biggest investment.
Pest-Ex were recently called to a Brisbane home as termites were discovered by the homeowners. Our pest technicians performed a Termite Inspection and within minutes, found live termites through out the home along with thousands of dollars worth of damages. Unfortunately this is becoming more commonplace for a lot of homes in the Brisbane area, as each week each week we're are finding more and more infestations like this.
Below is a case study on the customers experience in dealing with termites and coming to terms with the fact that they are up for over $100,000 in termite damage repairs.
Location of property – Daisy Hill – Brisbane Queensland
Property Type – Residential Home approximately 18 years old
Property Description – Slab on ground home, single level
Reason for Call out/Pests reported – Customer called Pest-Ex and advised they have found what is believed to be termites coming through a wall and skirting board.
Step #1
Termite Inspection / Termite assessment – Upon our initial site visit we detected termites immediately during our termite inspection in an area believed to be a water leak. The customer said "This wall has had a stain and bubbling paint for the past 6 months" Little were they aware the termites have most likely been feeding on the home for 6 months or more.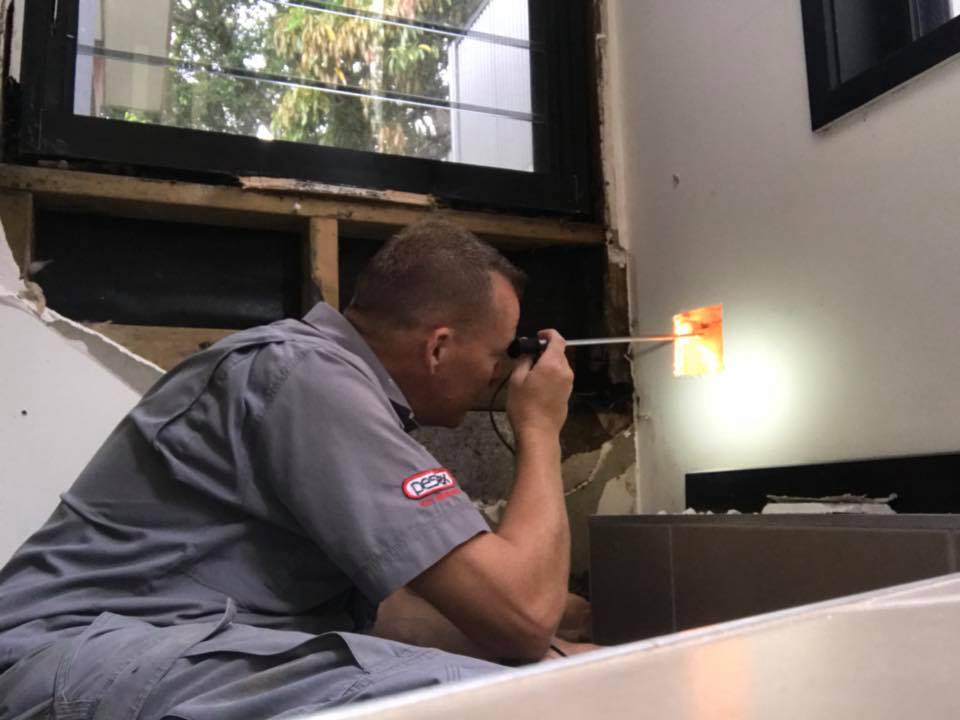 Upon removal of the wet wall sheeting it was revealed termites have been in the walls for a long time. Termite inspection scope camera allowed our technician to see the termite entry point and what direction the termites were headed.
This area was a small water leak and the termites have come in for the moisture and began to attack the home. During our termite inspection we located several other termite damaged areas with live termites in.
Termite damaged window frames in master bedroom and ensuite shower
Termite damaged window and wall framing of kitchen and roof void area
Termite damage in hallway skirting boards backing onto shower
Widespread termite activity in garden mulch around home
Termite damage in roof void timber top plates and trusses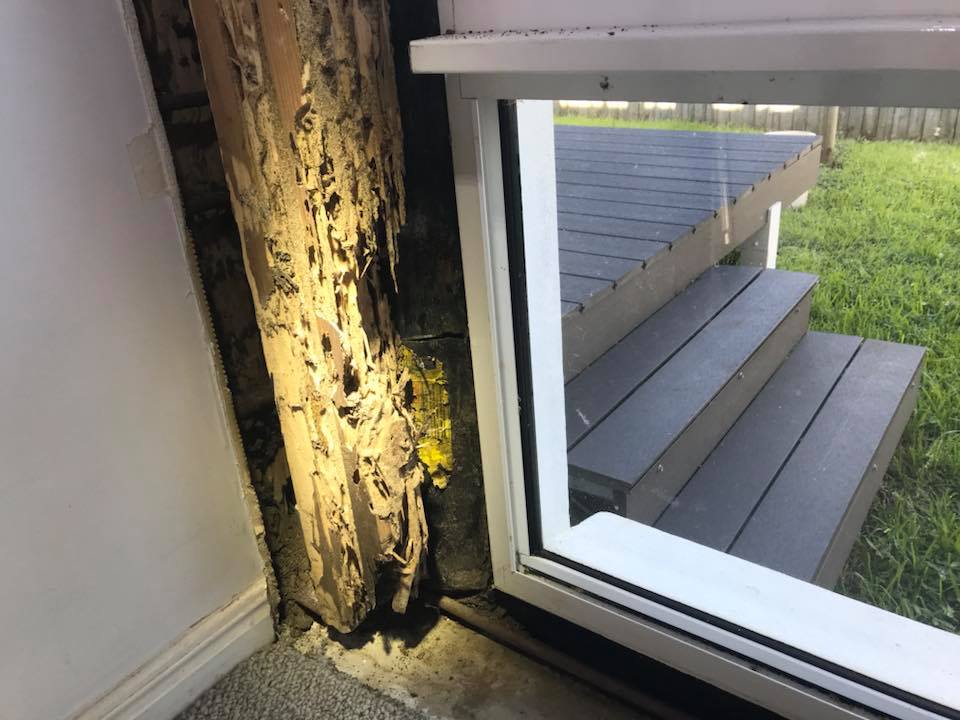 Above shows termite damage caused by termites backing onto the bathroom/shower (Full bathroom renovation is now required)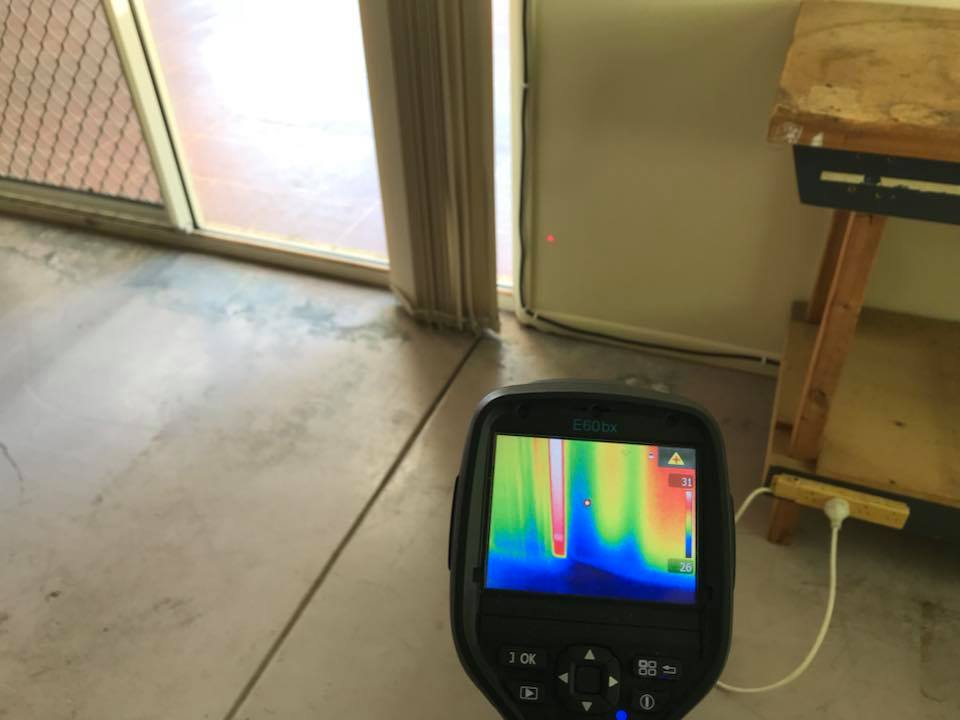 During the Termite Inspection we used a thermal camera that shows clearly the termite activity in the wall.
Possible reason for infestation – This home has no termite protection and the termites are in large numbers throughout mulch around the home. Termites have entered the home through several entry points' only centimeters under the mulch as the mulch areas around the home were heavily infested with termites.
Termite Damaged areas found during Termite Inspection
Termites entering bathroom through external wall cladding in ground contact
Termites entering home through weep holes partially covered by external ground level
Termites entering through small crack in slab visible when carpet lifted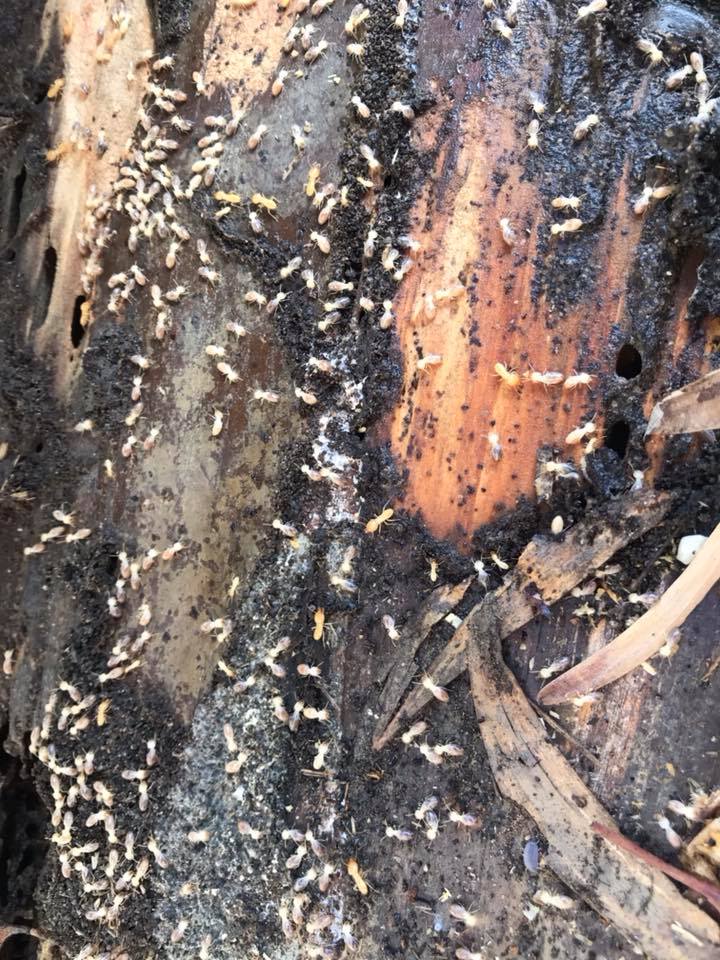 Termites by the thousands behind the kitchen wall framing (Removal of kitchen required for renovation/repairs)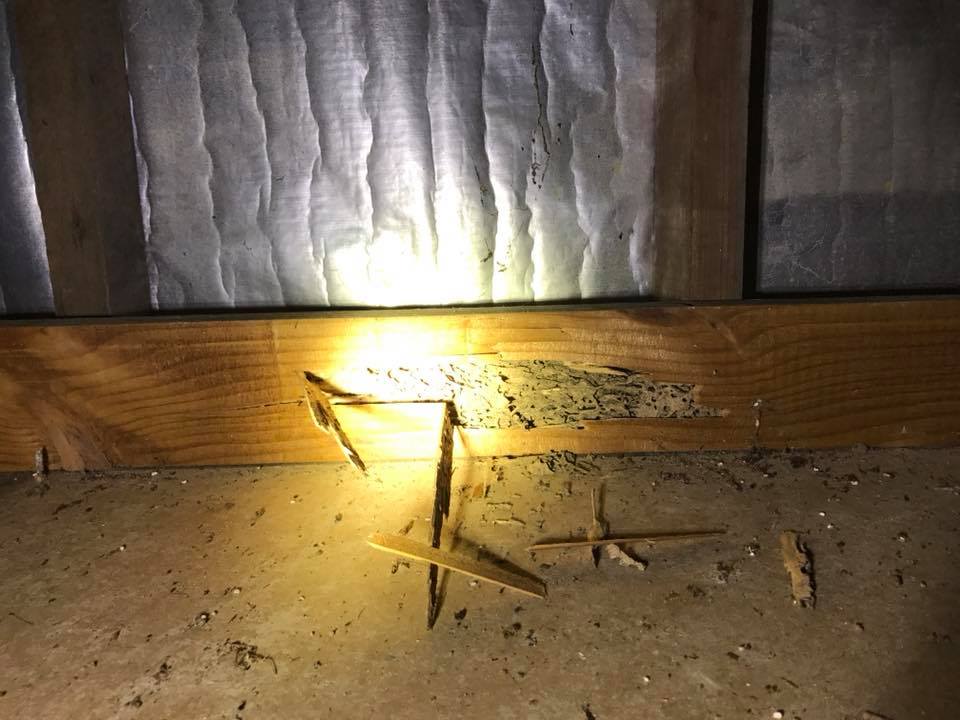 Termite damage in roofing timbers above bathrooms and kitchen areas.
Description of work performed –
Termite Inspection  a complete termite inspection was completed to the home including a 14 page report with photos documenting our findings.
Termidor was the #1 choice for this homes termite protection long term.
Step #2
Termidor termite barrier treatment was recommended and started immediately, a dusting and foaming treatment was completed to all the live areas of termite activity in the home. The live areas were re inspected for termites in 25 days. All areas internally were now inactive. External long term protection was implemented using a termidor termite barrier. This termite barrier was installed around the perimeter of the building using 10 liters per lineal meter and a total volume of 670 liters. During trenching the soil around the home we revealed multiple entry points where termites in the soil have penetrated into the home. This termidor termite barrier will now provide 8 years long term termite protection for the home.

Alternative options – None, There was little option for this homeowner as the termites were in several areas of the home. Doing a cheap fix or DIY termite treatment would surely end in more heart ache. The home owner was happy to proceed with our recommendations.
Preventative recommendations – In Brisbane there are many homes with garden levels high against the wall edge. We lowered garden levels to the desired levels during our termite barrier installation. We have recommended 12 monthly termite inspections on this home.
Customer testimonial -"Thank you to the guys at Pest-Ex, this was a harrowing experience for Judith and I and we are happy we called your team. Danny was great during the initial visit and helped calm my wife with the re assurance that our problem if fixable. Your team of technicians who completed the termite barrier were nothing but professional. They treated our property like their own and cleaned up spotlessly after the termite barrier and all the digging around our home. Thank you again Pest-Ex" Regards Bryan.
Cost of Works
Termite Inspection $200
Termidor Foaming and dusting treatment followed by full perimeter termite barrier using Termidor                  $3,140.00
Duration 16 hours (2 Technicians)
Summary – Termites in Brisbane cause severe damages to homes and businesses each year. We see this on a weekly basis and the most worrying thing is that homeowners usually won't worry about getting a termite inspection until it's too late. Termite inspections cost around $200 and could have saved this customer thousands of dollars in termite repairs to bathrooms and kitchen and roof void trusses. In Brisbane Termite Inspections are a must.
WHY YOU SHOULD WORK WITH PEST EX
Pest-Ex have been providing  pest control services in Brisbane  including termite treatment services since 2006 and have more than 7,000 happy customers in Brisbane. We're also –
Fully insured and licensed
Our pest controllers are among the most experienced and qualified in the pest control industry
We only use environmentally friendly products, and are dedicated to providing pest control solutions that are safe for the local fauna and flora
We are flexible, and can work in residential, commercial and industrial properties
Talk to Pest Ex today for all your termite management and protection services – we look forward to hearing from you!