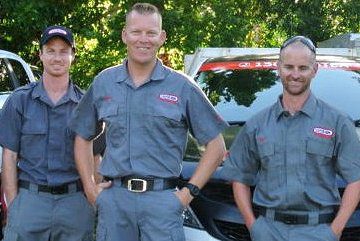 For professional pest control and termite treatment services in Carindale, choose Pest Ex.  We have years of experience providing fast and effective pest solutions to homes and businesses in the local area, and have thousands of customers right across the Brisbane, Gold Coast and Logan City region.
We focus on specialised, long lasting tailored treatments and environmentally friendly products that are safe for the local fauna and flora, as well as for children and pets.  Our pest controllers are highly qualified and certified timber inspectors, and the best choice for when you want to safeguard your property against pests such as termites.
You may have seen us around the area in our branded trucks and uniforms, and we take as much pride in our professionalism as our on-site workmanship and customer service.
Contact us today to find out what makes us different to our competitors!
quality termite services IN carindale
Southern Queensland's semi-tropical climate provides a year-round pleasant living environment, however unfortunately it's also ideal as a breeding ground for termites and white ants.  They thrive in warm, humid conditions, and especially when combined with lush wilderness and timber structures.
One of the most popular services in and around Carindale is our termite control solutions.  We offer on the spot detection and removal services, as well as termite baits, traps and deterrents, and physical and chemical termite barriers to help prevent infestations in the property.  If you suspect you might have termites or simply want a regular inspection done, we'll come out at a time convenient to you, and our qualified pest controllers will use high tech tools including radar, moisture detection and thermal imaging to provide an exact snap shot of termite activity.  We'll look at:
The top of the property – the roof trusses and frames, skylights and vents, guttering and downpipes
The inside of the property – walls, flooring, ceilings, in-built cabinetry and wardrobes, timber architraves
Underneath the property – crawl spaces and below decking, basements and cellars, any stored timber
Outside of the property – the soil surrounding the building, fences, walls, landscaping, trees and tree stumps
If live nests are discovered, we're equipped to remove them and treat the affected areas with highly effective products on the spot.  We can also provide termite prevention in the form of baits, traps and barriers.  If you're looking at building a new property or renovating part of a building, we can also help with pest prevention advice and measures to guarantee it remains termite-free over the long term.

need safe and effective pest control?
Our pest control services in Carindale are in demand thanks to our reputation for quality and friendly customer care.  We can take care of a wide range of common pests, including:
Mosquitos
Spiders
Bees
Wasps
Rats
Mice
Midges
Fleas
Bed bugs
Silverfish
We can work with residential properties as well as commercial and industrial buildings, and we have a diverse clientele, from houses and units, restaurants and schools to small offices and larger commercial premises.
Before starting any work, we'll give you a no obligation quote for the cost of the job, and we will explain our process to you so you'll be fully informed.  While our pest controllers are working on the site, we'll also ensure that you and the other occupants are disturbed as little as possible.
Our pre-purchase and pre-sales pest inspection reports are also very popular in the Carindale area, and they're a great way to ensure the property you're thinking of buying or selling is pest-free or has pest prevention measures in place.  Our reports are recommended by those in the real estate and banking industries because we are independent, thorough, and provide our findings in easy to understand language.
Get professional pest control today – call us now!
your number one choice for pest control
Why settle for second best when you can call us and have all your pest control needs taken care of by the best in the industry?  Our customers choose us because we:
Guarantee our work with a no questions asked 100% money back policy
Undergo rigorous training and are highly qualified
Use environmentally-friendly products and use treatment solutions that have passed Australian safety standards
Are recommended by conveyancers, real estate agents and financial institutions
We're looking forward to speaking to you, so call us today.