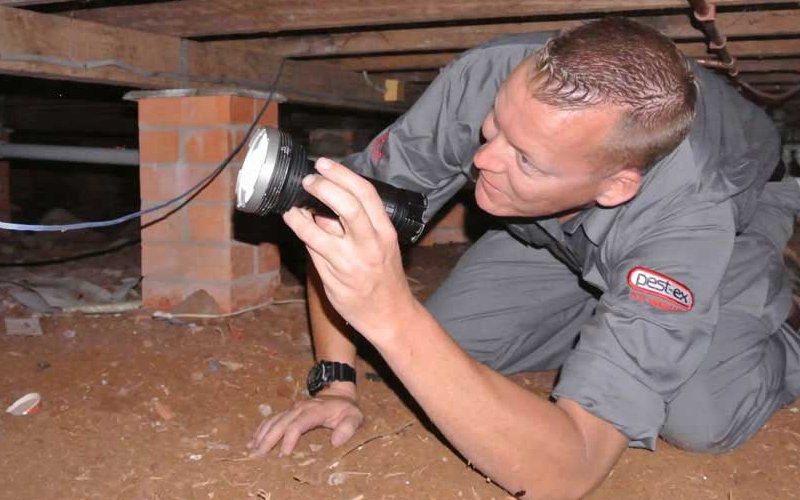 If you're looking for a reliable and effective solution to your pest problems, Pest Ex is ready to help. We've worked in Carindale and surrounding suburbs for more than a decade. Give us a call or email us and let us know your pest concerns and we'll know how to handle it.
Our excellent outcomes are rooted in the precision pest inspections we undertake for our clients. A pest inspection is very different from the 'pest check' that some of our competitors offer. A pest inspection is a thorough inspection of your property, inside and outside your home using licensed technicians. Here's what you can expect from our Pest-Ex pros:
our technicians are fully qualified, and their services adhere to Australian Standards
our teams use the most advanced technology (motion detectors, thermal imaging and more) to detect live termite activity
our services come with a 100% guarantee, and we are fully insured and certified
our pest control technicians will provide you with an extensive, 14-page report after the inspection with solutions and recommendations.
If you're looking for a long-lasting solution for all termite infestations that are 100% guaranteed call Pest Ex now. We also offer pest solutions for rodents, birds, insects, and more. We're a local, Australian owned pest control company that makes excellent customer service a priority.
PRE-PURCHASE PEST INSPECTIONS IN CARINDALE
When you're looking for a house to purchase, you consider the state of the electrical and plumbing systems before you put in an offer. Equally important is the pest status of a property. We've worked with hundreds of clients checking properties over the years. If we detect damage or live termite activity, you will need to consider if you want to proceed with the sale or not.
A property inspection includes the following:
The Roof – We check all the wooden supporting structures and features of the roof, such as guttering, that we know termites commonly inhabit.
The Inside of the House – We check the walls, floors and fitted cabinets of your home – and we know the signs of damage to look out for that aren't usually visible to the untrained eye.
Under the House – The basement and cavities are common sites for termites to make their home.
The Yard – We check the garden, trees, and all landscaping items for signs of termites.
We also recommend those preparing to put a house on the market in Carindale call Pest Ex for a pre-sale inspection. If we conclude there are no pests on your property, we will issue you with a pest free certificate that will form a valuable part of your house marketing portfolio.

COMMERCIAL PROPERTIES IN CARINDALE
We also have vast experience with commercial properties. We only use safe and environmentally friendly products, which is why restaurants, childcare centres, aged care facilities, and other industries are happy to work with Pest Ex.
We offer maintenance and long-term termite control, including baiting and chemical protection. Call us today, and we will inspect your property and recommend the best solution for your business. Because our chemical products are also safe for people and pets, there will be no business downtime when our pest control teams are at work.
We're waiting for your call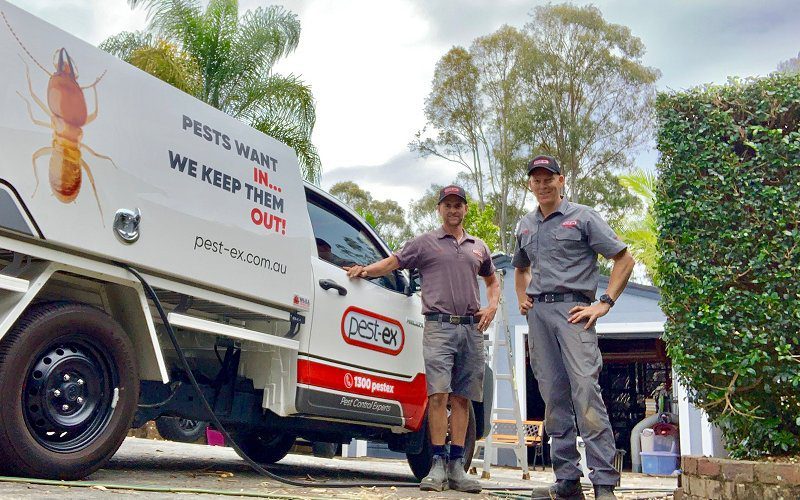 Got termites? If you see small mud trails or stains on your walls, this could be a sign that you have a termite infestation. Bubbling of painted wood or the softening of timber in your home is another giveaway that you have termites at work.
Call Pest Ex to set up a guaranteed professional inspection of your property in Carindale so we can check for signs of pests in your property. If we find evidence of an infestation, our teams can eliminate them right there and then or provide you with a quote while you make up your mind.
Please feel free to call or email Pest Ex if you have any further questions.