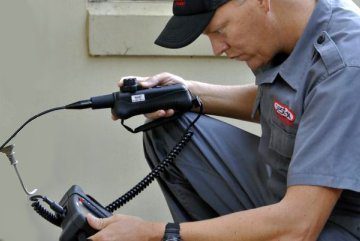 As one of Currumbin's most respected pest control providers, Pest Ex offers a full detection, treatment and management service.  With over 7,000 happy customers in and around the area, Pest Ex has the experience, the expertise and the tools to get the job done right, the first time.
No matter what your pest problem – from an infestation of ants, fleas or cockroaches, termites or rats – our team of fully qualified pest controllers will provide you with prompt and friendly assistance.  We service both residential and commercial properties, making us one of the most comprehensive pest control companies in Currumbin.
Talk to us today to find out how we can help you with your pest control needs.
Effective Pest Control Services In Currumbin
The idea of pests in your property can be disturbing.  Perhaps you've seen direct evidence of pest activity, or you might suspect that you might have an infestation living somewhere within your home or your business.  You want the problem correctly identified and treated as quickly and efficiently as possible.
Pest Ex provides friendly and professional services, including:
Detection and treatment of pests, including termites, ants, cockroaches, fleas, bed bugs, spiders and mosquitos
Pre purchase inspections reports
Pre sale inspection reports
The provision of deterrent systems and ongoing management services
Pest Ex will service a range of different properties, including residential homes, commercial and industrial buildings and warehouses, restaurants and cafes, child care centers and schools.
Book A Pest Inspection before you buy Or sell
One of Pest Ex's most popular services is providing pre purchase pest inspection reports on property. Having professionals give the property a thorough inspection for pests such as termites can save you potentially thousands of dollars and plenty of heartache in the future.  Pest Ex's pest controllers are fully licensed, certified and experienced in providing pest inspections, meaning that you will be covered for insurance and licensing requirements under Australian regulations.
A pre purchase or pre sale pest inspection consists of the following:
An on site inspection by our experienced pest controllers. This will encompass the inside and outside of the property, and include the roof, guttering, downpipes, internal fixtures and fittings such as doors, window architraves, cupboards and skirting boards, as well as the immediate area around the property with trees, soil, fencing and any landscaping.
An extensive 14 page written report with colour photographs. This will be provided to you within a day of the inspection, and will document the results of the inspection and highlight any problem areas.
A consultation with you held at a convenient time, either in person or over the phone.
It is important to remember that a pre purchase inspection conducted by Pest Ex will be completely impartial and will have your best interests in mind.
Call us today to book your pre purchase or pre sale inspection.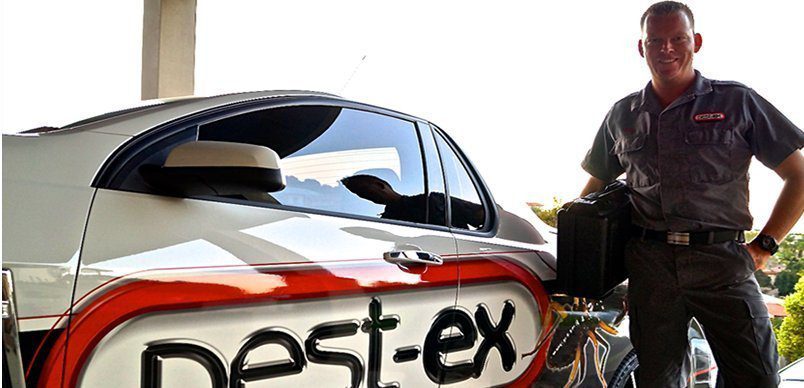 WHY use pest ex?
There are many pest control services out there, so why use Pest Ex?
Simple, we've been leaders in the industry for more than a decade, with more than 7,000 happy customers in and around the Currumbin area.  We understand the local region and its conditions and will be able to cater for all your pest control needs, no matter how big or small the job.
Some other reasons to use us include:
We're a fully accredited and fully insured full service pest control company in the local area
Our highly experienced pest controllers are highly trained and certified
We use cutting edge technology such as thermal imaging to ensure your treatment will be as effective as possible
Our products are environmentally friendly, and safe for children and pets
We provide prompt and friendly onsite service and are recommended by banks and conveyancers.
Our 100% Guarantee To You
Pest Ex provide a 100% guarantee on all of their services.  This means that if you are not 100% satisfied with our work, we will refund your money.  Our 7000 satisfied customers and our long track record of exceptional service to the local area show that we are serious about quality.
Contact us today to find out how Pest Ex can take care of your pest control needs.