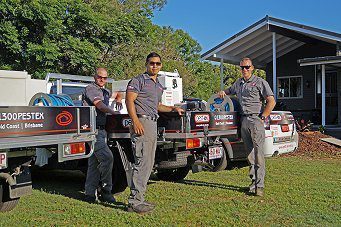 Getting professional, safe and effective pest control in Cedar Creek is easy with Pest Ex.  We've been providing the very highest quality work for over ten years, and our reputation for exceptional customer service is unmatched.
Contact us today to find out about our range of pest control services in your local area.
cedar creek's most trusted pest control and termite services
Our primary focus is the professional detection of pests, their removal and treatment and providing ongoing management solutions if required.  Our pest controllers are fully qualified and trained in using the latest in pest detection technology, ensuring that you are in safe hands no matter your pest issue.
We work in residential and commercial properties, and our services in Cedar Creek include:
Pest inspections
Termite inspections
On the spot removal and safe and effective treatment
Baits, traps and anti-pest systems
Termite barriers for new builds
Pre-purchase and pre-sales pest inspection reports
No job is too big or small, and we are equipped to deal with any pest that might be causing you problems in the Cedar Creek area, including rats and mice, termites, spiders and ants, mosquitos and biting flies, fleas and bed bugs.  Our process involves the proper identification of pests in and around your property, locating their source, and the thorough removal and right treatment solution.
Our termite inspections are conducted by certified timber inspectors, and thanks to our training, experience and technology, can conduct the most thorough examination on the market.  We can locate live nests and infestations even in the most difficult locations,  and can install all the latest in baits, traps and anti-termite protection.
We are known to be reliable and efficient, with treatments that are safe for the environment and for those coming in contact with the affected areas.  We also work with both home and business owners, and our commercial customers come from a wide range of industries including education, hospitality and retail.
pre-purchase pest INSPECTIONS for peace of mind

If you're looking at property in Cedar Creek or in the greater Logan City area, you should think about having a pre-purchase pest inspection carried out.  Recommended by those in the banking and real estate industries, a profession inspection can take you into areas in a property you can't see with the naked eye, and give you a good indication whether the structure has been affected by pests in the past.
Pest Ex can usually carry out same day inspections on a property you're considering purchasing.  Once you have contacted us, we will send out a qualified inspector to look at:
The property's interior: this means all the rooms, floor to ceiling, plus the roof space and any basement areas.  Pests can hide anywhere and only high tech equipment properly used can generally seek them out
The property's exterior: many people are surprised to learn that pests such as termites can actually be in the soil around a property, or have a nest in a nearby tree stump or outdoor structure.  Our pest inspections cover all these areas, as well as any fences and retaining walls and landscaping.
We will then create a report which sets out – in clear easy-to-understand English – everything we found and suggestions for treatment if any pests were discovered.  We can take you through the report in person or over the phone if you prefer.
If you're selling in Cedar Creek, we can also conduct a pre-sales inspection with an accompanying report, to help potential vendors get a clearer picture of your property.
So whether you're buying or selling, contact pest Ex today and get total peace of mind!
get the job done right by professionals
Let's look at just some of the reasons why we have thousands of happy customers right across the Southern Queensland region and are growing every day:
Our safety record is impeccable, and all of our pest treatments have passed strict Australian standards.
Our pest controllers are highly trained and qualified, and experienced in treating a wide range of pests
We employ cutting edge technology to seek out and destroy pest infestations
We can generally carry out same day inspections and on the spot treatments
We are fully licensed and insured
Our staff are professional, polite and turn up on time
We are recommended by leading financial institutions, conveyancers and real estate agents
We offer a money back guarantee on our services
Don't trust your pest control needs with a less experienced or professional company – call Pest Ex today!