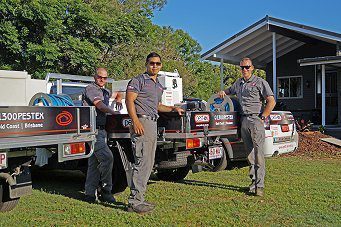 Pest Ex is the number one choice for pest control services throughout the Southern Queensland region for thousands of customers.  We have a reputation for fantastic customer care and support, and high standards of work, no matter how big or small.
We service residential, commercial and industrial properties, and our decade of experience in the industry combined with our wide range of experience, gives us an unbeatable edge over our competitors.  Our pest controllers are polite and diligent, and highly qualified – they take pride in their work, ensuring that you get the very best treatment possible.
So contact Pest Ex today for an appointment, and see what makes us different!
do you have a pest problem in cedar grove?
We all want to keep our homes and businesses safe from risks and emergencies such as fire, break ins and floods, but what about pests?  Smart property owners get their buildings inspected at least annually, to ensure that nothing can can slip 'under the radar' and make themselves at home.  While some can be simply a nuisance, unfortunately, many pests found in Queensland can be harmful – either being poisonous, spreading disease or causing severe allergic reactions – and locating and eradicating them quickly is critical.
Our professional pest control services in Cedar Grove include the detection, removal, treatment and ongoing management of:
Spiders, bees and wasps
Ants, flies and mosquitos
Fleas, bed bugs and silverfish
Rats and mice
Termites and white ants
If you're buying or selling in Cedar Grove or the greater Logan City area, we can also conduct pest inspections with an accompanying 14 page colour report.
We use high tech equipment to locate pests hiding in hard to reach areas such as behind walls, in roof cavities and crawl spaces.  Finding and destroying a number of visible pests will not in itself rid your property of a pest infestation, and can often make the problem worse.  Only experienced, qualified pest controllers and timber inspectors will be able to find, destroy and treat pests in your home or business properly.
We also pride ourselves on being able to provide effective but also safe treatment solutions.  Our products have passed strict environmental standards, and are suitable for use around people, animals as well as the local flora and fauna.  If you have any questions about how safe our treatments are, please call us and talk to one of our friendly staff.

superior TERMITE treatment services
One of the most destructive, time consuming and costly pests you can have as a property owner is termites.  Once settled, they can chew their way through wooden structures in a blink of an eye.  To thrive, they prefer the warm, humid climate and greenery offered by the Logan Valley region, making Cedar Grove a prime target for them.
Having a termite inspection carried out is easy, and our timber inspectors can generally come to your home or business the same day.  Because termites are masters of deception, and can be hard to locate, we use equipment such as thermal imaging cameras to conduct a through examination of your property.  This includes the roof, guttering, downpipes and skylights, walls, ceilings and flooring, wooden cupboards and cabinetry, window and door frames, basements and floor joists.  We even examine the surroundings of the property carefully, looking at areas such as the soil, shrubs and trees, tree stumps, piles of timber, sheds, fences and carports.
Time is of the essence when it comes to the complete effective treatment and management of termites. Once detected, we can either destroy and remove any termites and their nests on the spot (which is recommended) or we can provide a no obligation quote if you wish.  We can provide a full range of anti-termite systems, traps and baits, to ensure your property is as safe from another infestation as possible.
If you think you may have a termite problem in Cedar Grove, call our professionals as soon as possible.
fast, safe and effective pest control SERVICES for you
Our customer base is growing everyday, thanks to our reputation and the word of mouth referrals we receive from our existing happy customers.  Becoming one of our customers means that:
Our friendly and professional staff will treat your pest control issue promptly
We can generally be on-site the same day as you contact us
You'll find that our pest inspections are the most comprehensive on the market
You can be assured our treatments are safe for use
You'll be given first class customer care, with a 100% money back guarantee on our pest control services
Contact us today and let us help you – we're looking forward to your call!