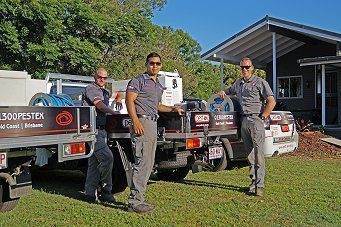 Have you been searching for a pest control company in Chambers Flat?
Pest Ex has been operating in and around the Brisbane, Gold Coast and Logan City regions for over a decade, and we have thousands of happy customers, from home and business owners, to those in retail, hospitality, education and many other industries.
We are fully licensed and insured, and our pest controllers are professionally certified timber inspectors.  We will conduct a proper examination of your property, and will take you through our findings in plain English – no complicated terminology or baffling you with science.  We're equipped to either remove and treat pests on the spot, or can offer you a no obligation quote for the work that is required.
We're dedicated to providing effective and environmentally safe solutions, and all our our treatment products have passed Australian safety standards.  Once we treat your property, you can be assured that it will be safe for anyone living or working there.  It'll even be safe for your pets!
Don't put it off – call Pest Ex and find out how we can help today.
trusted pest services in chambers flat
We all know that pests can be a nuisance, both inside and outside a property.  However, it's amazing to find out just how many dangerous pests we have in Queensland.  The quiet green landscape around Chambers Flat is likely to be harbouring a number of these, including:
Rodents – rats and mice
Spiders – including red backs and funnel webs
Bees and Wasps
Mosquitos, midges and biting flies
Fleas and bed bugs
Termites
Our friendly pest controllers have years of experience identifying and removing these pests quickly and efficiently, and treating the affected area with specifically prepared products.  Our sophisticated detection equipment will pick up any pest activity, even in difficult, hard to reach spots on your property, and we're trained to locate the actual source of the problems, not just treat visible signs of the pests.
While some pests such bees can be dealt with in one appointment, others such as termites, rodents and bed bugs may require regular treatment and management to guarantee they are fully eradicated.  Particularly for animal owners, the fast treatment and ongoing management of fleas is also critical to ensuring your family and your favorite household pet's safety.
Prevention is often better than cure, and we recommend having at least an annual inspection for pests on your property.

have you considered a pre-purchase pest inspection?
If you're thinking of buying property, have you thought about getting a pre-purchase pest inspection done to ensure there are no hidden nasties?  You'd be surprised by the number of people who neglect this important piece of due diligence, only to find themselves having to spend thousands of dollars to fix termite damage or even to replace whole timber structures.
Pest Ex's pre-purchase pest inspections are easy to book, thorough and come with a comprehensive report that documents our findings and any recommendations for potential treatment if pests are discovered on the property.   Once contacted by you, we can usually come visit the property the same day, and examine:
The grounds or gardens around the property
The upper roof spaces, timber trusses, skylights and vents, guttering
The inner rooms and hallways, walls, ceilings, floors, floor and window architraves
Any basement levels in the property
Having a clear picture of the state of the property in terms of pests and their associated damage will give you the information you need to make an educated decision about purchasing it.  We also provide pre-sales inspections for anyone looking at selling property in Chambers Flat.
working with pest ex
When you work with us, you'll know that you're getting the very best service for the very best price.  We also offer a money back guarantee on our services so you will have total peace of mind.    Our staff will turn up to your appointment on time, with the right equipment, and will take care of any pest problem you may be having on the spot, no matter how large or small.  They will explain the process to you, and try to minimize any impact of their work on you and others on the property as much as possible.
Call us today!