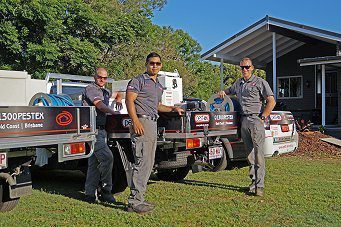 If you're looking for the number one pest control service in , look no further than Pest Ex.  We've been in the industry for over ten years, and our pest controllers and certified timber inspectors are some of the best in the business.
We have a reputation among our thousands of happy customers for our dedication to customer service and our on-site professionalism, and a lot of our work in the local area comes from word of mouth recommendations and referrals.  To give you ultimate peace of mind, Pest Ex offers a no questions asked, money back guarantee on all of our services, so you'll know you're in safe hands when you choose us for your pest control needs.
Contact us today and find out why thousands of customers recommend our services!
crestmead's choice for pest control services
We offer a full range of pest control and management services in and around the Crestmead area.  The pests we treat include:
Ants: especially in warmer weather these insects can invade your property, becoming a hazard to family and pets, and a nuisance inside buildings.
Spiders: Queensland is home to many venomous spiders including the black house spider, the funnel-web and the redback spider.
Bees and wasps: these can pose a serious danger to anyone in contact with them, especially for those allergic to stings.
Mosquitos: apart from being a nuisance, mosquitos can transmit life threatening diseases such as dengue, Ross River virus and Murray Valley encephalitis.
Fleas and bed bugs: the bites from these nasty blood suckers can cause an allergic reaction, and fleas can transmit diseases to you and your pets.
Mice and rats: rodents are known disease carriers (such as Leptospirosis and Salmonellosis) and having them in and around your property can pose a serious health risk.
Termites: one of the most destructive pests you can have in and around your property, a termite infestation can quickly turn the timber structures in a building into crumbling shells.  Our termite inspection is one of the most comprehensive on the market, and out treatment solutions are effective, safe and environmentally friendly.
We recommend that you have a regular professional pest inspection conducted at least annually, as this can pick up any pest activity before it turns into a bigger issue.  If you do find evidence of pests on your property, let us know as soon as possible so we can properly identify them and provide tailored effective solutions to stop them in their tracks.

get peace of mind with a pre-purchase pest inspection
If you're thinking of buying a home or business in Crestmead, have you considered having a pre-purchase pest inspection conducted before making a final decision?  Recommended by leading banks, conveyancers and experts in the property industry, our pre-purchase inspection reports will give you an accurate snapshot of the levels of pest activity in a property, as well as provide you with a guide for suggested treatment and management solutions.
Once you've contacted us, one of our highly qualified pest controllers can generally conduct a same day inspection.  They will examine the property inside and out thoroughly using the latest in pest detection technology.  They will look at:
The outside, including any landscaping, soil, trees and tree stumps, fences and walls
The roof, including timber beams and trusses, gutters, pipes and vents
The interior, including ceilings, floors, walls, built-in cabinetry and wardrobes, architraves
The basement, including the underneath of floors and joists, cellars and stored wood
Once our inspection is complete, we will then provide you with a detailed colour report, which documents any pest activity (with photos) in plain English and gives you all the information you need to make an informed decision on the property in question.
If you're selling property in Crestmead, we can also provide a pre-sale pest inspection report.  This will give you and any potential buyers peace of mind about the state of pest activity in and around the property.
So contact Pest Ex today for a pre-purchase or pre-sale pest inspection and let us take some of the guess work out of buying or selling a property.
why work with pest ex?
Let's look at some of the reasons our customers recommend us to their friends, family and colleagues:
We provide a 100% money back guarantee on our services
We are dedicated to first rate customer care and support
Our pest controllers are highly qualified and certified timber pest inspectors (Cert 3 – Pest management technical)
Our products are safe for use around residential and commercial premises and our treatments are environmentally friendly
We can provide pest inspections and treatment on the spot, or provide no obligation quotes for the work to be carried out if you prefer
Don't settle for second rate pest control services.  Contact us today and experience the Pest Ex difference!