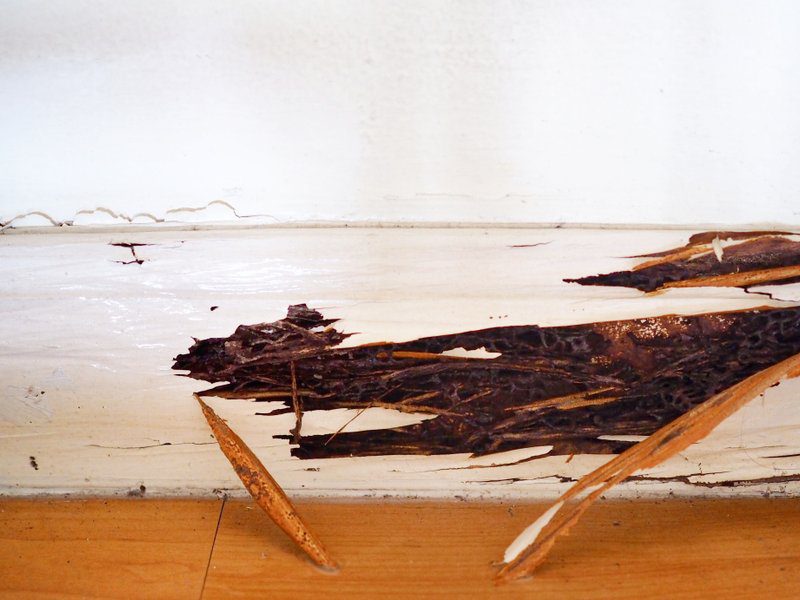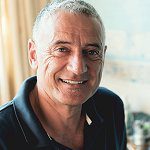 Sunshine Coast resident, Kevin asks
"We've just bought a new house recently and we're concerned about termites. How do you know if you've got termites in the walls? Is there anything we should look for?"
Great question Kevin. Knowing what signs to look out for can sure save you a lot of money, especially if you catch the warning signs early. When it comes to termites in the walls there's a number of things to watch out for.
There are usually visible signs that you've got termites in your walls. One of the most common is mud packing, and it's an instantly recognisable sign of a potential termite problem. Bubbling paintwork is another sure indication you may have a problem with termites. Another indication is if you hear "faint crackling" sounds coming from your walls at night. This could very well be termites.
The dreaded mudpack
We often get calls from homeowners telling us that they've discovered what appears to be a "mud pile" or "muddy patch" behind a television cabinet or piece of furniture. When termites find a suitable source of food in your home, they'll build what's referred to as a sub nest. The colloquial term for this in Australia is a "bivouac".
Termites build a sub nest as a halfway house in your home between where they're situated and the main nest. These sub nests contain thousands of termites, and a great deal of mud and moisture.
When the mudpack reaches a certain size behind a wall, the moisture begins to seep through the plaster. If there's a piece of furniture hard up against the wall, the mud will eventually stick to it and gradually form a mudpack. We've seen cases where the mudpack was left undetected for long enough for it to create a structure one metre high and wide.
This is an extreme example; most homeowners discover mud staining and spotting on the wall before it gets to this stage. However, homeowners should check behind cupboards, beds and other furniture regularly. The sooner you detect any potential problems, the better.
Look for: Discoloration in the plasterboard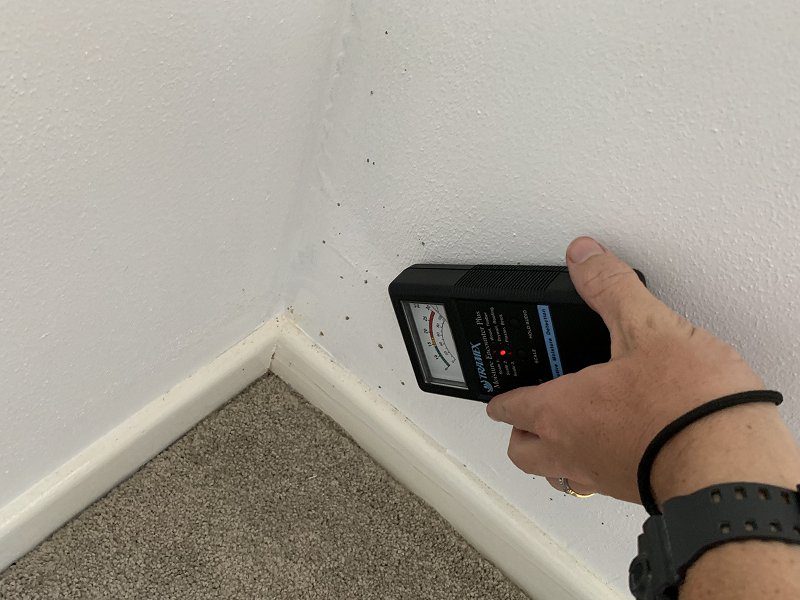 Discolouration usually appears as a brownish, wet stain on areas of the plasterboard. If you're concerned that you might have termites, take a good closely look at the affected area. If there are termites are present, it will typically be a large area, about the size of a football, and be made up of hundreds and tiny brown dots or blemishes. The discolouration forms as the mud starts to seep through the plasterboard.
Look for: Signs of bubbling paint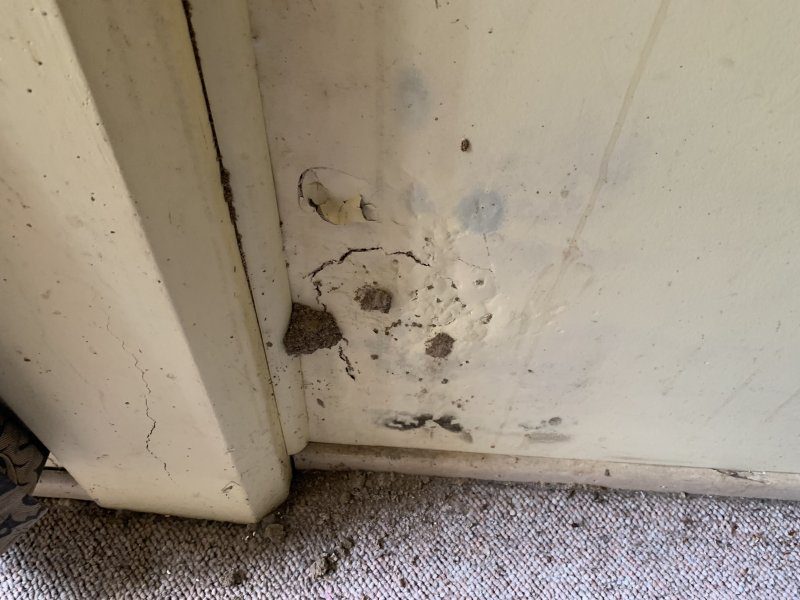 Some of the first places homeowners discover termites is within the skirting boards, door frames, or window frames. Timber used in these areas are typically softer than the timber used for structural beams and framework, and often its these areas that show the first signs of potential problems.
What we often see are homeowners doing their vacuuming, and they'll bump the skirting boards or door frames with the vacuum cleaner and the timber will give way. The termites have eaten out the timber completely, leaving a thin layer of paint behind. Essentially the framework is a hollow space made up of nothing but paint.
Another sign might be if you begin to have trouble when opening or closing windows, or you begin to find internal doors that are sticking. As the timber is eaten away it begins to bend, warp and sag, causing irregularities. Another cause of warping timber is the mud that termites excrete as they eat the timber.
There are also often audible signs you have termites in your home, but they are subtler than the mudpacks.
Listen for: ticking sounds in your walls
Termites are very active with some species being quite aggressive. This can often mean they'll make quite a bit of noise within the walls. What this sounds like is very distinctive. We describe it as being very similar to the sound of milk being poured over a bowl of rice bubbles. Homeowners often say they'll hear this noise coming from the walls at night, but that's simply because the rest of the house is quieter at this time.
If you're lying in bed and you hear a faint ticking noise coming from the walls, it's likely what you're hearing is termite activity. It's always best to give us a call if you have any suspicion of termites in your walls as we use advanced tooling, equipment and technology in order to scan for, moisture, movement and activity. We can detect the presence of termites long before mud stains begin to seep through your plaster which of course prevents any costly damage.
Regular inspections mean early detection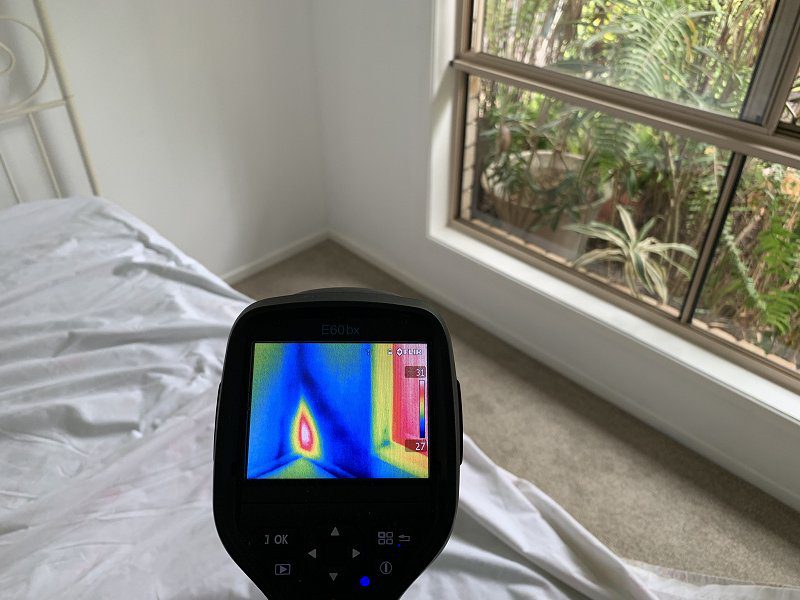 When we inspect your home, we'll perform a visual inspection on the outside and inside of the property. We'll be looking for mud trails and stains, or other early indicators that termites might be present. The issue with termites is that they move constantly seeking food sources. By the time you find signs of termites within the laundry or bathroom, you might have extensive problems elsewhere within the home without you even knowing it. We'll inspect the entire house inside and out, from top to bottom, in an effort to detect and locate any areas where there might be termite activity.
Most laundries and bathrooms are tiled, with some tiled from the floor to the ceiling. This makes detecting termites difficult for the homeowner of course as the termites may have completely eaten out the framework and plasterboard behind the tiles without any signs of activity. By the time you begin to see visible signs of activity, the space behind the tiling could be completely hollowed out.
Suspect you've spotted termite activity?

The only way to ensure your home is safe from termites is to organise regular termite inspections. Our inspections are extensive, and based upon more than 15 years worth of experience and know how. We use the very latest in professional detection tools to check your house for termites, systematically from top to bottom. We use specialised equipment that uses radar and sonar technology to measure and detect movement and moisture within the walls. By hiring us to do a full property inspection annually, you'll be able to prevent significant termite damage to your home before it becomes too late.
If you've seen mud stains on your plasterboard, bubbling in paintwork, or heard strange ticking sounds coming from the walls at night, it might be time to give us a call and we'll come out and take a look at it for you.
Give us a call today, we look forward to hearing from you.