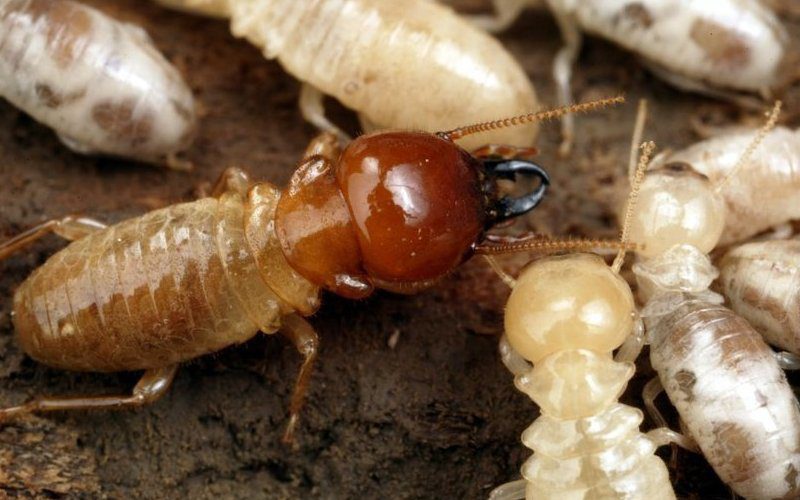 The following is an actual case study taken from the field. A distressed homeowner called us to say that she believed her home had a live termite infestation. Unfortunately, she was right. Thankfully, the team of Pest-Ex were able to help and get the problem sorted out quickly and without fuss.
Customer name – Jenny
New customer/existing customer – New customer
Suburb – Broadbeach Waters. Gold Coast, Queensland
Property Type – Residential home
Property Description – Single storey slab on ground brick/tile home constructed in 1999
Reason for Call out/Pests reported – Active termites found by customer in laundry
Initial assessment – Onsite assessment of the affected area of customer concern was completed on the day of customer enquiry. Schedorhinotermess-spp termites were present in the wall cavity behind laundry. This finding was achieved by using highly accurate thermal imaging cameras as shown below. Active Termite mudding removed from laundry wall cavity- Schedorhinotermes-spp (Hard and soft wood eating termites)
Actual Termites discovered in Laundry wall cavity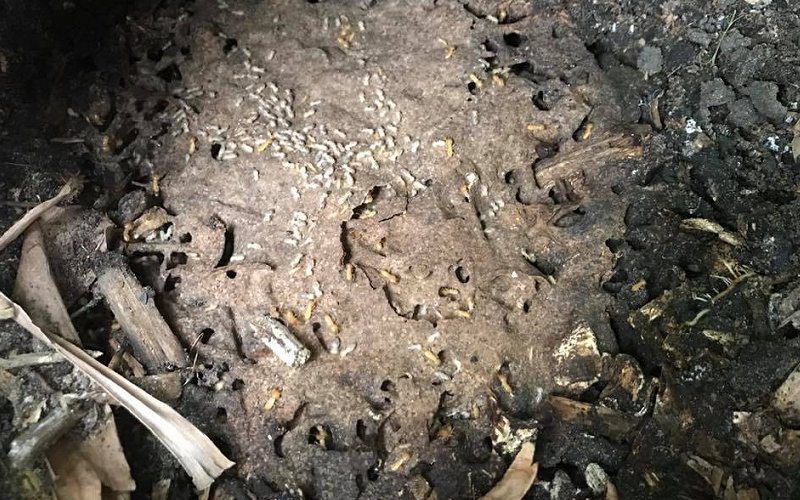 Possible reason for infestation – This customer had a previous termite barrier installed due to a termite attack 2 years ago. Our termite inspection revealed that the previous termite barrier was installed incorrectly. The Termite reticulation line was installed by another company also, just 2 inches under the soil. The past company hadn't trenched around the perimeter, but instead – just laid the line and sprayed over the top.
We found bricks and builders rubble against the wall edge underground. This barrier was incomplete and not installed correctly at all. Due to a poor install, the chemical used in the past treatment simply didn't reach down to the base of the footings. So, there is a high possibility the original termite entry point was never treated, and the termite colony continued to attack the home or perhaps even a new termite colony followed the old termite tunnel/entry point into the home.
In other words, the previous termite treatment failed completely.
Incorrectly set termite reticulation line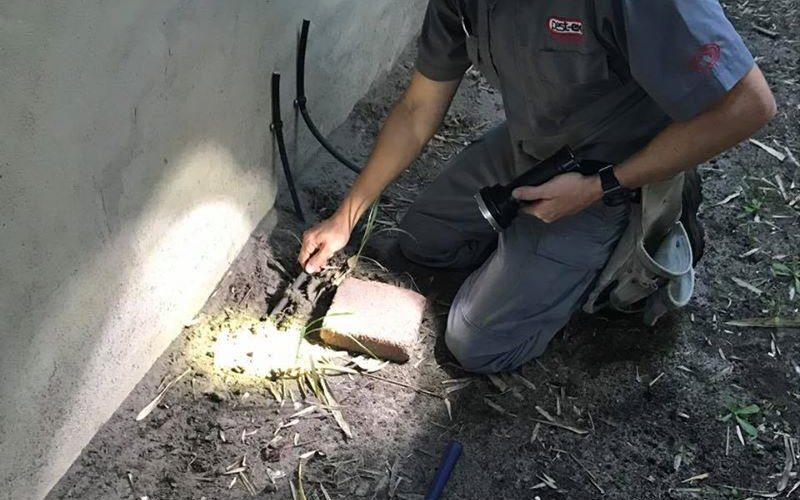 Danny showing the reticulation line, which should be 25-40cm under ground. Not near the surface. (Poor workmanship)
Description of work performed – After the initial consult with the home owner a termite inspection including thermal imaging was booked in the following day. Our termite inspection revealed termites were also active in window frames and roof void truss timbers and bottom plates. A new Termidor termite barrier was recommended and approved by the client. We installed a complete perimeter termite termidor barrier around the home and issued an 8 year warranty to the client.
Thermal imaging camera detects active termites in Laundry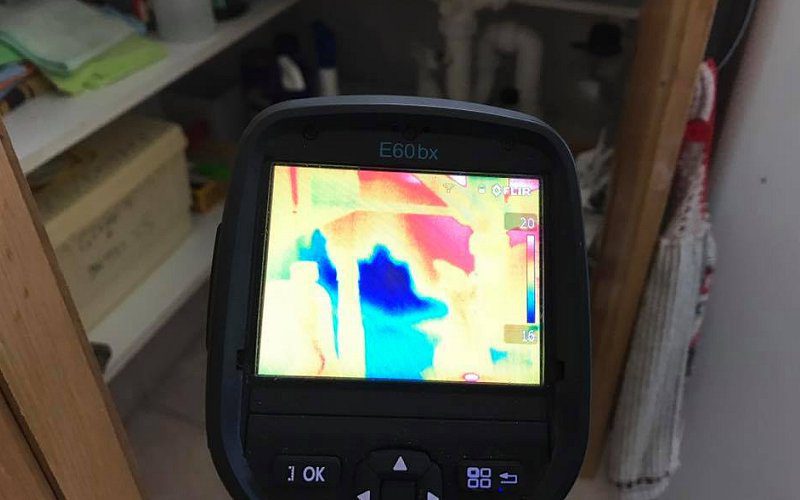 Thermal imaging camera detects live termite mudding behind laundry plasterboard (shown in blue).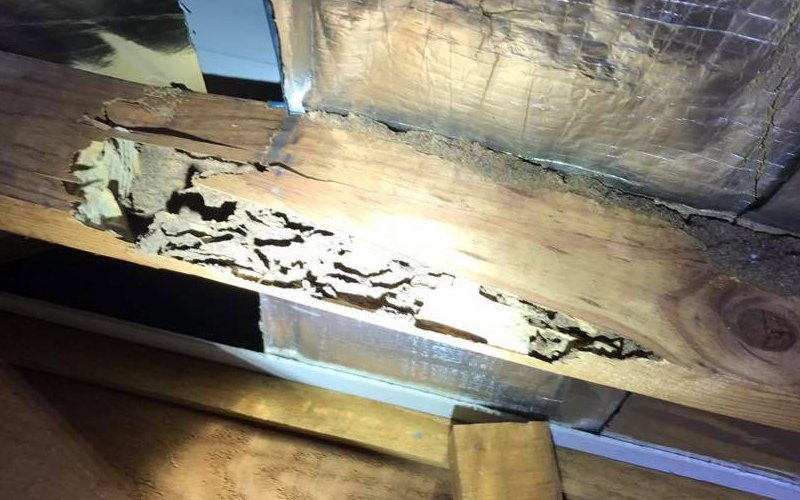 Termite damage and live activity in roof void truss timbers
Areas of property treated – We performed a stage 1 Live Termite Control Treatment, which included a Termidor dusting treatment to areas of live termite activity in the wall cavity of the laundry, window frames of the laundry and bathroom and roof void truss timbers. 21 days later we re-inspected the areas of activity and confirmed successful elimination of the termites.
We advised the customer that the previous termite barrier had failed due to poor installation techniques. Jenny informed us that the previous company was no longer in business, or contactable. Go figure!
Considerations – Jenny had a large bird cage filled with  a number of large birds. We ensured the cage was placed in the garage during treatment.
Preventative recommendations – After completion of the perimeter barrier we advised Jenny to contact a licensed building firm to provide quotes for repair works (on the waste material and damaged brickwork that allowed termite access to the property).
Customer feedback – As you can imagine, Jenny was originally quite unhappy and had little trust in pest control company's as her past termite treatment had failed. We informed Jenny of the problem, walked her through why it had failed, pointed it out and explained to her in simple terms why her previous treatment had failed. The result was a happy client as she completely understood the process on why she still had the termites and what needed to be done to eliminate the termites properly.
Cost – Total cost including the termite inspection, active termite control and full perimeter protection barrier with an 8 year warranty – $3,100 inc GST
Duration –

Stage 1 termite inspection and live termite control 3.2 hours
Stage 2 External perimeter Termidor barrier installation 2 technicians 8 hours
Summary – Jenny's home is now free of termites and repairs are now underway by a builder to reapair the brickwork. We will continue to perform annual termite inspections to Jenny's home to ensure no further issues arise.
Ready to WORK WITH PEST EX?
Choose Pest Ex for your pest control and termite treatment needs because:
We offer unbeatable same day on site service and communication
We ensure all of our work adheres to Australian Standards and our products are environmentally friendly
Our pest controllers are qualified timber pest inspectors (Cert 3 – Pest management technical)
We have worked in the local area for over a decade, and have serviced over 7,000 satisfied customers
We work with home and business owners, and have experience with a wide range of different types of properties including retail centres, schools, hotels and cafes
So don't leave your pest control in the hands of a less experienced dodgy backyard pest control providers. Call us today, and know that the job will be done properly.