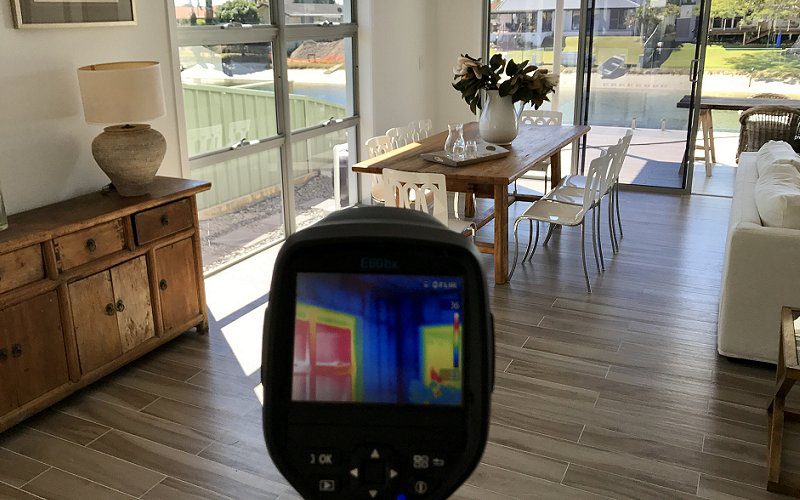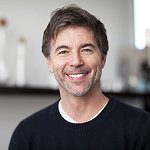 Gold Coast Resident, George asks
"We've gotten a few termite inspection quotes recently and some companies mention they use fancy equipment such as thermal imaging cameras. Apparently they're better at detecting termites? Is this true? Does this really make a difference, or is this just a sales gimmick?"
Great question. Thermal imaging cameras can increase the accuracy of a termite inspection considerably. We wouldn't recommend having an inspection done without one. Here's why –
Customers often ask us about the technology we use to detect termites – and a lot of times there's a distinctive level of interest around or thermal imaging cameras. I guess because they might seem like something straight out of science fiction. But they're actually are one of the handiest tools a pest controller can have.
Detection methods have improved for the better
In the past termite inspections were based on a visual examination of a property.  Pest controllers were skilled at looking in the types of areas known to be preferred by termites, including between walls, roof voids, beneath flooring and of course any other areas constructed of timber.
Because termites eat homes and properties from the inside out, they can often establish themselves in hard to reach locations, leaving only a thin shell of material intact which in turn means it's sometimes difficult to spot signs of an infestation without checking each area meticulously.
Generally this involved drilling into building materials and knocking or tapping against timber structures in an effort to disturb the termites or listening for their distinctive noises while on the move.
Nowadays, equipment such as thermal imaging cameras, motion sensors and moisture detectors such as the Tramex Moisture Metre are being used amongst pest control professionals, to increase overall accuracy when it comes to detecting active termites.
How does thermal imaging work at finding termites?
Thermal imaging cameras have improved termite detection dramatically and changed the industry for the better.  They have now even become part of the Australian standard AS3660.2/2017 for termite management in and around existing buildings and structures.
Thermal imaging works by detecting heat signatures, and despite what some unscrupulous pest control companies advertise, we can't see through or into walls.  As well as creating moisture and humidity in the areas termites settle in, they also emit heat, which can be picked up as a yellow or red area on the camera's screen, so that's what we're looking for.
HOW DO YOU USE THE CAMERAS DURING AN INSPECTION?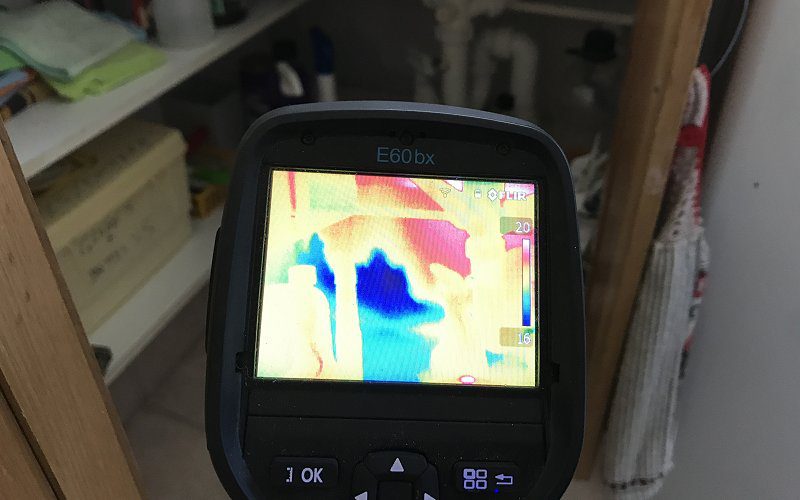 So the first thing we'll do is to conduct a visual inspection, because some termite infestations are easy and obvious to spot with the naked eye. To do this, we'll also basic equipment such as a tapping stick and a torch. Essentially we will –
Start in the property to the left of the front door, and go the whole way around the house until we're back to the front door.
We then turn the thermal imaging camera on, and we scan all the walls back through the house with the thermal camera, because the thermal cameras see things that we might miss with just a visual inspection.
Any areas of heat emissions or moisture it picks up, we'll look at more carefully. In some cases it's simply a leaking shower or it may be a full blown termite infestation.
The thermal imaging is essentially used to confirm any areas that might be considered to be suspect during the initial inspection.
WHY ARE THERMAL CAMERAS IMPORTANT TO FINDING TERMITES?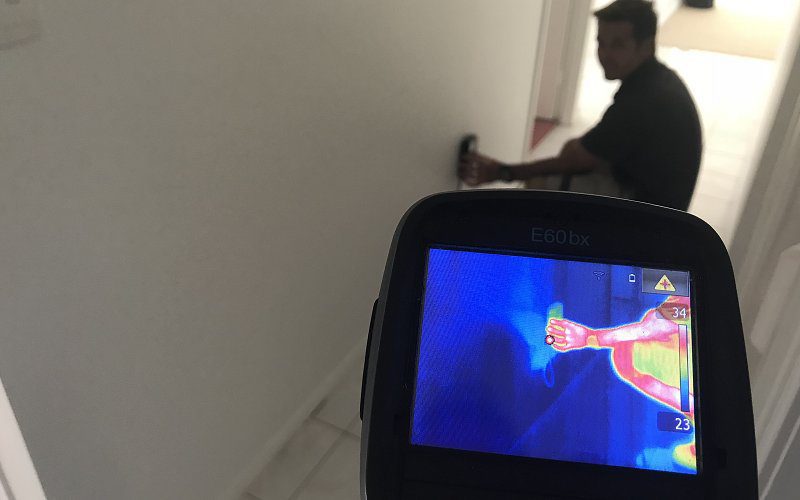 The issue with just relying on a visual inspection, is that visual inspections can miss 80% of what's going on behind walls and in difficult to reach areas such as roofs.  Moisture detection tools such as the ones we use can be useful to pinpoint areas of moisture or humidity, however they are a highly targeted or concentrated tool which means they can really only be used in a small area (physically up against a wall) or other structure.
They will also pick up any issue with moisture such as a water leak, so it won't be able to tell you exactly what's causing the problem, just that there's a problem.
Thermal cameras like the ones we use, however, will actually show you a heat spot behind a wall, which 99% of the time will be a Coptotermes sub-nest or a Schedorhinotermes sub-nest in the wall cavity.  Using the thermal camera also means that the customer can visually see any heat patterns behind their walls or in other structures, so there is an actual record of termite activity which we can confirm with a motion detector, rather than just us telling them there is an issue.
Not all Thermal Imaging Cameras are the same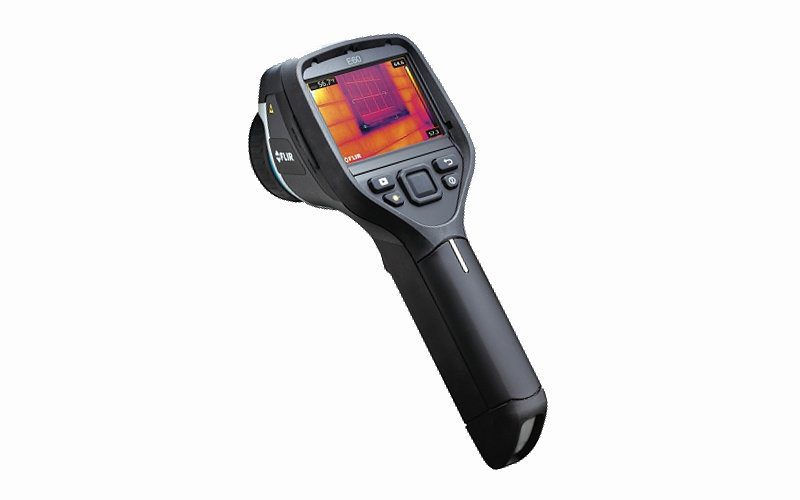 When it comes to thermal imaging, not all cameras are made equally.  We use FLIR cameras as they're considered to be the best in the industry as they provide accurate, high-resolution thermal imaging.  They are expensive – around $5,000 for each one. The one we use is a FLIR E60BX which is 240 by 360 pixels, and it's got a thermal sensitivity of negative 40.
This means it is super accurate at picking up termites.
You can buy cheaper, entry level versions which might be 80 pixels by 180 pixels, and come as handheld devices that look like mobile phones.  These are simply less accurate and less sensitive than the one we use.  Any company using cheaper versions are likely to want to try and speed up the time they take at your property, and therefore will do a less thorough inspection overall.  Some may even just be using the fact that they have a thermal imaging camera as a sales tool and may not use it during your inspection.
CALL THE PEST EXPERTS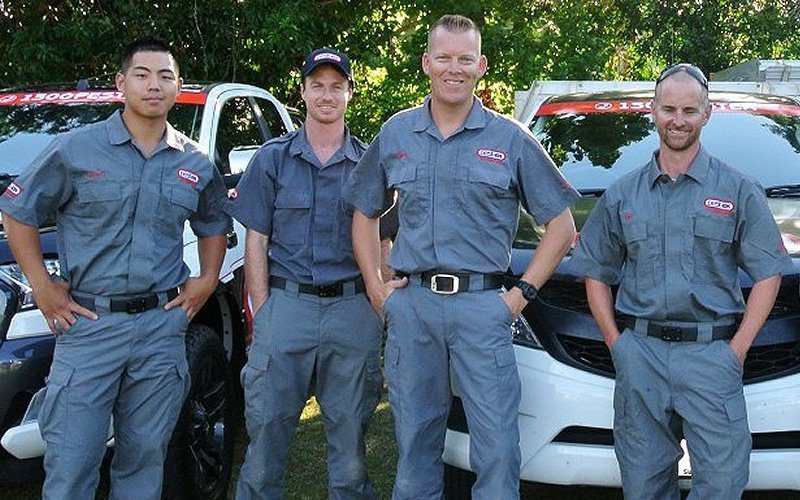 Pest Ex use the very best in thermal imaging equipment to guarantee the right results every time.  We've spared no expense to ensure you receive the best in pest control protection. We have a team of experienced technicians who will handle your inspections and provide you with the best recommendations for eradicating infestations and avoiding pests from invading your property.
In addition to our state of the art equipment:
We offer unbeatable same day on site service and communication
We have serviced over 7,000 satisfied customers
We work with home and business owners, and have experience with a wide range of different types of properties
We ensure all of our work adheres to Australian Standards and our products are environmentally friendly, meaning they won't harm the local flora and fauna and are safe to use around children and pets
Our pest controllers are qualified timber pest inspectors (Cert 3 – Pest management technical)
For the best in pest control and termite treatment solutions, contact Pest Ex today.