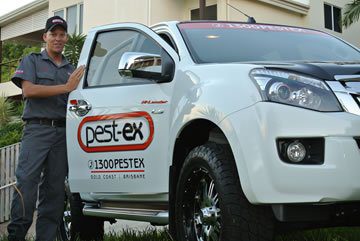 Pest Ex provides high-quality pest control solutions within Acacia Ridge and the surrounding suburbs in Brisbane.
Our team of highly trained, fully licensed professionals provide the latest in pest control services using equipment that provides the safest and most effective results for your home and family.
Pest Ex have been providing fast, innovative, safe termite and pest control services on Brisbane's south side for over a decade, with thousands of happy customers.
Why not give us a call?
Acacia Ridge Pest Control & Termite Treatment Services
Pest Ex provide a full range of pest management and treatment services that cater to your home or business.
Some of our services include –
Termite inspections
Termite treatment
Termite control
Pre-purchase pest inspections
Pest control
Traps, baits and deterrents
Unlike other pest control service providers, when inspecting your home, we are are extremely thorough. We look everywhere both inside and outside of your home (including the yard and within the roof) to ensure we detect and identify any unwanted pests that might be affecting your home.

Our property inspections cover –
Around the yard – Nearly all outside areas can be affected, especially fencing and retaining walls not to mention any timber landscape and other features.
Inside the home – Your trims, skirting, door jambs, window architraves, doors, cupboards and flooring.
Under the house – All of the bearers, joists, timber piers, timber flooring and stored timbers
Within the roof – Any part of the roof, skylights, vents, flues, valleys, guttering, down pipes, eaves, roof battens, trusses, top plates, hanging beams and rafters.
Buying a Home in Acacia Ridge?
If you're considering purchasing a new home and you'd like to have a pre-purchase pest inspection carried out, then be sure to give us a call.
For over 10 years we have assisted more than 7,000 home buyers make informed decisions before they buy, giving them peace of mind in knowing there aren't any underlying problems with the property.
Let's face it, buying a new home can be a daunting task, with lots to consider. The last thing you need is issues with ants, rats or worse – termites, So be sure to give us a call. Work with a proven company that you trust to properly assess your home, before making your buying decision.
Why work with Pest Ex?
Here's exactly why you should work with us –
We are licensed and fully insured
Qualified timber pest inspectors (Cert 3 – Pest management technical)
Unbeatable onsite service and full communication
We work for You not the agent or seller
We are recommended by leading banks and conveyancers
Safety for your Home & Family
Our services are both safe and family-friendly for your property or home. Across the Brisbane and Sunshine Coast and Gold Coast areas, we provide a range of commercial and residential pest control applications in premises that include homes, offices, restaurants and hotels.