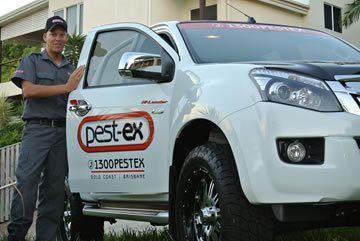 Pest-Ex provide professional pest and termite control solutions across Brisbane. As one of the country's best cities it's also a great location for pests to thrive due to our warm climate and yearly rainfall. We service homes and businesses across Archerfield including other suburbs throughout Brisbane.
Our technicians have over 40 years combined experience in pest and termite control. We are well known as being service leaders in the pest control industry. Our training in all aspects of termite and pest management keeps us ahead of the competition. We use the latest equipment in pest detection and treatment applicators.
Pest Ex is well known for innovative, safe termite and pest control services on Brisbane's south side. For over a decade, we have protected over 10,000 homes within Brisbane.
Got Pests? Call Pest-Ex
BUYING A HOME IN ARCHERFIELD?
Termite damage in a home is hard to see for a homeowner. As professionals we're trained in finding termites and pests and our detection tools enable us to be the most thorough in the pest industry. Before you buy, we provide you with a 14 page written report with photos of problem areas. Be sure to have us inspect your future home. Call our office for bookings.
Thousands of homeowner's across Brisbane have made informed decisions and purchases based on our thorough inspections and reports. We offer onsite consultations and can give you a detailed verbal overview of the inspection if you wish to be present. If you don't attend the inspection, we are happy to send you the report and discuss our findings over the phone. Termites and pests can cause severe damage to a home before its visible to an untrained eye, so it's always worthwhile having an inspection carried out ahead of making purchase.
Archerfield Pest Control & Termite Treatment Services
Pest Ex Termite and pest services provide the following services across Brisbane –
Termite inspections
Termite treatment
Termite control
Pre-purchase pest inspections
Pest control
Traps, baits and deterrents
After protecting over 10,000 homes in Brisbane areas we know what works and we know local home types and current pest trends across Brisbane. We are also able to provide pest control recommendations on any modification needed to your home (This will reduce future infestations)

Our Termite Pest inspections cover –
Gardens and yards – External areas like timbers, retaining walls fencing, drainage may be highly attractive to pests, we report on all conducive conditions.
Internal areas of home–walls and floors are scanned for moisture content, all door frames and skirting boards are also tested for evidence of termite pest presence or damage.
Subfloor under home– All of the bearers, joists, timber piers, timber flooring and stored timbers
Roof voids – Any part of the roof, skylights, vents, flues, valleys, guttering, down pipes, eaves, roof battens, trusses, top plates, hanging beams and rafters.
Pest Ex quality assurance
We have built a reputation by having all of the following –
We are licensed and fully insured
Qualified timber pest inspectors (Cert 3 – Pest management technical)
Professional clean cut technicians unbeatable onsite service and full communication
We work for You not the agent or seller
We are recommended by solicitors – leading banks and conveyancers
Work with professionals in the business. Give us a call today.
Safe, Effective and Trusted
Safety for your family and pests is our main priority. Our treatments have no mess, no smell but provide the most effective results when it comes to the prevention and removal of pestss. We service a list of restaurants and day care centres across Brisbane and even schools.
So rest assured when it comes to safety and pests, we have got you covered.