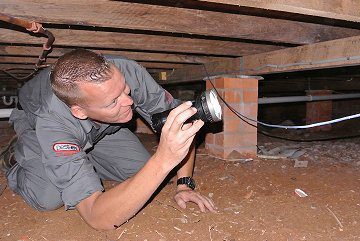 As their name suggests, pests can be a nuisance by stopping you from going about your normal routine.  Insects such as mosquitos, flies and spiders can restrict outdoor activities, and bed bugs and fleas can make indoor life uncomfortable for everyone.  Unfortunately many of these pests can also be dangerous and pose a serious health risk to anyone in or around the property.  Getting professional help quickly is important to ensuring one or two pests don't turn into a bigger problem.
Pest Ex is Ashgrove's first choice for pest control and termite treatment solutions, and we've been operating in Brisbane and surrounding regions for over ten years.  Our pest controllers are highly qualified and certified timber inspectors, and we're equipped with the latest in pest detection technology to deliver you exceptional on-site workmanship.
Contact us today – we're waiting for your call!
TERMITE TREATMENT SERVICES you can trust
Whether you want a general inspection for termites in your home or business, or think that you may have a termite nest somewhere in your property, getting experts in the industry is important.  Only qualified termite inspectors will be able to spot signs of an infestation, especially if it is well hidden.
Pest Ex offers the most comprehensive termite inspection, removal and treatment service on the market.  Once you've made a booking we'll:
Come out and assess your needs before giving you a quote for the job
Conduct a complete inspection of your property, from top to bottom and inside and out, using high tech tools such as moisture detection equipment
Find the source of the termites, and locate any nests or activity
Remove all termites and treat the affected areas
Provide termite traps, baits or deterrents. These will be checked on an ongoing basis.
We can also install physical and chemical termite barriers (pre and post construction) that have been shown to provide up to 10 years of protection from these pests.
Your safety, and that of others on the property, is our number one priority.  Our treatment products have passed the Australian safety standards and can be used in residential, commercial and industrial properties.  We are also registered members of the Australian Environmental Pest Managers Association.  Gone are the days of toxic chemicals and hazardous run off from termite products.  All of the chemicals we use are friendly to the environment and won't harm any local flora or fauna, however they are effective enough to kill off the pests you don't want making a home in your property.
YOUR LOCAL PEST CONTROL COMPANY IN ashgrove

Apart from termites, we specialise in the treatment of pests that are common to the Ashgrove area.  Whether they're flying, crawling or jumping, we'll find them, remove them, and make sure they don't return.
We treat:
Mosquitos, midges, flies and biting flies
Spiders and cockroaches
Ants and silverfish
Fleas and bed bugs
Rats and mice
We're often called in to treat a pest infestation after the property owner has spent a lot of money and time trying to fix the problem themselves.  Not all treatments will work with all pests, and while it's tempting to think you can handle one or two pests by yourself, only a professional pest controller will be able to target the right insect with the right products.
If you're looking to buy or sell property in the Ashgrove area, we can also provide pre-purchase and pre-sales inspection reports.  These reports are recommended by financial institutions and conveyancers, and provide written evidence of the condition of a property in relation to pests and pest damage.
Ready to Work With Pest-Ex?
Let's look at just some of the reasons we have over 7,000 satisfied customers right across Southern Queensland:
We're locally owned and operated
Our pest controllers undergo rigorous training and have market-leading qualifications
We take your safety very seriously, and are proud members of the Australian Environmental Pest Managers Association.
We can work in a range of property, from houses, units, office blocks and commercial premises, as well as shopping centres, schools, restaurants and cafes
We offer a 100% money back guarantee on all of our services
We are recommended by leading banks and experts in the real estate industry
We're professionals in everything we do – from our branded trucks and uniforms to our on-site workmanship and outstanding customer care.
So call in the professionals today – call Pest Ex today.