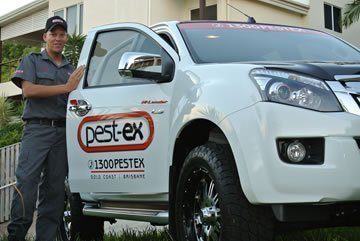 Pest Ex provides high-quality pest control solutions within Fortitude Valley and the surrounding suburbs within Brisbane – and has done so for over a decade.
Our highly trained pest removal experts can help you get rid of –
Termites
Ants, bees, bedbugs and cockroaches
Mice, rats and other rodents
Fleas, midges, flies and mosquitos
Silverfish, spiders, wasps, biting insects and more
With more than 40 years of experience in the pest industry business, nobody understands pests and termites better than Pest-Ex. This is why Pest-Ex is the most trusted pest removal company in Brisbane and the Gold Coast.
Call us today to organise an inspection in your property.
Termite Removal & Pest Control Services
Pest Ex can accommodate all types of pest eradication services for all property types – both commercial and residential.
Our services include –
Pre-purchase pest inspections
Termite inspections
Termite treatment
Termite control
Pest control
Traps, baits and deterrents

Pre purchase pest inspections in Fortitude Valley
Our Termite and Pest Inspections include –
Gardens and yards – External areas like timbers, retaining walls fencing, drainage may be highly attractive to pests, we report on all conducive conditions.
Sub-floor under home– All of the bearers, joists, timber piers, timber flooring and stored timbers
Roof voids – Any part of the roof, skylights, vents, flues, valleys, guttering, down pipes, eaves, roof battens, trusses, top plates, hanging beams and rafters.
Internal areas of home–walls and floors are scanned for moisture content, all door frames and skirting boards are also tested for evidence of termite pest presence or damage.
If you're looking at purchasing a property and you'd like to have our team inspection it, then be sure to give us a call.
Pest-Ex are Brisbane's best
Here's exactly why you should work with us –
Unbeatable onsite service and full communication
We are recommended by leading banks and conveyancers
We are licensed and fully insured
We work for You not the agent or seller
Qualified timber pest inspectors (Cert 3 – Pest management technical)
Work with professionals you can trust
Our services are both safe and family-friendly for your property or home. Across the Brisbane and Sunshine Coast and Gold Coast areas, we provide a range of commercial and residential pest control applications in premises that include homes, offices, restaurants and hotels.
We look forward to working with you.