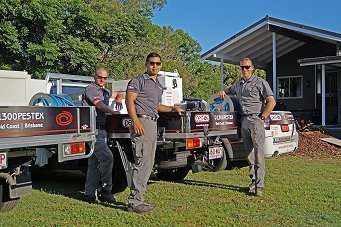 Pest Ex is one of the Gold Coast's most respected pest control businesses, with over ten years of experience and highly trained, professional staff.  We offer a full range of services in and around the Currumbin Waters area, and can work with residential, commercial and industrial properties.
To give you complete peace of mind, we offer a 100% money back guarantee on our services.  So call us today and find out more about our range of pest control services in Currumbin Waters.
PEST CONTROL SERVICES you can rely on
We've all had problems with pests from time to time, however what happens when you suspect your property is being overrun by dangerous insects such as spiders or rats?  In these cases, it's important to get fast and effective professional treatment as quickly as possible.
Pest Ex provides unbeatable pest detection, removal and treatment services.  Our pest controllers are some of the best in the industry, and our treatment solutions are not only safe for you and your family, but for the environment as well.  We use cutting edge detection technology such as thermal imaging cameras to examine all parts of your property – even the hard to reach and challenging areas – to locate the source of insects and to determine the most suitable course of action.
The most common pests we treat in the Currumbin Waters area include:
Termites
Spiders
Rodents
Ants
Cockroaches
Bees and wasps
Fleas
Mosquitos
We can provide one-off treatment jobs such as removing a wasp's nest, deal with an ant infestation, provide preventative pest control measures for pests such as spiders, and we can also conduct regular pest inspections to keep you and the other occupants of the property safe and secure.
For your convenience, we'll come out to your site and assess the problem before giving you a quote for the estimated cost of the work.  This will mean you will get an accurate price, rather than the often inflated flat fee that many pest companies offer.  No matter the size or complexity of the job, or if we're working in a home or a business, we'll make sure that we don't disrupt your day.
Get the professionals working for you – contact us today!
do you have a termite problem in currumbin waters?

The idea of a termite infestation can strike fear into a property owner's heart, and industry experts suggest that you should have your home or business inspected for signs of termites at least on an annual basis to help protect against these destructive insects.
Pest Ex specialises in termite detection, removal and ongoing management solutions, and we have thousands of happy customers right across Queensland who rely on us for all their termite control needs.    Our services include:
Termite detection and removal of live nests
Termite treatment
Termite traps, baits and deterrents
Termite barriers
Regular termite inspections
Our termite treatments are safe to use, including around children and pets, and we ensure that all the chemicals we use have been rated as safe and environmentally friendly by Australian Standards.
Don't leave it until it's too late.  Have a professional termite inspection done and get ultimate peace of mind.
Pre Sales And Pre Purchase Pest Reports
One of our most popular services is providing pre-sales and pre-purchase pest inspection reports to those looking to sell or buy property.  Our reports can form part of the due diligence process for anyone interested in a home or business in Currumbin Waters, or alternately as evidence of the lack of pest activity for potential vendors.
Our pest inspections can generally be booked and conducted on the same day, meaning a thorough and professional examination of the property in question, but also a fast turnaround on the final report.  Our fully certified pest inspectors will check every part of the building – from the roof to the basement and into the outdoor areas – and we'll use state of the art technology to search for evidence of current pest activity and signs of past insect damage.
We'll then explain our findings to you, either in person or over the phone, and provide you with a 14 page colour report that includes photos of any areas of interest.
Call in the pest experts
Get the friendly, helpful and prompt service you need.
Our services are backed with a 100% money back guarantee. All of our work is fully insured. Our qualified pest controllers are the best in the business.
Don't delay, call in Pest Ex now and work with the best pest controllers on the Gold Coast