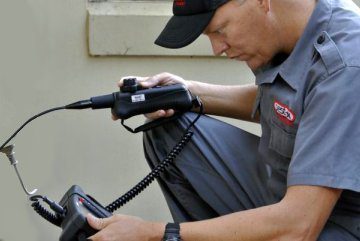 You'd be amazed at just how quickly some pests can infest your home and cause serious cosmetic and structural damage.  When looking into pest control services, you want a company that will respond quickly and professionally, have all the latest technology, techniques and products to be able to find the problem and treat it effectively.
Pest Ex is the Gold Coast's most experienced pest control business, with many satisfied customers in and around the Mermaid Waters area.  Our highly trained and friendly pest controllers use the latest in cutting edge tools to find and remove a wide range of pests from cockroaches and ants, to spiders, wasps and termites.
Don't let pests take over your property!  Call Pest Ex today for a free, no obligation quote.
EFFECTIVE TERMITE TREATMENT SERVICES
Pest Ex provides the most effective white ant and termite removal services in the Gold Coast and Mermaid Waters area.
An infestation is not always easy to spot, and you may not even be aware that you have an issue.  This is why regular termite and white ant inspections are critical to ensuring your property is kept safe and sound.  Whether you need an inspection of your home or your business, Pest Ex will provide a extensive review of the property, as well as an easy to understand treatment and prevention plan if pests are located.
Our termite pest control process is as follows:
A rigorous inspection of the property by experienced pest controllers – internally and externally – using the latest in detection technology
Prompt and effective removal of any pests discovered, and treatment of the property using environmentally friendly products that are safe for the whole family (including pets)
The use of traps, baits and and anti termite systems such as Homeguard, Biflex, Exterra and Sentricon as part of an ongoing pest management service
The installation of termite barriers, either before or after construction
YOUR LOCAL PEST CONTROL COMPANY IN MERMAID WATERS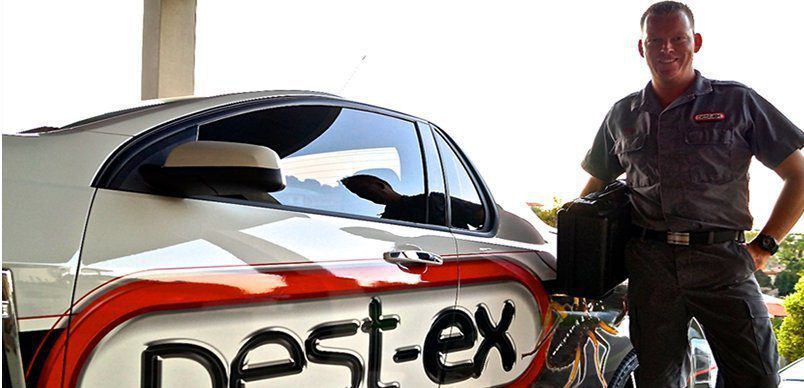 Apart from termite detection and control, Pest Ex specialises in the removal and treatment of many types of pests.  Not much can escape our fully trained and licensed pest controllers as they conduct the most extensive inspection in the Mermaid Waters region.
We specialise in the following pests:
Spiders, ants, cockroaches
Rats and mice
Fleas, bed bugs and silverfish
Bees and wasps
Mosquitos, flies, midges and more
Don't let your property become a haven for pests – call our friendly staff today to find out how we can help you.
ENVIRONMENTALLY SAFE FOR YOU AND YOUR FAMILY
Our number one priority is ensuring you and your family's safety, while providing the most thorough and effective treatment process for pests found on your property.  This means that we work strictly within the safety parameters as set out in Australian Standards, and hold all necessary licensing and insurances in order to meet and exceed safety requirements, including being certified and registered members of the Australian Environmental Pest Managers Association.
Our treatment and pest management products adhere to the highest environmentally friendly standards, meaning they are safe to use around children and pets, but are also powerful enough to ensure your property remains pest free.
Contact Pest Ex to learn more about our environmentally friendly pest control products.
WHY USE US AS YOUR PEST CONTROL SOLUTION?
From homes and office buildings, to restaurants, hotels and warehouses, Pest Ex is the leading provider of pest control and management solutions in the Gold Coast region.  Our reputation among customers in Mermaid Waters is impressive, with thousands of happy customers as testament to the quality of our services.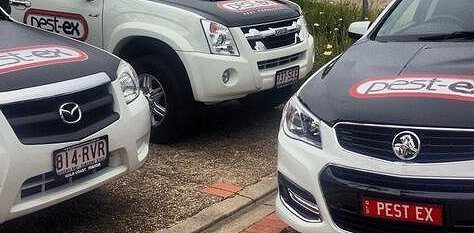 Let's look at why you should choose us for a complete pest control solution in Mermaid Waters:
We have over 10 years' experience in the industry, servicing properties in the local area
The company is recommended to clients by banks and those in the property industry
Our pest controllers are some of the most highly trained and certified professionals in the industry
The products we use to treat your property are family-friendly and adhere to strict environmental standards
We have over 7,000 satisfied customers and provide friendly same day on site service
We service both residential and commercial properties, and our services come with our ironclad 100% money back guarantee
We can help you with all your pest control needs, from comprehensive termite inspection reports, general pest detection and removal, to ongoing pest management solutions.  Contact Pest Ex today – we're looking forward to your call!