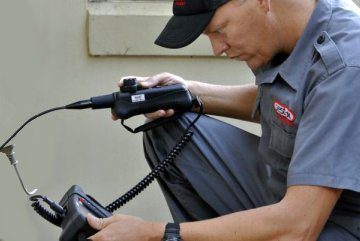 Based on the Gold Coast, Pest Ex is the region's leading pest control business, offering safe and effective detection and treatment services to Merrimac and surrounding areas.
Whether you've found hazardous pests in your home or your place of business, Pest Ex can help you with thorough and efficient removal and ongoing management.  Our services cover all property types, including:
Residential houses, apartments and townhouses
Offices and industrial buildings such as warehouses and factories
Restaurants, cafes and hotels
Schools, daycare and child care
Retail properties such as shopping centres
We also specialise in providing termite treatments and pre purchase and pre sales pest inspections.  Our cutting edge technology, highly trained and professional pest controllers, and out commitment to using environmentally safe products has made us the number one choice for over 7,000 customers.  Pest Ex is fully licensed, insured and accredited, and compliant with all relevant Australian Standards.
Call us today for your no obligation quote, and see how Pest Ex can help you!
PROFESSIONAL PEST CONTROL SERVICES IN MERRIMAC
Pests can come in all shapes and sizes, and each type requires a different approach when it comes to detection and treatment.  Pest Ex have over a decade's experience dealing with a range of nasty creepy crawlies and flying pests, including:
Ants and spiders
Cockroaches, flies and mosquitos
Bees and wasps
Fleas and bed bugs
Rodents such as mice and rats
And many more
We also specialise in termite and white ant treatment in Merrimac.  The Gold Coast area is well known for its termite activity in residential and commercial properties, and Pest Ex has developed the most sophisticated termite solution on the market.  We use high tech tools such as thermal imaging cameras, moisture detection and radar to seek out and destroy termite and white ant infestations, as well as the latest environmentally friendly products to make sure they don't return.
TRUSTED PRE PURCHASE AND PRE SALE PEST INSPECTIONS
Have you ever wished you had ex-ray vision when inspecting a home or business that you're thinking of buying?  Being able to look into the walls and the roof for any nasty surprises would be a handy ability to have when you're looking at property.  Likewise, when you're selling, it would be advantageous to be able to show prospective buyers that your property is pest free.
This is where Pest Ex can help.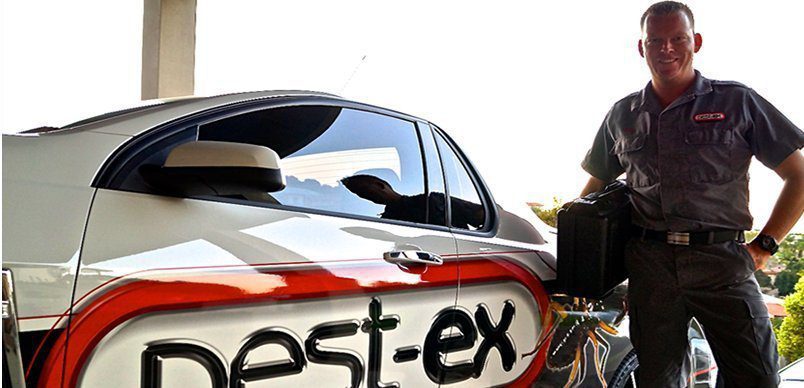 We offer pre purchase and pre sales pest inspection reports, completed by our highly qualified pest controllers.  These involve a rigorous on site inspection, carried out on the same day you contact us or whenever is most convenient.  The inspection looks at areas in the property including:
The exterior, including the garden (if applicable), any fencing or landscaping features
The interior, including floors, walls, doors and door jambs, cupboards and wardrobes
The roof cavity, including trusses and beams, skylights and vents, guttering and downpipes
The basement, including the underside of the floor and any timber structures
The 14-page report will contain the findings from the inspection, with colour photographs, with tailored recommendations for any treatment considered necessary.  The findings will be discussed with you in a one on one consultation (or over the phone if you prefer).
Don't take chances when it comes to buying or selling property.  Order your pre purchase or pre sales pest inspection report today!
PEST-EX IS MERRIMAC'S FINEST PEST CONTROL COMPANY
Why should you pick us to be your pest control company of choice? Let's look at just some of the reasons more people choose us than any other pest control business in the area:
Over 7,000 happy customers in the Gold Coast
We service properties ranging from schools and hotels, office buildings and shopping centres to restaurants and houses
Our reports are easy to understand, with clear and concise treatment solutions
We are recommended by leading banks and conveyancers
We are licensed and fully insured, and use products that are safe for the environment and for you
Our pre purchase and pre sales reports are written with you in mind – not for the agent
The technology we use is cutting edge and gives us an edge in the market
OUR GUARANTEE TO YOU
We are so sure of the high quality of our services that we offer all customers a 100% money back guarantee.  Don't take chances with cheaper pest control services that may seem good at first, but end up costing you far more in the future.
If you're in Merrimac and looking for high quality pest control services, call us today!