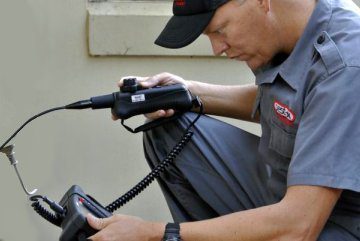 Pest Ex provide fast and highly effective, yet safe pest control services in Norwell, and the surrounding suburbs on the Gold Coast.
Our team of qualified, dedicated professionals use the very latest in pest control and termite treatment technologies and equipment, and can assist you in the detection, removal and continued prevention of most common household pests.
All of our services long lasting and safe for both children and animals.
If you have concerns about nuisance or potentially harmful pests in your home or business, call us to organise an inspection. We can provide onsite, free, no obligation quotes also.
Gold Coasts most effective pest control in Norwell
For a complete overview of the range of our pest management services, and how we can help, please see the following –
Flies, midges and other flying insects
Rodents, mice, rats
Ants
Spiders
Cockroaches
Fleas
Bees, wasps, mosquitos and biting insects
Bed bugs, silverfish and more
If you've got an ant problem, cockroaches, or concerned about the safety of your children, or pets due to biting insects such as spiders, wasps, bees or ticks, then give us a call and we'll organise to have a pest controller come out and assess your property. We provide same day services, comprehensive reports, and are fully licensed and insured.
All of our work is covered by a 100% guarantee. Don't delay, give us a call today.
Professional Termite Treatment Services
Properties in Norwell are often prone to termite damage, due to the Gold Coasts ideal climate which suits termites perfectly as they love the warmer, more humid weather. Most home owners make the mistake of thinking their homes aren't infected, until they see visible signs of infestation, which in most cases, is too late.
Don't make the same mistake.
Our team use the latest in detection tools and technologies, such as thermal imaging cameras, heat, radar and moisture detection systems, all of which make it easy to find active termites and other potential hazards in your home or business.
Our inspections are extensive with a full examination of every area of your property, including both the inside and outside. If live termites are discovered during an inspection, we can have them treated immediately, or provide you with a no obligation, free quote.
We offer an extensive service offering in the termite treatment space such as –
Termite treatment for live nests and active infestations
Termite barriers (post and pre construction)
Baits, and baiting traps
Installation of the following anti termite systems – Biflex, Exterra, HomeGuard, Sentricon, Termidor.
Ongoing management including prevention, protection and removal
Termite inspections, including all areas of your property (inside, outside, yard, roof cavity etc)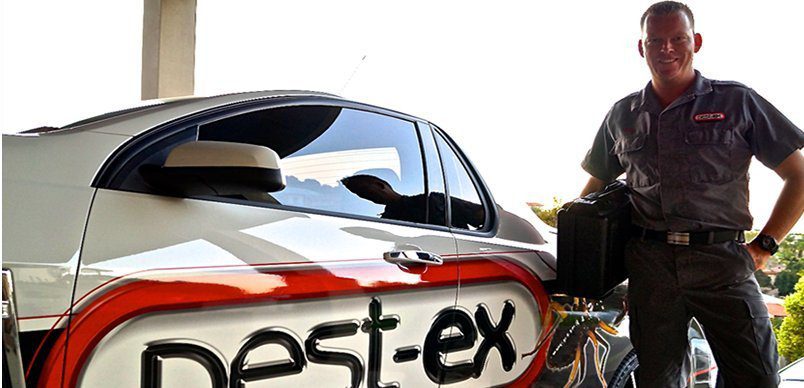 Pre Purchase pest inspections
Our team of qualified pest controllers are experienced and fully accredited to carry out formal timber pest inspections. This means you'll be covered by all required licensing and insurances that work inline with Australian governing bodies.
Our reports include –
Document any evidence of pest activity, including colour photographs
A written 14 page detailed report, provided within 24 hours of the inspection
One on one consultation, with you in person, or over the phone should you not be able to be present
In terms of the inspection itself, we examine and report on –
Any part of the roof, skylights, vents, flues, valleys, guttering, down pipes, eaves, roof battens, trusses, top plates, hanging beams and rafters.
All of the bearers, joists, timber piers, timber flooring and stored timbers
Internal trims, skirting, door jambs, window architraves, doors, cupboards and flooring.
Fencing and retaining walls, landscaping features, fallen trees, tree stumps, gardens, soils.
Failing to have a property inspected ahead of purchase can often result in extensive repair bills and huge financial losses. Don't take any chances. Since 2006 we have performed over 7,000 pre purchase pest inspections for people just like you. Have peace of mind. Give us a call today and organise your inspection.
Pest Ex gives you total confidence
Pest Ex are the Gold Coasts leading pest removal and termite treatment company. Here's why you should work with us –
We use environmentally safe kids and animal friendly products
We are registered members of the Australian Environmental Pest Managers Association
We provide same day service, and free, no obligation quotes
We are licensed and fully insured with all work being backed by a 100% gaurantee
We are recommended by leading banks and conveyancers
Qualified timber pest inspectors (Cert 3 – Pest management technical)
We provide integrated services for both residential and commercial clients
We work for YOU not the agent or seller
100% Guarantee, prompt friendly service
Our services are both safe and family-friendly for your property or home, and are all covered by a 100% guarantee. This means you'll have absolute confidence working with us.
We have helped over 7,000 satisfied customers since 2006. Why not give us a call today.