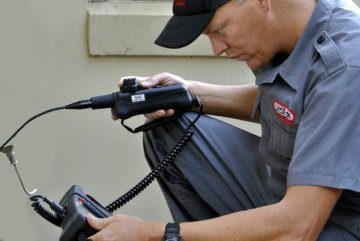 When you want fast, reliable and safe pest control, call Pest Ex.  We are the number one pest removal and treatment company in Southport and the surroundings suburbs of the Gold Coast.
We have a dedicated team of highly trained and qualified pest controllers, and can provide professional same day on-site service.  We work with all types of properties, from residential homes, commercial offices, retail outlets, schools and restaurants, and no pest control job is too big or too small.
Pest Ex works in accordance with the rigorous standards as set out in Australian regulations, we are fully insured and licensed, meaning you can rest easy knowing you are in capable hands.  Our environmental record is second to none, and safety of our customers is very important to us.  This means we only use environmentally friendly products during our pest treatments.
Contact us to book an inspection today or get us to provide a free, no obligation quote.
SOUTHPORT PEST CONTROL AND TERMITE TREATMENTS
With a change in seasons comes an influx of pests seeking a new home.  Some can be relatively harmless, some can be a nuisance, while others can be dangerous for you and your family.  Pest Ex provides a one-stop shop for all your pest control needs, from initial inspections of your property to determine the extent of your pest problem, to treatment and ongoing management solutions.
We offer the following:
Pest inspections
Termite and white ant treatments
Immediate removal and safe and effective treatment of the property
On site quotes for services
Baits and traps
Installation of anti-termite systems
Ongoing assistance and advice on pest control in and around your property
TERMITE TREATMENT SERVICES IN SOUTHPORT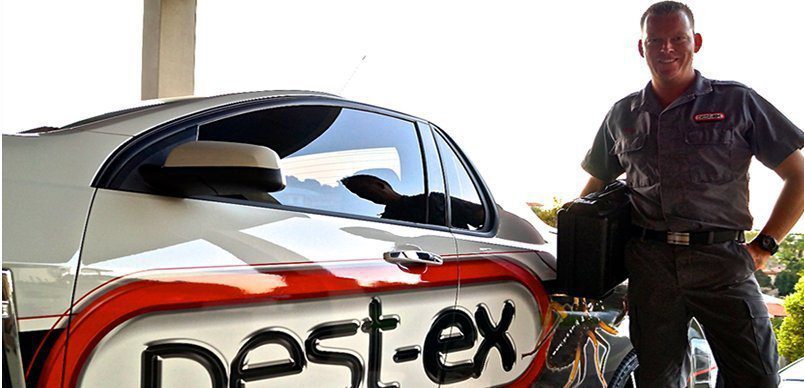 If your property is located in the Southport region of the Gold Coast, there is a good chance you may have a termite or white ant issue.  This is because of the warm and humid climate which encourages pest growth, but also the predominance of timber structures in the properties in the area.
One of our most popular services is termite removal and treatment.  Often termite activity is hard to detect unless you have specialised high tech equipment such as Pest Ex's thermal imaging cameras and radar systems.  These can track down even the smallest infestation, and our qualified timber pest inspectors are highly trained to track down any signs of live nests.
Once you book a termite pest inspection, we will come to the property and examine:
The exterior – this can include all garden or yard areas, any trees or tree stumps, external timber structures, fencing and retaining walls, landscape features
The interior – this can include walls and skirting, floors, cupboards, wardrobes and any timber fittings or joinery in the property
The roof – this can include any timber beams and trusses, vents and skylights, down piping and gutters
The underneath – this can include any stored timber, the underside of the floors, joists and timber piers
If we do locate live termites, we can either treat the area immediately or can provide an on the spot quote.  Once the termites have been dealt with, then we can also provide baits, deterrents and integrated anti-termite systems such as HomeGuard and Biflex to help guard against future pest damage.
We recommend that you book regular inspections for these pests to ensure they don't get a foothold in the property – prevention is always better than cure.  Call us today to arrange your inspection.
DO YOU HAVE A PEST PROBLEM IN SOUTHPORT?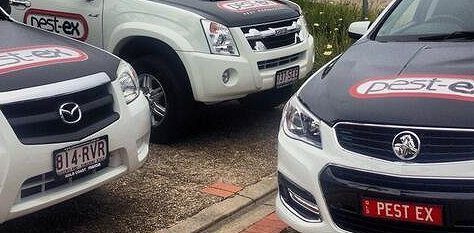 For many people who live in Southport and the surroundings suburbs of the Gold Coast, pests can be a natural part of life.  Everyone finds a spider or two in their property, and its often hard to find somewhere that's not overrun with ants and flies.
So what makes a pest into a problem?
You have nuisance pests such as flies or midges, which can stop you from being able to enjoy your property
You have pests that carry disease such as mosquitos, cockroaches or rodents
You have dangerous pests such as poisonous spiders that you want to protect your family (or your staff) from
You have termites or white ants, which can cause serious long term structural damage to your property
Other pests such as ants, fleas and silverfish can also be difficult to eradicate, costing you time and money.  Let the professionals do the job right, the first time.  Contact Pest Ex to find out how we can help you!