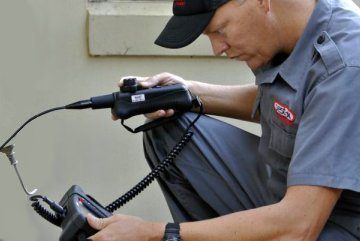 Having served over 7,000 customers, Pest Ex is the accredited, licensed and fully insured pest control company of choice for private and commercial property owners in Tallebudgera and the greater Gold Coast area.
Pest Ex has a highly trained and qualified professional team of pest control specialists that utilize the latest technology in pest eradication.  Taking advantage of advances in heat imaging cameras, radar and moisture detection systems, we can find hidden pests that would otherwise go unnoticed causing untold damage to your property.
Call us today to arrange an obligation free quote and rest assured that we will find any pests that may have taken up residence on your property.
TERMITE TREATMENT SERVICES BY QUALIFIED PROFESSIONALS
Having protected over 10,000 homes across the Gold Coast area, Pest Ex has developed an extensive service offering targeted at white ant and termite removal.  Our local knowledge gives us a distinct advantage when it comes to understanding common pests and infestations that occur across certain property types in this region.
Pest Ex will undertake a thorough examination of the inside and outside areas of your property and recommend modifications to your home to combat any future infestations.
Specifically, Pest Ex can provide:
Comprehensive Termite inspections across your entire property (inside, outside, yard, roof cavity etc)
Treatment for active termite infestations and live nests
Laying baits and bait traps
Establishing termite barriers on both pre and post construction buildings
Installation of anti-termite systems such as – Biflex, Exterra, HomeGuard, Sentricon, Termidor
Future advice and management including further prevention, protection and removal
TALLEBUDGERA'S LOCAL PEST CONTROL COMPANY
Local home and business owners engage Pest Ex to provide an exhaustive range of traditional pest management and treatment services to discover and eliminate the following common pests –
Spiders
Fleas
Rodents, mice, rats
Cockroaches
Bed bugs, silverfish and more
Flies, midges and other flying insects
Ants
Bees, wasps, mosquitos and biting insects
PEST EX PUTS YOUR SAFETY FIRST
At Pest Ex, we place the highest priority on the safety of our customers and the environment in which we all live.  Pest Ex only employs environmentally friendly products that meet the highest safety standards to use around both animals and children. Pest Ex operates entirely in accordance with Australian Standards, and we hold all required licensing and insurances in order to ensure the safe treatment of your property.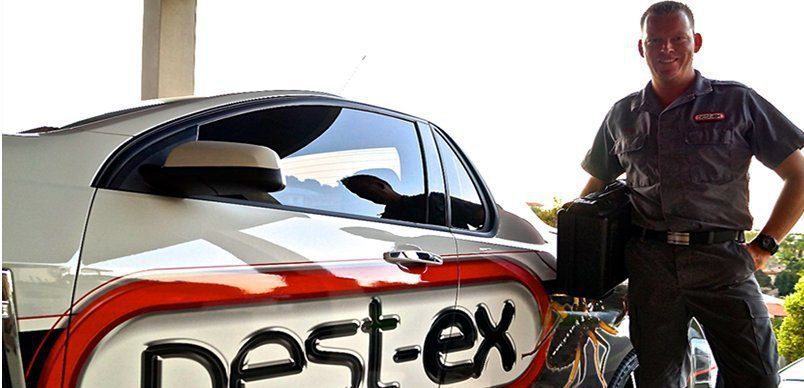 PRE PURCHASE PEST INSPECTIONS FOR TALLEBUDGERA PROPERTY BUYERS
Purchasing a property is a significant investment and before proceeding it is advisable that you have it inspected from top to bottom for all harmful pests such as: white ants, rodents (mice and rats), white ants, cockroaches and especially termites.
The Pest Ex Pre Purchase pest inspection process covers:
Internal Areas– Inspection of you skirting boards, trims, door jambs, window architraves, doors, cupboards and flooring.
Within the roof space– We look up into your roof, plenum spaces, around skylights, inside vents, flues, down pipes, eaves, roof battens, hanging beams and rafters.
Beneath the house – Our team inspect below your property including the joists, bearers, timber piers, timber flooring, stored timbers and your basement if you have one.
External Areas – The areas outside surrounding your property can all be affected, particularly your fences and any retaining walls not to mention any timber landscaping and other garden features.
Call today to arrange your pre-purchase pest inspection where you'll receive our comprehensive 14-page written report with colour photos. Pest Ex inspections and reports are the best in the industry and will give your complete confidence and peace of mind that your property is well protected and safe from pests.
THE PEST EX 100% SERVICE GUARANTEE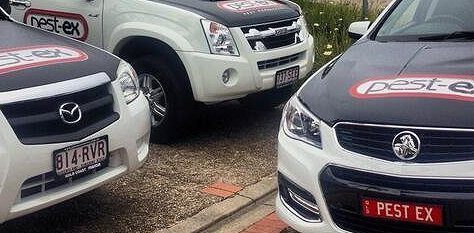 As the leading pest removal and termite treatment company in Tallebudgera and the Gold Coast we deliver a 100% guarantee on our work to ensure customer satisfaction.  We deliver a high quality, same day service to ensure peace of mind that your residential and commercial property's pest control situation is under control.
Here are just some of the reasons why you should work with Pest Ex –
Pest Ex is recommended by leading banks and conveyancers
Pest Ex uses environmentally safe products (safe around children and animals)
Pest Ex is certified registered members of the Australian Environmental Pest Managers Association
Qualified timber pest inspectors (Cert 3 – Pest management technical)
Pest Ex can provide same day service, and free, no obligation quotes
Pest Ex is licensed and fully insured with all work being backed by a 100% guarantee
Pest Ex provides integrated services for both residential and commercial clients
Pest Ex works for YOU not the agent or seller
Call us today to organise an obligation free quote.