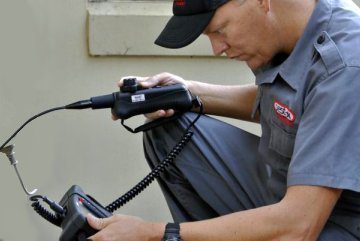 Pest Ex is the leading provider of pest treatment and control services in beachside suburb of Tugun and the surrounding areas of the Gold Coast.  We are proud of our long record working in and around the local area, and have serviced over 7,000 happy customers since starting over ten years ago.
Our services include the following:
Pest inspections
Termite inspections, treatment and management
Pre-purchase and pre-sales pest inspection reports
Pest removal and on the spot treatments
Our reputation in the industry has been built on the fact that we provide the most comprehensive pest inspections, our pest controllers are highly trained and qualified, and we use cutting edge technology to seek out and destroy even the most determined nuisance pests.
Pest Ex can help you with all pest related issues, including:
Rats, mice and other rodents
Fleas, flies and mosquitos
Termites
Ants, bees and wasps
Bedbugs, cockroaches
Spiders and more
Contact Pest Ex today to find out how we can solve your pest issues.
NEED EFFECTIVE TERMITE TREATMENT IN TUGUN?
The warm, humid climate of the beachside suburbs of Tugun and the Gold Coast are an ideal location in which to live, however they can also attract pests, and particularly termites and white ants.  Add into this mix the predominance of timber structures and wood as a building material and you can start to understand why Pest Ex is in demand in the area.
If you have detected evidence of termites in your home or your business, it's important to act to get them removed right away.  This is because a live nest can cause irreparable structural damage to a property in only a relatively short period of time.
Our qualified timber pest inspectors provide the most comprehensive inspection on the market.  We examine:
The inside of your property – from the roof area, to the ceilings, floors, walls, cupboards and wardrobes, to the basement and any stored wood we might find.
The outside of the property – this includes any outdoor living areas, any timber structures, large shrubs and trees, tree stumps, fencing, landscaping and soil.
If during the inspection we find any live nests or infestations, we can remove and treat the area straight away, or can provide you with a quote for work on the spot.  We have ensured that our termite treatments are completely safe, meaning that they won't harm the environment or your family.
Generally it is advisable to monitor areas that have had termite infestations in them, and to deploy deterrents and anti-termite systems to prevent them from returning.  We use highly effective baits, traps and deterrent systems such as HomeGuard, Biflex and Exterra.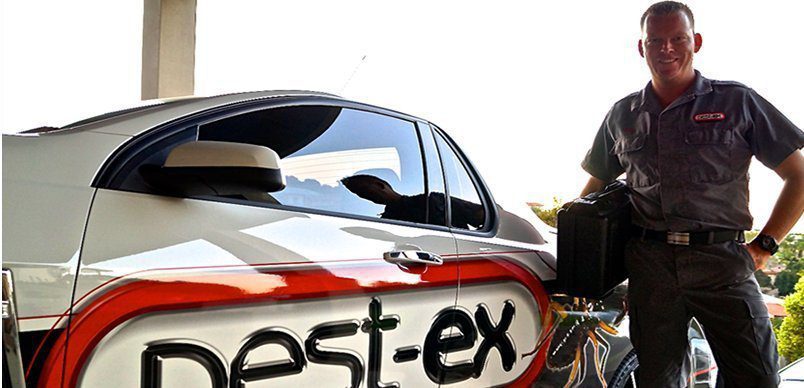 BUYING OR SELLING IN TUGUN?
There is a lot of organisation and legwork that goes into either selling or selling a property.  You have a lot to worry about, and thinking about whether a potential property might have pests is probably not high up on your priority list.
But it should be.
This is because finding out the home or business you just bought is riddled with termites or other pests can be a disheartening and extremely expensive experience.  Termites can cause long lasting structural damage, especially if not treated properly or left unchecked for years.
Don't let this happen to you.  Call Pest Ex for a pre-purchase or pre-sales inspection report.  We will examine the property in question, from top to bottom, and provide you with a report – written in plain English – that gives you the results of our inspections plus suggestions for a treatment and management plan.   This report will give you the detail you need to make an informed decision when it comes to the time of purchase.  Our pre-sales reports can also be a fantastic way to have professional evidence that your home or business is pest free for potential buyers.
Book your inspection today.
100% MONEY BACK GUARANTEE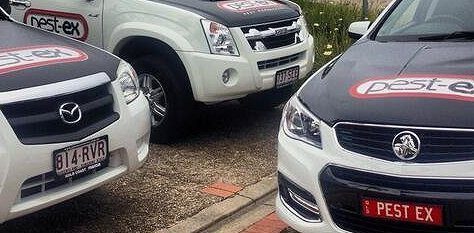 Pest Ex takes great pride in the work that we do, and our 7,000 satisfied customers are testament to that. Because we genuinely care out our customers and the service that we provide, we offer a 100% no questions asked, money back guarantee.  We also provide no obligations free quotes on all our work, so that you can make the best possible decision for you and your family without pressure.
Don't leave your pest issues in the hands of less experienced or capable pest control companies – give us a call today and see the Pest Ex difference!