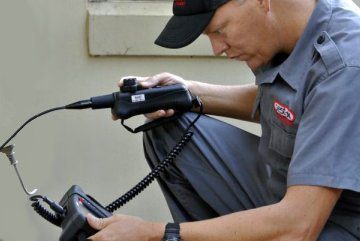 If you're looking for pest control services in Yatala or other suburbs in the Gold Coast, choose Pest Ex.  We have serviced over 7,000 satisfied customers in the area, and can help you make your property safe for you and your family.
Finding a few pests in your house or business can be disturbing, and generally your first inclination is to get rid of them as soon as possible.  But what if one or two pests actually means you have a bigger problem – an infestation?  Would you know if you had live nests hidden somewhere in or around your property?
The best idea is to call in trusted professionals such as Pest Ex, because they have the know how, the experience and the pest-detecting technology that can eradicate even the most difficult of pests.  Our pest control operators undergo regular training and are fully qualified in dealing with a wide range of pests, from ants, cockroaches and spiders to bees, fleas and termites.
So don't delay.  Contact us today for an inspection of your property.
TERMITE TREATMENT SERVICES IN YATALA
As well as general pest control, Pest Ex also specialise in fast and effective termite and white ant treatment and management in Yatala.
When left undetected and untreated, termites can cause irreparable damage to a property.  Luckily Pest Ex is fully equipped to search out and destroy any live nests and infestations.  We use intensive thermal imaging camera technology, radar and moisture detection to examine your property, from top to bottom, inside and out.  We focus on areas known to be "hot spots" for termites and white ants, including the roof space, walls and floors, basement and areas outside such as fences, drains and even the soil.
Once our inspection is completed, we can then treat the area on the spot, removing any nests and destroying the termites or, if you prefer, we can give you a quote for these services.  You may also wish to contact us about our range of other termite services, including:
Baiting traps and the installation of effective anti-termite systems such HomeGuard, Biflex and Sentricon.
Barriers for termites – post and pre-construction
Ongoing management and prevention
Advice on termite control matters
Pest Ex is the number one termite control solution in Yatala, so call us to find out how we can help you today.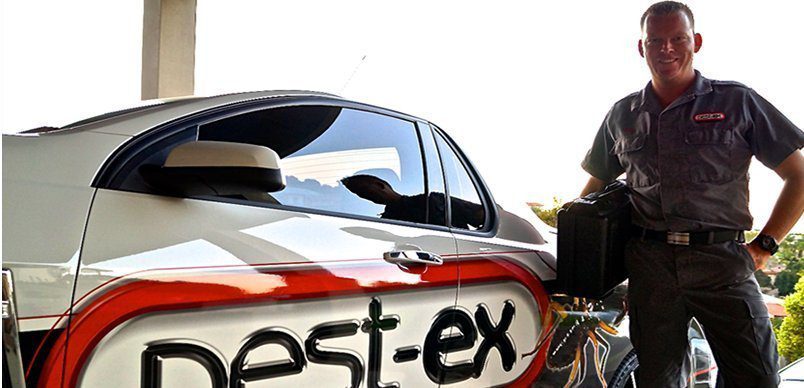 PRE-SALES AND PRE-PURCHASE PEST INSPECTIONS
Pest Ex also offers the best pre-sales and pre-purchase pest inspection reports on the market.  It is often difficult to be able to spot some pest activity just with the naked eye, and many people buy property without really understanding what they might be getting themselves into.  Damage from pests – especially termites – can be challenging and costly to repair, so it's better to be informed before you make any decisions.
Our pest inspections are quick (generally conducted on the same day as you call us), extensive and professional, and we provide you with a 14 page colour report documenting our findings, and giving you some recommendations about the treatment required if pests have been discovered.
Unlike some pest control companies, we inspect the entire property, including:
The outside: areas such as the paving, fencing, dead trees and stumps, soil
The inside: the walls, ceilings, flooring, timber cabinetry, cupboards and other fittings, window architraves and door jambs
The roof: battens, beams and trusses, any vents and skylights, down piping and gutters
Our pest inspections reports are recommended to customers by property and finance experts, and we have helped thousands of customers in the Yatala and Gold Coast areas get peace of mind about the properties they have purchased.
Let us help you with a professional pest inspection report today.
WHY SHOULD YOU CHOOSE US?
Choose Pest Ex for your pest control and termite treatment needs because:
We offer unbeatable same day on site service and communication
We ensure all of our work adheres to Australian Standards and our products are environmentally friendly
Our pest controllers are qualified timber pest inspectors (Cert 3 – Pest management technical)
We have worked in the local area for over a decade, and have serviced over 7,000 satisfied customers
We work with home and business owners, and have experience with a wide range of different types of properties including retail centres, schools, hotels and cafes
So don't leave your pest control in the hands of a less experienced or professional company.  Call today, we look forward to hearing from you!