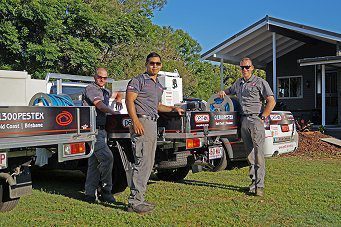 Pest Ex provide safe and effective pest control services in the Beenleigh area and the surroundings suburbs.
Across Southern Queensland, we are the number one trusted choice for thousands of customers, and our wide range of services for both homes and businesses means that it's likely you've seen our branded trucks on the road or our professional pest controllers at work.  We offer same-day service, thorough pest inspections and tailored treatment solutions, as well as ongoing pest management and advice.  If you're thinking of building or renovating an existing property, talk to us for help to make sure it is protected against pests.
Make Pest Ex your number one choice for pest control – you won't be disappointed!
Beenleigh TERMITE detection and TREATMENT
Pest Ex provides the most comprehensive pest control and termite treatment services in Beenleigh.
Termites are a well known issue in the region, and if left untreated, can do irreparable damage to a home or business.  Whether you're looking to have a regular inspection of your property conducted as a precaution, or suspect you may have termites in or around your property, our focus is on fast and efficient service.
One of the things that sets us apart from the competition is our use of the latest, cutting edge technology for locating any termite activity, live nests and infestations.   We use radar, thermal imaging cameras as well as moisture seeking technology, and can find termites in areas that other pest control companies don't even think to look.
Once located, we can remove the pests for you on the spot, or if you prefer, we can provide a no obligation quote for our eradication and treatment services.  At each step in the process, we will explain what we're doing and the benefits to you and your property.  As a longer term solution, our services encompass baiting and termite traps, as well as anti-termite systems for your property such as Exterra and Sentricon.

pest ex's trusted pest control solutions
As well as termite treatment and management, Pest Ex also specialises in the detection and removal of a range of nasty creepy crawlies and flying nuisances.  If you're having an issue with any of these pests in Beenleigh, give us a call:
Stinging insects, such as bees and wasps
Common household insects such as spiders, ants, silverfish and flies
Rodents, including rats and mice
Biting insects, such as mosquitos, midges, fleas and bed bugs
Our highly trained pest controllers will find the source of your problem, and apply specially designed treatment products to break the breeding cycle of the pest and to ensure the population is stopped in its tracks.
So talk to us or make an appointment for a pest control inspection today.
Are you BUYING PROPERTY IN beenleigh?
If you're considering purchasing a property in Beenleigh, we highly recommend having a full pest inspection conducted before making nay decisions.  You might be surprised how many people buy a home or business, only to realize that it has a serious termite or white ant problem after they move in.
Our termite inspections are designed to take the guesswork out of buying a property.  After you have contacted us, we can normally respond with a same day on site inspection, and our certified timber inspectors will look at:
The roof space, especially timber beams and trusses
The inside of the property, including all walls and ceilings, the floors
The bottom of the property, including the basement and any crawl spaces
The outside of the property, including the surrounding soil, trees and timber structures
We will then provide you with an easy to understand report that documents what we've found and a number of recommended treatments.  Our pest inspection reports are recommended by banks, property agents and conveyancers, and are the best way for you to get a clear picture about the levels of pest activity in the property you're looking at.
Pest-Ex, Beenleigh's most trusted pest control company
Choosing Pest Ex in Beenleigh for your pest control requirements is easy because:
We have a wide range of pest solutions that can be tailored to your individual needs
We have over seven thousand happy customers in the local region
Our pest controllers will turn up on time, and are always professional and courteous
You can rest easy knowing that our products are certified safe and have passed rigorous Australian environmental standards
We have a decade's experience in the industry, and can work with residential and commercial properties and in a wide range of industries, including retail, hospitality and education.
Let us take care of your pest problems – contact us for an appointment today!