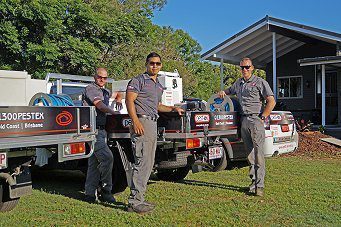 Pest Ex is Logan City's most respected pest control company, and we offer a full range of services in and around the Bethania area.  We have been in the industry for over ten years, and have the experience, know how and advanced equipment to be able to tackle any pest issue you may be having, big or small.
Our years of experience means that we can provide services to both residential and commercial properties, and we have customers in a range of industries, including retail, education and hospitality.  Our professionals are highly qualified and skilled, and are dedicated to the very highest standards of onsite workmanship and customer service.
Our services include pest inspections, on the spot treatments, ongoing pest management and advice.  The pests we treat include termites, bees and wasps, rats and mice, spiders, ants, flies and biting flies, midges and mosquitos, bed bugs, fleas and silverfish.
One of our most popular services is our pre-purchase and pre-sales inspection reports.  These reports document our findings from a pest inspection by a qualified and experienced pest controller of a home or business you may be considering buying or selling.  Our reports are in plain English and include colour photographs of any live nests or pest activity we find.
If you have a problem with pests, want an inspection carried out or need advice on pest management solutions, call us in for fast and professional service today!
do you have termites in your property?
Would you know if you have termites in your home or business?  Unfortunately, unlike many other pests, termites can invade your property unnoticed, using subterranean passages to enter a building and establish their nests.  They will target any timber structure or feature, eating away at its core and leaving only a weakened frame behind.  They can cause thousands of dollars' worth of damage if left unchecked and even ruin a building's structural integrity over a relatively short period of time.

Pest Ex's termite detection and treatment service is the number one choice for home and business owners across Brisbane, the Gold Coast and Logan City.  We offer the most comprehensive inspection in the industry, using cutting edge equipment such as thermal imaging cameras and moisture detection to find live nests and infestations wherever they may be.  Our certified timber inspectors examine all parts of your property, including:
The inside – every room from top to bottom, window and door frames, the roof space, any skylights and vents, in built cabinetry and cupboards, flooring and joists, any sub floors such as cellars and basements
The outside – we check the soil, trees and tree stumps, outdoor structures such as garages and sheds, retaining walls and fencing and any landscaping
Once our inspection is finished, we can provide you with the findings and either give you a no obligation quote for any treatment that is required, or start the treatment process then and there.  This involves removing any termites and live nests and treating the area using specially designed environmentally friendly products.
We can also install popular anti-termite systems, baits and traps such as Termidor, Exterra and Biflex to prevent termites from returning or establishing nests as part of effective ongoing termite management.  We can also supply termite barriers if you're planning on building a new property.
So contact us today and let us take care of any termite problem you might have safely and thoroughly.
pest SERVICES you can rely on in bethania
We have thousands of satisfied customers right across Southern Queensland, and thanks to our exceptional reputation, we're expanding rapidly.  When you contact us for any of our pest control services you will:
Experience high quality customer service, with a prompt on-site response time
Have certified pest controllers using the latest in high tech pest detection equipment
Understand our findings and our recommendations, because we ensure our reports are written a plain English
Be assured that all our products are safe for use around you, your pets, family, colleagues and friends
Know that we're recommended by banks, financial institutions and property experts
Get complete peace of mind with our 100% no questions asked, money back guarantee on our services
Don't settle for second best when it comes to the safety of you, your family and your property.  Call in the number one experts to deal with all your pest control issues – contact Pest Ex today!